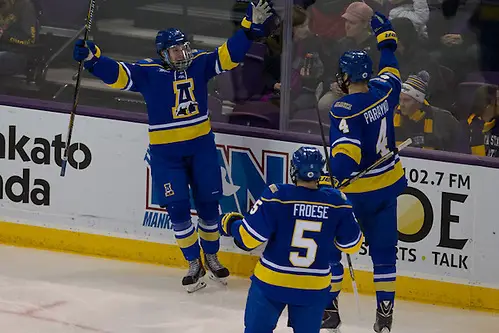 Home ice is still a goal for the Alaska Nanooks.
So to speak.
It's the idea of home ice that's the goal.
It will have to be called something else: An upper-division spot. A top-four finish.
Spoiler, perhaps.
Ineligible for postseason play due to NCAA sanctions handed down in November, the Nanooks are still playing for something as the regular season winds down, coach Dallas Ferguson said.
"It was a goal of ours at the start of the season to win the regular season or put ourselves in position to have home ice and take advantage of that," Ferguson said. "Our feeling was we were still playing to win the league. We can't do that now [the Nanooks are out of MacNaughton Cup contention], but we can play for home ice. …
"Regardless of us not playing after March 7, we know we can put a season together where we've played well enough to get that spot."
Alaska will play its final home games of the season this weekend, hosting No. 1 Minnesota State, before closing with road series at Alabama-Huntsville and rival Alaska-Anchorage.
The Nanooks, who split a series in Mankato in December, are in fifth place in the WCHA standings, just one point behind fourth-place Northern Michigan.
It's been a streaky season for the Nanooks (14-13-1, 9-12-1 in WCHA), but Ferguson said that has little to do with the sanctions.
They opened the season with five consecutive wins and followed that with five straight losses. The NCAA sanctions were announced in the middle of that losing streak.
"Everyone processed that quickly and realized there was still a hockey season to play," Ferguson said.
They bounced back, winning an overtime game at Minnesota State on Dec. 5. They later strung together four wins in a row but followed that with a six-game winless streak that included three overtime games and four one-goal losses.
Last weekend, they snapped that slump and swept Lake Superior State at home to move up in the standings.
This weekend, seven seniors will be honored, including the team's fourth-leading scorer, Garrick Perry, and its second- and third-leading scoring defensemen Trevor Campbell and Nolan Kaiser. Goaltender Sean Cahill picked up both wins against the Lakers last weekend.
"I feel for our senior class," Ferguson said. "The biggest disappointment is for that group. … But they've done a great job. They could be the bitterest or the most sour players."
Many of the Nanooks' top players are younger.
Junior forward Tyler Morley is fourth in the conference in scoring with 29 points, including 10 goals. Sophomore forward Marcus Basara and junior defenseman Colton Parayko each have 19 points.
Parayko, whom Minnesota State coach Mike Hastings called "as dynamic a defenseman as you'll see," ranks fourth in the WCHA in scoring among defensemen. Sophomore goaltender Davis Jones has played most of the team's minutes in goal.
While having those players bodes well for next season, Ferguson said his team is not looking to next season when it will once again be eligible for postseason play.
"We've never taken the approach that we're playing for the youth on the team," Ferguson said. "We're going to put the best lineup on the ice that gives us the best chance to win."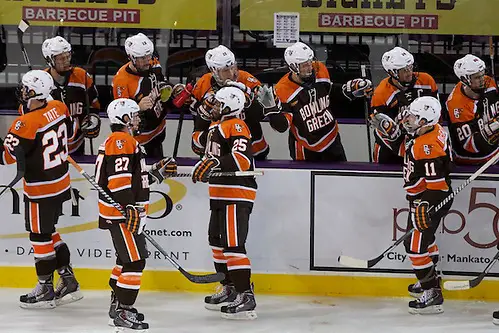 Eight-point weekend?
As last season taught us, it's not a wise idea to assume results or discount a team too early in the WCHA.
A year ago, it took until the final night of the season to determine the MacNaughton Cup champion, the host teams for the postseason and the final conference-tournament berth.
This weekend, nearly every series has the chance to have a big impact on playoff positioning, but two in particular could start to solidify home ice.
Ferris State and Bemidji State, who are tied for sixth place, take on third-place Bowling Green and fourth-place Northern Michigan, respectively.
Bowling Green is in the best shape, with a nine-point lead over Northern Michigan. The Falcons can clinch an upper-division finish with two wins or one win and a loss each for Bemidji and Ferris, or two losses each for the Beavers and the Bulldogs.
"The bottom line will be two teams fighting really hard for standings, for positioning in the playoffs, just because it's a good rivalry and two teams that probably don't like each other very much," Bowling Green coach Chris Bergeron told BGSUHockey.com.
The Wildcats and the Beavers are separated by a mere four points.
"We're looking up to them in the standings right now," Bemidji State coach Tom Serratore said. "It's a huge series for both teams.
"There's no question the ball's in their court. They're the home team, they're four points up on us. It's a huge advantage. You have to put your past games in the rearview mirror and look forward. That's all we're doing."
The eight points available in the two series are huge for everyone involved.
Sweeps by the Falcons and Wildcats would all but eliminate the Beavers and the Bulldogs from home-ice contention. However, if Ferris State and Bemidji State each take four points, things get much more interesting, as the two will pull into a three-way tie with the Wildcats.
Ice chips
• Minnesota State and Michigan Tech both clinched a home-ice spot for the WCHA playoffs last weekend, and Bowling Green clinched a playoff position (with Alaska ineligible for the postseason, all but one of the remaining nine teams will make the playoffs). Tech will host a playoff series for the first time since 1993.
• Alabama-Huntsville and Lake Superior State, who are tied for seventh place among playoff-eligible teams, face off this weekend in Sault Ste. Marie, Mich. The teams split their November series in Huntsville. The Chargers and Lakers are at 12 points, two ahead of 10th-place Alaska-Anchorage.
• WCHA teams had a .507 winning percentage (30-29-9) in nonconference play this season. Out-of-league play wrapped up last weekend when Northern Michigan was swept at Minnesota-Duluth.
• Alabama-Huntsville scoring leader Max McHugh ranks fourth among WCHA freshmen with 17 points, including seven goals. His point total is the most of any Chargers player since 2010-11 when Matt Baxter had 22 points.
• Alaska-Anchorage freshman goaltender Olivier Mantha stopped a season-high 49 shots on Saturday when the Seawolves lost 4-0 at Minnesota State. It was the fourth time Mantha faced more than 40 shots in a game. He has a .918 save percentage, which ranks ninth in the conference.
• Bemidji State heads to Northern Michigan looking for its second victory in an opponent's building. The Beavers are 0-10-2 in those rinks (0-4 in Michigan's Upper Peninsula) since winning on Oct. 10 at North Dakota. However, Bemidji State is 2-0 on neutral ice, with those wins coming at the North Star College Cup.
• Bowling Green has the third-best offense in the WCHA and 16th-best in the country, averaging 3.04 goals per game, despite not having any 20-point players nor any among the top 100 scorers in the country. Forwards Kevin Dufour, Brandon Hawkins and Matt Pohlkamp each have 19 points.
• Ferris State is in the midst of a six-game losing streak, with four losses coming against Minnesota State and two against Bowling Green. The Bulldogs and the Falcons play again this weekend in Big Rapids. Ferris State has played 10 of its last 12 games on the road and has gone 2-8 in that stretch.
• Lake Superior State's Stephen Perfetto has five points, including three goals, in his last six games. Perfetto ranks second on the team with 13 points and leads the Lakers with eight goals.
• Michigan Tech has 22 wins for the first time since the 1982-83 season. The Huskies have won six games in a row and seven of their last eight — all at home. This weekend's games at Alaska-Anchorage are their first on the road since Jan. 9.
• Minnesota State junior goaltender Stephon Williams recorded his eighth collegiate shutout on Saturday against Alaska-Anchorage, stopping 12 shots. He holds Minnesota State's career record for shutouts. Three of the blankings have come this season. Williams will play in his hometown this weekend as the Mavericks play Alaska in Fairbanks.
• WCHA players of the week are: Bowling Green junior forward Ben Murphy (offensive), Michigan Tech senior defenseman Riley Sweeney (defensive) and Minnesota State freshman forward Brad McClure (rookie).