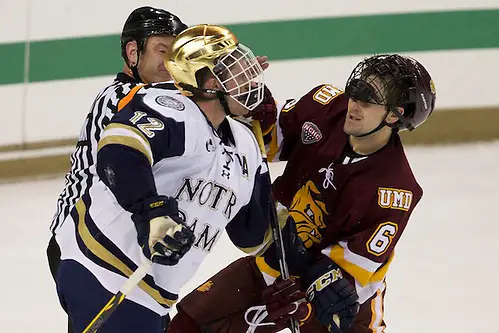 When Notre Dame joined Hockey East at the start of last season, expectations were high for the Irish. They were coming off a CCHA championship and had been to the Frozen Four as recently as 2011. They'd be, the thinking went, the next Hockey East perennial power.
Well, it hasn't been entirely smooth sailing.
Last year was, perhaps, a learning experience as the Irish traveled to totally new venues and finished with a .500 regular season record in Hockey East play. Not exactly the results of a juggernaut.
However, they turned on the jets in the playoffs. As the eighth seed, they defeated Boston University in the play-in round, then advanced to the Garden by knocking off a Boston College club that had finished first with a 16-2-2 record and later advanced to the Frozen Four.
Notre Dame lost to Massachusetts-Lowell in the league semifinals, but thanks to its playoff run and exceptional nonconference record, the Irish qualified for the NCAA tournament. There, they lost in overtime to St. Cloud State in the first round.
So despite the .500 Hockey East record, it was none too shabby of a year.
This year, however, is another story. Notre Dame sits in fifth place in Hockey East, only two points out of third place while holding two games in hand over faltering Massachusetts-Lowell.
A step forward, right?
Not so fast.
Notre Dame still has the toughest part of its league schedule remaining (more on that later), and even more significantly, has posted a disastrous 5-9 nonconference record. As a result, fifth place or not, the Irish are 35th in the PairWise Rankings and must almost certainly win the Hockey East tournament or go home.
"Well, we put ourselves in our own predicament," Notre Dame coach Jeff Jackson says. "Our nonconference schedule was challenging in some areas, having to go to Minnesota early in the year when they were on a roll, and playing teams like Duluth. Without question, it was a big factor.
"Our nonconference record and our record at home [5-6-1] both could be better. There were so few league games in the first portion of the season. Now that we're starting to play more conference games, I think that we're getting our act together a little bit.
"All those young kids are at least halfway through the season and have a better idea of what's expected of them, whether it be our freshman goalie or our three freshman defensemen. [They've gotten] game experience under fire.
"It's probably a little too late for us as far as trying to do anything as far as the NCAA tournament goes unless we put ourselves in great position to get back to Boston Garden and try to win there."
The Irish took an important first step last weekend toward getting back to the Garden, taking three of four points at Maine.
"We've made progress in some parts of our game," Jackson says. "Our inexperience sometimes shows up in goal, sometimes it shows up on defense. It's caused us to have an up-and-down year.
"[But] we've got some great young guys in both positions. It's just a matter of our forwards doing a better job, too, of helping our defense, by not creating turnovers and giving up odd-man rush situations.
"Against Maine, especially on Saturday [in a 5-1 win] and even for a period on Friday, I thought we did a really good job of managing the puck and not making turnovers that ended up in our net.
"It's certainly a collective effort. When we do things well with the puck, we're pretty good. And when we don't, that's when we struggle."
One area that has without question been successfully addressed is the Notre Dame power play, despite its paltry 12.6 conversion percentage. An unmitigated disaster in the early part of the season, the man advantage has of late fueled the third-ranked Irish offense.
"In the last six weeks, it's been second-best in the conference," Jackson says. "The problem with our percentage is that it's really based on the first half of the season when we were almost down to 6 percent.
"It's really turned the corner here in the last six weeks. Saturday night was the first time we haven't scored in something like 10 games on the power play. It was just finding the right mix of chemistry. It seems like both of our units are having some success."
One stalwart all season long has been senior defenseman Robbie Russo. Until recently, he led the team in scoring.
"He's been a catalyst for our team," Jackson says. "I mean, he's the one guy that's probably been the most consistent player we've had all season long.
"He's been a catalyst offensively, but he hasn't given up the defense to do it. Which is probably the most positive thing.
"He's really done a nice job of picking his spots, knowing when to jump into the play, knowing when he can do a little bit more from the point. It's a positive for me that he hasn't gone backwards in his defensive game. If anything, he's gotten better defensively.
"He's had an All-American type of year. I hope he gets that recognition, because he certainly deserves it."
Russo and the rest of the Irish now have their work cut out for them, though. As noted before, their PairWise Rankings position is in desperate straits, and they face a gauntlet of top teams heading into the playoffs.
Their final three weeks of the season? Two games each against No. 11 Providence, No. 3 Boston University and No. 10 Boston College.
"It's certainly a daunting schedule," Jackson says. "We know we have our hands full. Again, we put ourselves in this position, and we're just going to have to fight our way through it.
"All I'm concerned about is making sure we're prepared for Friday night. I know we play a great Providence team.
"The fortunate thing for us is that four of those games are at home. Hopefully, we can get some juices going playing at home in front of our crowd.
"It's important that we win some games here in the next few weeks. If we're going to do anything in the playoffs, it's going to be dependent on how we're playing when we go into the playoffs, more so than where we finish. But obviously, if we're playing well, that means we probably will finish a little bit higher.
"So that's my biggest concern, trying to build on what we did this weekend and see if we can't keep on going in the right direction."
Notre Dame leaving Hockey East?
The rumor mill sprung into overdrive in recent days, speculating that Notre Dame might be looking to leave Hockey East for the NCHC. (USCHO's Brian Sullivan weighed in on what that move might mean for ECAC Hockey.) Would the NCHC be a better fit, geographically and perhaps otherwise?
"That decision was made two years ago," Jackson says. "I don't know where that rumor is coming from. We've enjoyed being in Hockey East even though it's been hard getting a foothold.
"As we play more in the conference, we're getting more comfortable. We just have to get acclimated to the league. For example, this past weekend was the first the program has played in Maine in over 30 years.
"I have great respect for the league and its coaches. I'm reading about these rumors and don't know where they're coming from."
Some have even claimed that Jackson stated a preference for the NCHC before Notre Dame joined Hockey East. However, he says that just isn't the case.
"The National conference is a great conference with great teams, but there's no dissatisfaction with Hockey East," Jackson says. "People are saying that two years ago I expressed a preference for the National conference, but I never said such a thing."
The Beanpot delay
So much for the first two Mondays in February. This year, it's the first Tuesday and the fourth Monday.
Doesn't really have a ring to it, does it?
More to the point, how does the postponement affect the teams?
First off, the consolation game. Yes, the Garden feels like a tomb, and it's brutally hard to get up for a contest that no one seems to care about. However, for both Boston College and Harvard, there are major PairWise implications, so the Eagles and Crimson had better care a whole lot about it.
It says here that it would have been better for the Eagles to have played the game as originally scheduled. Harvard followed up its double-overtime loss to Boston University with losses to Yale and Brown, bringing the Crimson's record to four straight losses and six in the last seven.
Now would be the time to play a faltering team that recently was ranked fourth in the country. In two weeks, perhaps Harvard gets back on track.
As for Boston University and Northeastern in the championship game, that's a tougher call. BU has won six straight and lost only once since the calendars turned to 2015. Northeastern has been every bit as hot, if not hotter, going 5-0-1 in its last six, with only one defeat dating to Dec. 3.
So it could be a wash, but I think Northeastern was as primed as it could have been to play on Monday. If there's any effect to the postponement, I think it hurts the Huskies just a little.
Lowell plummeting
It's been a stunning fall from atop Hockey East for Massachusetts-Lowell.
On Jan. 10, the River Hawks lost their first conference game. That was the latest such date for any team in the country. They were playing great defense and getting good goaltending from Kevin Boyle.
Since then, however, they've lost six of their last seven games and seven of the last nine. That isn't a slump; it's a freefall.
A week ago, Lowell appeared to have turned the corner in its two-game set with Merrimack. True, the River Hawks lost the opener on the road, but they dominated territorial play, outshooting the Warriors 52-17, and carried that over to a 4-1 win the next day.
But last weekend, they fell behind by three goals to first-place Boston University in the opening eight-plus minutes en route to a 5-2 loss. One night later, they lost by the same score to last-place Massachusetts.
Taking out the weekend against Merrimack, Lowell has been outscored by a 21-8 margin in four games.
That's some appalling work in the defensive end. Boyle hasn't looked good between the pipes, but he's hardly the only culprit. The breakdowns have been widespread.
"I'm not disappointed with the effort," Lowell coach Norm Bazin said after the loss to BU. "You can call it lethargic, but it was missed assignments. We made it too easy for them."
He added a telling note.
"The good thing about this team is that we're very good when we all contribute and work hard, and we're very bad when there are several players missing assignments," Bazin said. "It's almost [like] the dragon with two heads."
Can the Dragons/River Hawks change heads before it's too late?
Quote of the week
BU coach David Quinn on Evan Rodrigues after the senior recorded a natural hat trick against Lowell:
"He's an incredibly smart player. Works hard, competes, has a great skill set and can skate. Other than that, he can't really do too much."
And finally, not that it has anything to do with anything, but …
The current issue of Ellery Queen's Mystery Magazine — the No. 1 mystery magazine in the world — contains a story of mine. It's now on newsstands such as Barnes & Noble, and is the March/April double issue. If you like mystery stories or, even better, if you like my writing, check it out! (Electronic versions are also available.)
I've also been hearing great reactions to my latest sports novel, "Offside," so look for it in either electronic or paper editions at your favorite retailer or online store. Or go to my website for information about ordering personalized copies directly, or just to sign up for my mailing list.
Finally, let me add that a year ago as I write this, I was packed in ice to get my body temperature down from 98.6 to the mid-60s, and was about to have my heart stopped for about 20 minutes so the surgeon could replace my aorta.
I hope to celebrate this anniversary many, many times. So many of you were wonderful during my recovery, and I'll never forget it. Thank you!
It's good to still be among the living!