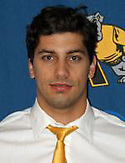 Josh Ranalli has been a success on the ice throughout his career at Adrian.
This season is no different.
The senior forward out of Stoney Creek, Ont., is the Bulldogs' leader in points. He has come through with 14 goals and 17 assists, putting the Bulldogs on the cusp of an outright NCHA championship.
But Ranalli won't take all of the credit for his success. It's all about the team as far as he is concerned.
"I'm just helping out and doing what I can to make the team successful," Ranalli said. "Everyone in the lineup has really stepped up and they have played a big part in me being able to make plays."
When you ask Ranalli what has changed this season, he will tell you there isn't much of a difference compared to what he has done in past years.
Except maybe one thing.
"I think I'm staying more positive and on more of an even keel," Ranalli said. "I'm also more calm on the ice. That is probably something that comes with getting older."
Before arriving at Adrian, Ranalli played two seasons with the Oakville Blades of the Ontario Junior Hockey League. It didn't take him long to settle in with the Bulldogs, scoring seven goals and dishing out eight assists as a freshman.
Two years ago, Ranalli finished with 18 goals and 17 assists. Last season, he recorded 21 goals and 13 assists. In those two seasons, 13 of his goals came on the power play.
Adapting to the level of play in college wasn't a difficult task. Still, the transition to the next level did come with its share of challenges.
"The biggest adjustment was getting to know the players on the team and finding that comfort level with them," Ranalli said. "It's been great building relationships with those guys. We're like a family."
The schedule in college isn't nearly as demanding as junior hockey either as NCAA Division III teams play only a couple of games a week.
"It's almost like football where you spend the week getting ready for a game," Ranalli said.
Adrian, riding a five-game win streak, is ranked fifth in the nation and is 17-3-3 overall. The Bulldogs are 14-1-1 in the conference and have already clinched a share of the NCHA championship with two games left on the schedule.
Freshmen Kyle Brothers and Mathew Thompson have been impressive and have helped fuel Adrian's offensive attack. Brothers has tallied 19 goals and 18 assists while Thompson has come through with 14 goals and 15 assists. Jeremy Olinyk has racked up 10 goals and 15 assists.
Scott Shackell has led the way in goal. He is 13-13 overall and owns a 1.80 goals-against average.
"We are a very close group," Ranalli said. "Everyone is doing their job to the best of their ability and we are always working hard to get better as a team."
Adrian is hoping to win a national championship this season. The Bulldogs swept the season series against the reigning champs at the end of last month, beating St. Norbert 4-2 and 6-4. It was St. Norbert that knocked the Bulldogs out of the NCAA tournament last season.
"Every team wants to be there at the end, and winning a national title is one of our goals," Ranalli said. "But we have to stay focused on each game. The four years have gone by so quick and I'm just trying to take it all in stride and enjoy the season."
Ranalli is glad he chose to come to Adrian and is looking forward to trying to finish his career on a high note.
"It's been everything I've hoped for and more playing here," Ranalli said. "I loved having the opportunity to come in right away and play. It's been a good career and I want to keep this season going as long as I can."
Soley shines
After a 6-5 loss to Hamline on Friday night, St. John's rebounded with a 2-0 win on Saturday to earn a series split and move into a fourth-place tie with Augsburg in the MIAC standings.
The Johnnies thrived off a solid performance by Saxton Soley, who racked up 32 saves and earned his third shutout of the season. Soley has tallied seven shutouts overall in his stellar career.
Soley is having a solid junior season. In 17 games, he has fashioned a 2.01 goals-against average and owns an 8-4-5 record. Soley, the co-freshman of the year in the MIAC two years ago and an All-MIAC honorable mention selection last season, has won 31 games in his career.
St. John's has also played well offensively, scoring 58 goals. Neal Smith and Huba Sekesi have come through with six goals apiece, while John Haeg leads the team in points, tallying five goals and 11 assists.
The Johnnies are 10-6-5 overall and 6-4-2 in the conference with four games to play, including a pivotal series against conference leader and rival St. Thomas at the end of the regular season.
Big weekend
Lake Forest is ranked 13th in the nation and enters the final weekend of the regular season with an opportunity to earn a share of the NCHA championship.
The Foresters, 14-4-5 overall and 12-3-1 in the conference, have lost only once in their last 17 games and will be up against an Adrian team that is ranked No. 5 in the country and has already clinched a share of the title. They are 2-2-2 against nationally ranked opponents this season.
The Foresters will get to play this series at home, where they are 7-1 on the year.
Lake Forest has been impressive on the offensive end of the ice, scoring 83 goals. Luke Swardenski and Bobby Barrett lead the way with 12 and 10 goals, respectively.
The Foresters also have gotten the job done on defense behind goalie Leo Podolsky, who has a 14-3-3 record and a 1.61 goals against average. The Foresters have given up more than three goals only once in their last seven games.
Title hopes on the line
Wisconsin-Eau Claire will duke it out with Wisconsin-Stevens Point this weekend in a battle of nationally-ranked teams. For the Blugolds, this is their chance to move back into position to win the WIAC championship.
Eau Claire has won its last two and enters the weekend two games behind the third-ranked Pointers in the standings. The Blugolds are 14-5-2 overall and 6-2 in the conference.
The Blugolds and Pointers have played once already this year, with Eau Claire falling 3-0 back in December. Eau Claire comes in having scored four or more goals in each of its last six games.
The offensive attack of the Pointers has been fueled by Ethan Nauman, who has come through with 17 goals and 11 assists. Ross Andersen has been instrumental to the Blugolds' success as well, scoring 16 goals and dishing out 11 assists. Brandon Wahlin has also come through with double-digit goals, scoring 10. He has tallied 18 assists as well.
In the poll
Stevens Point is the highest ranked team in the West region this week, sitting in the No. 3 spot in the national poll. Adrian is ranked fifth in the country and Wisconsin-River Falls is sixth. Eau Claire is No. 12 and Lake Forest is 13th in the nation. St. Thomas is 15th.