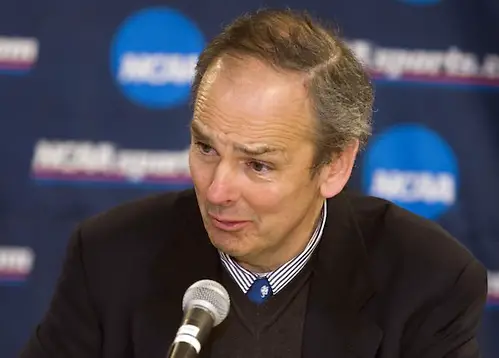 The numbers – 600 wins, eight national championships, 60,000 (or so) memories – are simply staggering.
But if you ask Bill Beaney, he'll tell you that numbers don't begin to define his remarkable career.
Where that tale begins and ends is with the legions of raw young men who have passed through his doors and developed into fine grown men.
The gangly youngsters, unsure and untested, who grew into accomplished teachers and coaches, soldiers and citizens, husbands and fathers.
All of them bearing the fingerprints of Beaney, who has seen at least 1000 of them pass through his doors over the last 35 seasons, first at New England College, and for the past 28 (with a year off in 2002-03) at Middlebury.
That is what Beaney, who is as modestly soft spoken as he is accomplished, will tell you is what has given his career its meaning.
"It's always dangerous to measure one's success numerically," he said. "I would hope that most coaches look beyond wins and losses. Hopefully, you've had a chance to have a little bit of impact on some people in the important facets of life. That's what drives you every day – to see the young people grow and learn how to make good decisions, to solve problems and deal with adversity. I think that's how perhaps you measure your success.
"The 600 wins are fabulous, but what it means is that you've had a lot of good players. It means you've had a great assistant coaches. And we've had great consistancy with our training staff. We've [even] had the same bus driver for 28 years."
For the record, Beaney stands 11th among all NCAA men's hockey coaches in wins (sixth among active coaches) and stands first among everybody for wins at the Division III level.
Heck, toss in the 260 wins that Beaney's brother Jeff (whom he coached at NEC) compiled at Southern Maine before retiring last Christmas and you have a record of sorts for sibling coaching success.
The latest victory, Beaney's 514th at Middlebury, came Saturday via a 3-0 blanking of Wesleyan and helped keep the Panthers afloat in the difficult NESCAC mix.
Beaney said the milestone win more or less snuck up on him.
"I was surprised because it wasn't anything I was keeping track of," he said. "You're thrilled by it, but the best part about is that it gives you time to pause and reflect on the contributions made by so many good people over that length of time and the good fortune that [I've] had. From just a wonderful, wonderful college hockey coach I had [as a player at New Hampshire] in Charlie Holt on. It was a wonderful environment to give me impetus to try to go up and beyond."
If hockey championships are where that bar is set, Beaney launched his to the moon.
Beaney's Panthers dominated D-III in an 11-year span from 1994-95 to 2005-06, capturing a record eight national titles, including five in a row at the beginning of that awe-inspiring era.
The hallmark of those teams?
Again, Beaney, the spunky former UNH forward, deflects that one deep into the zone.
"I know we had great players that bought into what we were asking them to do," said Beaney. "We had good assistant coaches that did a nice job recruiting and complimenting the team in practice. I think if you look back to the first one, we were young and didn't know what it was all about. But with our players, we won the first one and the next group didn't want to let you down. It just kept building.
"Every one of those teams had great leaders. I knew that if February came around and they didn't need me – if I didn't even need to go to practice – they were going to find a way to be successful. That's when you know as a coach when you've done a good job."
Having clicked off wins by the hundreds, is victory No. 700 in Beaney's sights?
The answer to that one is a definite "no."
"I won't make 700," he said. "It will be over before that. Between my wife [Judy] and I, we have a plan, but we don't want to share it publicly. Who know's how long? Hopefully, we'll stay healthy and have a few more years left. But we'll play it through as it goes."
And some day, even after the victories stop mounting, Beaney will still be reaping the blessings derived from his stellar career.
Those are the rewards he has set his sights on all along.
"Sometimes," he said, "you get payback five or 10 years out. And it comes in so many different ways. Sometimes in small gestures. Sometimes it's being asked to be involved in a former player's wedding. Sometimes it knowing you impacted someone's life because you helped them get into school, and how they took advantage of those opportunities to build a solid life.
"It's been a ball, and I wouldn't trade it for anything."
Perhaps the best way to assess a coach's body of work is to view it through the eyes of his peers.
And among that fraternity Beaney is held in stratospheric esteem.
Nazareth and former Oswego and Clarkson coach George Roll (261 wins): "We (Oswego) played them in the NCAA tournament twice. The first time they beat us pretty good in a total goals series on their way to a national title. The next time we beat then in the national semi finals but he was on sabbatical that season (2002-03) to watch his son (Trevor) play (at Princeton). His teams were very well coached and extremely difficult to match up against. They had talent but they were extremely discipline in their systems which is not always easy to do with a team of highly skilled players but they all bought in. It was a challenge to coach against him because you knew your team had to execute if you had any chance of success. To do what he has done at the same school for as long as he has is a testament to his commitment and dedication to the sport of hockey."
Ed Gosek (249 wins), who succeeded Roll at Oswego: "I am honored to even be asked to comment on Bill. He's is in an elite group of coaches. At D-I you have the greats – York, Mason, Parker, Berenson. At the D-III, you have McShane, Emery , Rolli , Meagher, Coghlin. [A] pretty impressive group of coaches. He's won national championships – five in a row then three in row. He not only is loyal to his school, but has consistently won while doing things the right way.
"People can say he has a beautiful arena, people can say it's the great academics with great financial aid. People don't understand even with those things in place how hard it is to consistently stay on top. He is a great coach, but an even better person. We were fortunate enough to play for the national championship in '07 against them. They had won three in a row. To this day I still remember how Bill and his team conducted themselves after the [double overtime] game. [With] total class, dignity and sincere appreciation, they knew how hard it was to accomplish. Those qualities just don't happen. Your team is a reflection of your coaching staff and his team conducted themselves as if they had won in a first-class manor.
"On his influence on the game, his small ice games have been implemented by USA hockey and the ADM model. As I call it the Bill Beaney way. He has made the game better."
Terry Meagher (527 wins), longtime coach at NESCAC rival Bowdoin: "Coach Beaney has established progressive and formable models to enhance such keys to success.The work has been conducted with class and care for the game. The majority of our iconic ice hockey programs have one thing in common. It is a program identity easily recognized as a game unfolds and even more importantly when a team exits a bus while representing their College. Bill's teams have that admirable presence.
"I know Bill would be the first to say he is fortunate to be part of a legendary [Charlie Holt] coaching tree. The best way for me personally to acknowledge Coach Beaney's wonderful accomplishment is to recognize that he is a solid branch of the Coach Holt legacy. I don't know if there has been a more respected figure in our game than Coach Holt. Bill has taken the professionally courageous creativity of Coach Holt to a level that would make his former coach and mentor so very proud."