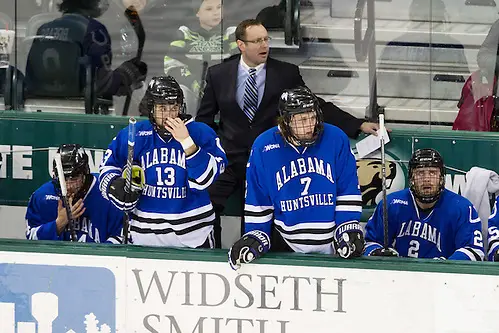 The closer it gets to the end of the regular season, the less Alabama-Huntsville coach Mike Corbett wants to talk about the playoffs.
"We're not talking about it much," the second-year coach said. "We're still a program where we're shift to shift, minute to minute. I don't want to get ahead of myself. But the kids know. Everybody knows. We don't let it be an elephant in the room, but we have to be who we are and just play our game to be successful."
He has a point. Although it looks like the Chargers (8-18-4, 7-14-1 WCHA) are in prime position to play in a conference tournament for the first time since 2010, Corbett knows it's more important to for a team like UAH to keep it even keel and take things one game at a time.
Sure, UAH has 15 points in the conference and sits in eighth place with six games to play. But things can fluctuate so much that Corbett wants to keep his team focused.
The Chargers' past two hockey weekends are a perfect example.
UAH went to Houghton, Mich., on Jan. 30-31 and got spanked by Michigan Tech (and that's putting it nicely). The Huskies won 5-0 and 11-1.
Then the Chargers went back to Huntsville and had a week off, which gave them time to think about it.
"We got embarrassed," Corbett said. "We needed a week off. I mean, you never want a week off, but that taste sticks in your mouth for too long. So we needed a week off."
The way the Chargers responded last weekend could mean the difference between their first WCHA playoff appearance and watching from afar for their second straight year. UAH went back to the Upper Peninsula and took three points from Lake Superior State, tying 1-1 Friday before rallying for a 3-1 win Saturday.
Corbett said before the games last weekend he kept writing "16-1" — the combined score of the previous series — on the whiteboard in the team's locker room. Players kept erasing it, but he kept re-writing it in various colors.
"I just kept reminding them, that's not who we are, that's not who we're striving to be," he said. "The only way we can show people is prove it. Show people how we're going to react from that embarrassment.
"Our kids reacted well. I was happy for our team to be able to get three points there. To be able to get three points on the road is big in college hockey right now."
Senior captain Doug Reid — who hadn't scored in more than two years — scored both game-tying goals against the Lakers. Corbett said getting contributions from some of his unsung seniors — the ones who don't score much but have stuck with the program through its near-death — are big for his team.
"We don't score a lot of goals, but we're starting to get the timely goals," Corbett said. "We were behind in both games and he turns around and knots the game up and gets us going.
"Guys on the bench, they know that a guy like him hasn't scored in a while. They get jazzed up, they get excited. It carries over."
The Chargers are 2-0-1 against Lake Superior State this season. The Lakers are in ninth place in the league with 13 points, while Alaska-Anchorage (which UAH swept early in January) is out of playoff position with 10 points.
The last time UAH played in a conference tournament was 2010, the last season of College Hockey America. The Chargers beat Robert Morris and Niagara for the CHA title and made the NCAA tournament.
UAH hosts Ferris State — the team directly in front of it for seventh in the league standings — this weekend. Alaska comes to Huntsville Feb. 27-28 before the Chargers close the season at Bowling Green.
"We want to see the light at the end of the tunnel," Corbett said. "The question is, how hungry our guys are to get there? We have to take care of our business. We don't want to have to wait until a late Anchorage score to say we made the playoffs.
"We want to be able to say, hey, we're not striving to be eighth or ninth, whatever it's going to be. We're hungry to prove something, prove we can compete in this league consistently."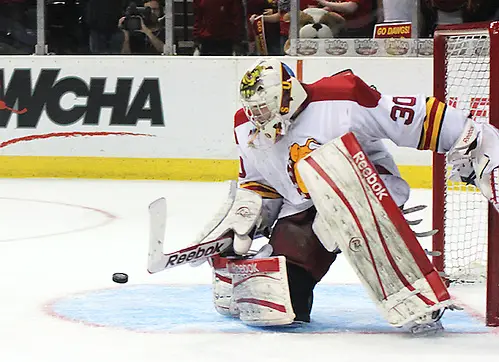 Save Ferris
Getting his to 60 victories didn't come easy for Ferris State goaltender CJ Motte.
The senior reached the milestone when the Bulldogs defeated visiting Bowling Green 3-2 in overtime last Saturday night. He's three wins shy of Mike Brown's school record of 63.
Motte sat at 59 wins for a long time — Saturday's win snapped a seven-game losing streak, the Bulldogs' longest since closing out the 2008-09 season with seven defeats.
Motte, who has played in every game this season, was far from perfect during the losing streak, but he didn't get much goal support, either. The Bulldogs scored just eight goals in those seven games and just 11 in their 11 losses over the last 13 games. Ten of those games were played on the road.
Motte, who stopped 28 shots on Saturday, surely must have appreciated the aggressive message of coach Bob Daniels before overtime:
"Don't give up a goal; go get one," Daniels said in the postgame press conference. "Make sure to play through bodies; make sure to play to win. Don't just sit back and try to eke out a tie or hope to win. Go play hard."
Jared VanWormer scored the winner, tapping in a perfect feed from Justin Buzzeo.
"Any chance you have to get to throw the puck on net," Daniels continued in his message. "Now that's not what happened. Buzzeo made a tremendous play when he made the feed over to VanWormer at the side of the net. That was a great play by Justin Buzzeo."
And it got Ferris State to the magic number of three.
When the Bulldogs have scored three or more goals this season, they are 10-1. When they score fewer than three goals, they are 2-17-1.
Ferris State is in seventh place, only two points out of home-ice position, and plays at eighth-place Alabama-Huntsville this weekend. The Bulldogs have a three-point lead over the Chargers.
Ferris State then closes the season with a home series against one of the two fifth-place teams, Bemidji State, and at ninth-place Lake Superior State.
Ice chips
• Motte and Michigan Tech forward Tanner Kero are among the 10 finalists for the 2015 Senior CLASS Award, which recognizes senior athletes who have notable achievements in community, classroom, character and competition. Motte and Kero were chosen by national media from a list of 30 candidates announced in October. Winners will be announced during the Frozen Four.
• Alaska-Anchorage's 10-0 loss to Michigan Tech on Saturday was the most lopsided shutout loss for the Seawolves since they joined the WCHA in 1993. The 15 goals allowed in the series were the second-most for them in a league series, topped only by the 16 given up to Colorado College (11-3, 5-2) in the 1995 playoffs.
• Alaska is in fourth place in the league standings despite being ineligible for postseason play. Including their win and tie last weekend, the Nanooks finished 2-1-1 in their season series against first-place Minnesota State and wrapped up their home schedule with a 10-5-1 record.
• Bemidji State's sweep of Northern Michigan in Marquette wasn't just the Beavers' first true road win since Oct. 10 (their 5-1 win over North Dakota in Grand Forks). It was also their first back-to-back road wins since Jan. 10-11, 2014, at Lake Superior State. The Beavers are just 5-10-2 away from home, but they're 7-4-2 in Bemidji. BSU hosts Alaska-Anchorage this weekend at the Sanford Center looking to extend its 5-0-2 unbeaten streak at home — the longest in Sanford Center history.
• Bowling Green needs to secure just one point this weekend at home against Northern Michigan (or have Bemidji State get two points or fewer against Alaska-Anchorage) to wrap up home ice. The Falcons continue to boast the nation's best penalty kill with a 92.7 percent (115-for-124) success rate.
• Lake Superior State is idle this weekend after being swept by Alabama-Huntsville. The Lakers have scored just one goal in each of their last five games and have gone 0-4-1 in that stretch. They return to the ice next weekend at Northern Michigan then host Ferris State to end the regular season.
• Michigan Tech is also idle this weekend, which means the nation's longest winning streak will stay intact until the Huskies head to Mankato to take on league leaders Minnesota State Feb. 27-28. The Huskies have won their last eight games and haven't lost since Jan. 17 against Bowling Green. Their 24 wins are the most in the country and the highest win total for Tech since 1980-81.
• Minnesota State was outshot twice by Alaska, marking the third and fourth times this season that it did not have the advantage in that category. The Mavericks were also outshot by Minnesota-Duluth on Oct. 17 and by Michigan Tech on Nov. 22. Both of those games were wins for MSU. The Mavericks tied and lost at Alaska.
• After being swept by Bemidji State, Northern Michigan hits the road to Bowling Green, a team that already took three points from the Wildcats on Dec. 5 and 6. NMU tied one game 5-5 but lost the other 5-0. NMU is 39-42-9 all-time against Bowling Green. The Wildcats' last win in the series was Feb. 28, 2014, when they picked up a 4-1 win at the Berry Events Center.
• The WCHA players of the week are Alaska junior forward Tyler Morley (offensive), Alaska senior goaltender Sean Cahill (defensive) and Alabama-Huntsville freshman forward Max McHugh (rookie).