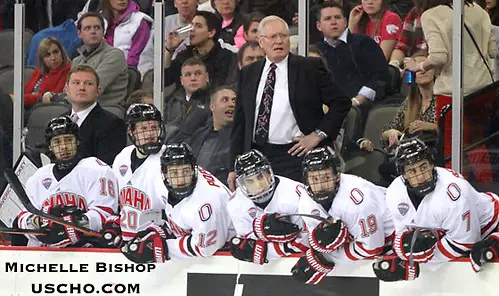 It's not just the smart money that's on the NCHC experiencing a tight finish to the end of the regular season. The sane money's on it, too.
Three teams — sixth-ranked Miami, No. 5 Omaha and No. 1 North Dakota — are tied at the top of the league's standings with 35 points each. None of the three have a week off from now until the end of the postseason, and two of them (Miami and UND) will meet on the final weekend before the NCHC playoffs begin.
UNO, the third team in that group, will host last-place Colorado College on the final two nights of the regular season. Before then, however, the fifth-ranked Mavericks have to make two difficult road trips, to St. Cloud State this weekend and to No. 7 Minnesota-Duluth next week.
Where Omaha is concerned, it would like to keep expectations placed upon the Mavericks low. It's been that way since the start of the season, and the league predicting that UNO would finish sixth in the NCHC suited the Mavericks and coach Dean Blais back in October.
Blais isn't building his team too much these days, either. He knows where his team stands, but he also has the bigger league-wide picture in mind.
"It's so tight right now, and with the three-way tie we have, I think it's probably going to go down to the last weekend like it did last year," Blais said of the chase for the Penrose Cup, the trophy handed to the NCHC's regular season champion.
"I don't know what's going to happen, but I hope we're still [going to be] one of the teams that are in it, but nothing's going to be easy for any team with our schedules. Even Colorado College is playing well right now and they've only won one game and they beat us."
That loss to the Tigers he referred to is a recent one. Three unanswered CC goals helped push the Tigers to a 4-3 win over Omaha on Jan. 16 in Colorado Springs.
Since then, the Mavericks have run into a couple of minor snags. In its last two series, UNO split with UND — both games went to overtime — and did the same in a home set last weekend against Western Michigan.
That's not a great sign for a team that not only has its opponents to face but also the Mavericks' own history. UNO has trended downward in the home stretch in recent seasons and hasn't been to a league playoff championship weekend in nearly 11 years.
"I just think we've been a little unlucky," Blais said. "We'd get players hurt at the wrong time or our goaltending was maybe not as good as it has to be. Ryan Massa's playing really well right now and Kirk Thompson's playing well as his backup. And then we've just run into tough schedules, too.
"It's not that we've choked or played different. We've just had a pattern of running into tough circumstances."
This season's Mavericks team could be different. Despite entering the season with 11 freshmen — they now carry 10 after forward Jake Montgomery left the school last month to return to junior hockey — Omaha is No. 5 in the PairWise Rankings, a spot UNO's program had never before held this late in a season.
Part of that, Blais said, is down to the team's chemistry together.
"We've got a great bunch of kids and the young kids are doing well and contributing, and it helps that the older players are doing a good job of leading the youth," Blais said.
"I saw it in the summer where everyone came in and really all liked each other, and I think that's one of the biggest keys for our team: We have a group that, off the ice, is really good together and we have a real good locker room."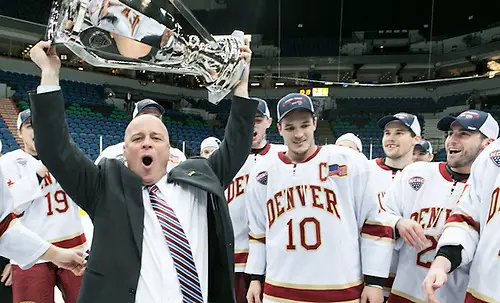 Montgomery takes bereavement leave
Ninth-ranked Denver traveled to North Dakota last weekend, but the Pioneers arrived in Grand Forks without their head coach.
James Montgomery Sr., DU coach Jim Montgomery's father, passed away in a Montreal hospital on Friday morning. Montgomery Sr. was 80 years old.
"The man who impacted my life the most has passed away," Montgomery tweeted Friday morning. "I will miss our daily phone calls and the wisdom and love you gave me. Love you Dad."
Montgomery missed both games last weekend to be with his family in Montreal.
David Carle, DU's 25-year-old assistant coach, headed the DU bench last weekend in Montgomery's stead. The Pioneers fell 4-2 to UND on Friday before winning 1-0 in a shootout on Saturday following a 3-3 tie.
Montgomery was scheduled to return to Denver on Thursday night before traveling with his team to Colorado Springs on Friday for the first leg of a home-and-home series with Colorado College.
Players of the week
Offensive player of the week — David Morley, St. Cloud State: Morley put together four points on two goals and as many assists last weekend in a series at Minnesota-Duluth. The junior Huskies forward is riding a six-game point streak.
Defensive player of the week — Joey LaLeggia, Denver: LaLeggia is the league's blueliner of the week for the second week running after picking up a goal and two assists last weekend at North Dakota. He also fired eight shots on goal in the series and finished the two-game set with a plus-1 rating.
Rookie of the week — Louie Belpedio, Miami: The blueliner picked up one point in both of his team's victories last weekend at Colorado College. Belpedio also anchored a penalty-killing unit that killed seven of the Tigers' eight power plays.
Goaltender of the week — Jay Williams, Miami: The RedHawks junior played a key role in helping Miami pick up its first-ever NCHC road sweep last weekend at CC. He stopped 48 of the 50 shots he faced against the Tigers in Colorado Springs.