Each week during the season we look at the big events and big games around Division I men's college hockey in Tuesday Morning Quarterback.
Matthew: We're quickly closing in on the start of our six conferences' playoffs, and plenty of big news came from this last weekend's action. Perhaps the biggest headline from the weekend was Quinnipiac clinching at least a share of the ECAC Hockey regular season title and the No. 1 playoff seed.
It's a long shot, but I'll put the question to you: After ECAC schools Yale and Union won the last two national championships, is there any chance Quinnipiac could make it three in a row for the league?
Jim: Going back to last week's conversation, I think the field for this tournament will be wide open. So assuming Quinnipiac makes the field, there is no reason to believe it can't win the title, particularly given the fact it was one game away from a national title two years ago.
What I love about this team is that Rand Pecknold has been able to bring in and hold onto one blue-chip recruit per class. Senior Matthew Peca is second on the team in scoring. Junior Travis St. Denis is third. Sophomore Sam Anas leads the team and rookie Landon Smith is tied with St. Denis at 27 points.
Having impact players from every class shows this team can recruit and reload, qualities of a national champ, don't you agree?
Matthew: I absolutely do, and the continuity doesn't just hold itself to the Bobcats' skaters — it's in their goaltending ranks, too. Michael Garteig has been outstanding this season and is arguably the best goaltender in ECAC Hockey save for maybe Kyle Hayton at St. Lawrence. If Garteig can keep it up into the postseason, I can see the Bobcats going far.
Speaking of Pecknold, where does he rank to you in terms of national coach of the year contenders? I'm not sure if he's at the top of everyone's list but he has to be considered.
Jim: I think there are a number of good candidates for the Spencer Penrose Award, and I think Mike Hastings at Minnesota State leads the way. Hastings brought the Mavericks to the NCAA tournament in each of his first two seasons with the team and this year is in position to have his team grab a No. 1 seed if not the top overall seed.
When realignment taking away the WCHA's former powers, it was difficult to believe this league would produce another national champion for quite some time. Hastings has his team in position to win a title in year two after the realignment.
So Hastings leads my list of candidates for the Penrose. Who is on your list?
Matthew: Hastings tops my list, too, and it's remarkable to see how much the Mavericks have grown since he took over that program. He had been in a good situation as the assistant coach to Dean Blais in Omaha before, but I think he felt the writing might have been on the wall that indicated a college head coaching job for him might lie elsewhere. He took that chance in Mankato and, boy, is he ever making the best of it.
As for the rest of my short list, I have Pecknold second and Greg Carvel from St. Lawrence not at all far behind in third. Blais is in fourth on my list, but UNO has lost four of its last five games now and I'm sort of wondering what's going on there.
Jim: Let me throw four more names at you, all of whom are on my short list: Boston University's David Quinn, Penn State's Guy Gadowsky, Miami's Enrico Blasi and — maybe a long shot on most lists — Derek Schooley at Robert Morris. Any of these guys serious contenders in your mind?
Matthew: I would consider Quinn and Blasi the top two out of those four. Quinn is unquestionably the Hockey East coach of the year for me, and Blasi's RedHawks still have a very good chance of going from worst (last season) to first (this) in the NCHC.
Gadowsky I'm not as sure on as Penn State is fourth in a fairly mediocre Big Ten. Schooley deserves a ton of credit for what he's doing at Robert Morris but I don't know if he breaks into my top five for the Penrose.
Jim: Are you forgetting that Gadowsky has taken Penn State from nonexistent to a contender in the Big Ten in two seasons? I assume most thought the program would be a doormat in the league for at least five or six years. That alone, I think, deserves recognition.
Turning away from the Penrose talk and back to the hockey on the ice: Give me one team that, based on recent play, might be the biggest dark horse in its conference tournament.
Matthew: Personally, I'm not at all prepared to write off Western Michigan at this point. The Broncos most likely are going to be the No. 7 seed in the NCHC tournament, but they're one spot behind Robert Morris in the PairWise at No. 24. I can't guarantee that they'd make it to Minneapolis for the league's championship weekend — No. 6 St. Cloud State might have a better shot against the No. 3 seed than Western would at the second-seeded team's rink — but whomever Western plays in the first round in a few weeks' time will need to be on high alert.
What about you? What's your top sleeper pick for the conference tourneys?
Jim: I am going to give you two — one near the top of its league and one near the bottom. Bentley isn't a team that is getting much attention in Atlantic Hockey given how hot Robert Morris has been, but the Falcons are on a roll of late.
In Hockey East, New Hampshire has struggled all season long but is playing its best hockey right now. I wouldn't want to face the Wildcats in the first round of the Hockey East playoffs.
Thumbs up
To Boston University for kicking off Hobey Baker Award campaign season in a throwback presidential style.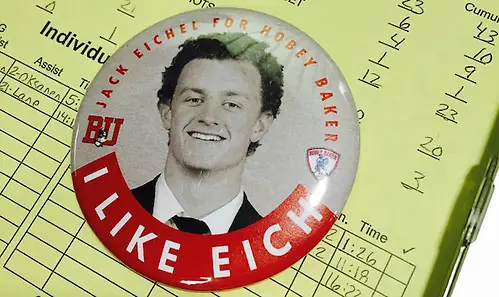 Thumbs down
To Merrimack and Vermont, who tied 0-0 on Saturday in Burlington. With scoreless games like that, maybe overtime shootouts aren't such a bad thing after all.
Coming up
The WCHA's MacNaughton Cup could be decided this weekend when No. 2 Minnesota State hosts No. 3 Michigan Tech. The Mavericks have a one-point lead with four games remaining and can clinch the title with a sweep.
The NCHC has a pair of series between teams that are right next to each other in the standings. No. 7 Denver (tied, third place) hosts No. 5 Miami (second), while No. 6 Minnesota-Duluth (fifth) hosts No. 8 Omaha (tied, third).
In Hockey East, No. 14 Massachusetts-Lowell hosts No. 18 Vermont for a pair of games on the final weekend of the regular season, while No. 10 Quinnipiac plays at No. 16 Harvard in ECAC Hockey.