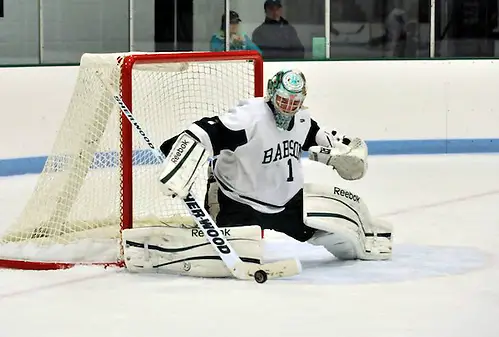 The ECAC East recently announced its year-end award winners for the 2014-15 season, in addition to three All-Conference Teams and an All-Rookie Team.
Norwich sophomore William Pelletier took home the Player of the Year award after averaging more than two points per game with 14 goals and 35 points in just 17 games for the Cadets.
For the second consecutive year, Babson's Jamie Murray is the Goaltender of the Year. The junior went 17-5-3 this season with a 1.64 GAA and a .940 save percentage.
Massachusetts-Boston freshman Colin Larkin tallied nine goals and 15 assists for 24 points in 25 games and was named Rookie of the Year.
Norwich bench boss Mike McShane was named Coach of the Year after leading the Cadets to a stellar 21-3-1 mark this season.
2015 ECAC East All-Conference First Team
| Player's Name | Position | School |
| --- | --- | --- |
| Stephen Buco | F | Massachusetts-Boston |
| William Pelletier | F | Norwich |
| Cheyne Matheson | F | New England College |
| Mike Vollmin | D | Babson |
| Alec Thieda | D | Norwich |
| Jamie Murray | G | Babson |
2015 ECAC East All-Conference Second Team
| Player's Name | Position | School |
| --- | --- | --- |
| Peter MacIntyre | F | Massachusetts-Boston |
| Michael Phillips | F | Babson |
| A.J. Pieprzak | F | St. Michael's |
| Brian Greene | D | Castleton |
| Dan Cornell | D | Massachusetts-Boston |
| Corey Hale | D | Norwich |
| Ty Reichenbach | G | Norwich |
2015 ECAC East All-Conference Honorable Mention
| Player's Name | Position | School |
| --- | --- | --- |
| Johnny Daniels | F | St. Anselm |
| Dean Niezgoda | F | Norwich |
| Anthony Bird | F | Skidmore |
| Tyler Bishop | D | Massachusetts-Boston |
| Tyler Estee | D | St. Anselm |
| Colby Drost | G | University of New England |
2015 ECAC East All-Conference All-Rookie Team
| Player's Name | Position | School |
| --- | --- | --- |
| Colin Larkin | F | Massachusetts-Boston |
| Charlie Ackerman | F | Babson |
| Kevin Salvucci | F | Norwich |
| Jake Donahue | D | Babson |
| Alec Brandrup | D | Norwich |
| Ryan Mulder | G | Castleton |
| Kyle Shapiro | G | Southern Maine |