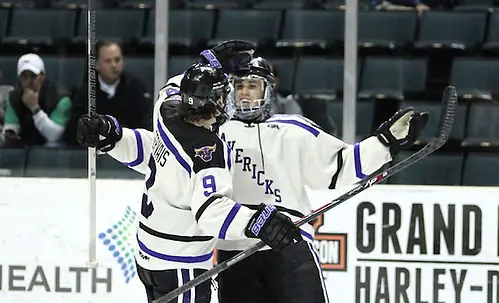 Mike Hastings said the first meeting between his Minnesota State Mavericks and Michigan Tech "seems like two years ago," but Huskies coach Mel Pearson recalled thinking about the rematch after that November series in Houghton.
"You got the sense that somewhere down the road we'd meet again and it would be meaningful," Pearson said.
On the penultimate weekend of the regular season, they meet again in Mankato — and it is indeed meaningful.
The second-ranked Mavericks hold a one-point lead over the third-ranked Huskies atop the WCHA standings. A Minnesota State sweep would give the Mavericks their first MacNaughton Cup championship, while two wins by Michigan Tech would slingshot the Huskies into first place and put them in great shape for their first WCHA title since 1976 with a week to go.
"One's going to finish first; one's going to finish second," Hastings said. "Winning a regular season championship, I think, is very difficult in our league."
The Mavericks swept the Huskies three months ago in a pair of one-goal games, handing Michigan Tech its first losses of the season after a 10-0 start and knocking it out of the No. 1 ranking.
"I still have that feeling and that sense of intensity and that pace and grittiness of those games in November," Pearson said.
He said the same of the last season's regular season finale in Mankato in which a tie between the two teams cost MSU a share of the MacNaughton Cup and kept Tech out of a home-ice spot.
"It doesn't matter if you're talking about the MacNaughton, if you're talking about home ice or talking about making the playoffs, one point is usually the difference," said Hastings, whose own team was recently knocked off the top of the rankings. "Everybody's playing for something at this time of year — everybody. So I think it's an exciting time for hockey."
There's definitely excitement for the series in south-central Minnesota, where the games are expected to be played in front of two packed houses — perhaps more than 5,000 strong each night — at the Verizon Wireless Center.
And why not? It's not just about rankings and standings. The series will feature 10 of the WCHA's top 11 scorers — Tech's Tanner Kero and Alex Petan and Minnesota State's Matt Leitner and Bryce Gervais, just to name a few — as well as two of the league's best goaltenders in the Huskies' Jamie Phillips and the Mavericks' Stephon Williams.
"These are the games you want to play in," Pearson said. "Going into a tough rink against a good team. You can't ask for anything more. … And it's good for our league. It sheds some spotlight on our league."
Both coaches are trying to put the weekend into perspective. No matter what the outcome is in the series, there's a lot more hockey to be played, including the final weekend of the regular season, the first round of the conference playoffs, the Final Five and the NCAA tournament.
"We've found ourselves in a good position," Pearson said. "We didn't know that we'd be here. We're trying to approach the game Friday and again Saturday as being the same as playing Lake Superior in October. It's two points."
Tell that to the fans packing the place hoping to see a championship clinched.
"You set goals at the beginning of the year," Hastings said. "The first is you want to get home ice in the playoffs. The second is you want to be competing for a league championship. … Those are hard to win; it's hard to get home ice. So it's an opportunity. And if you win it, you better keep an eye on what's in front of you."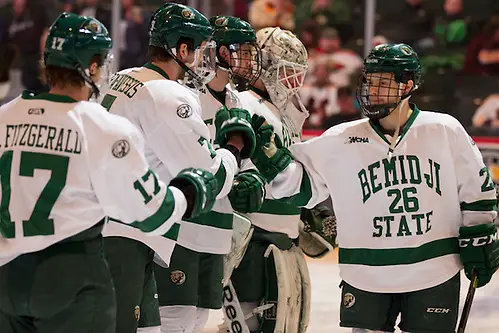 Home ice on the line
Meanwhile in Big Rapids, there's another big series between two teams that actually haven't played in nearly a year.
And depending on how the series breaks, either host Ferris State or visiting Bemidji State could find itself in the league's fourth and final home-ice position at the end of the weekend.
"Every single team in our conference has something to play for this weekend," Bulldogs coach Bob Daniels said on a local Big Rapids radio show. "Whether it's trying to make the playoffs, improve your playoff position, like we are, or playing for the MacNaughton Cup."
The teams haven't played at all this season, but they met six times in 2013-14, including the first round of the WCHA playoffs in Big Rapids.
Daniels has been keeping tabs on the Beavers, however.
"They're coming in on a four-game winning streak," said Daniels, whose own team has won three in a row. "They're hard to play against. I've been able to catch them a number of times on TV. They're playing well; they're well coached. I think we're going to be tested again this weekend."
The Beavers are tied with Northern Michigan for fourth place but hold the head-to-head tiebreaker with the Wildcats. The Bulldogs are just two points behind them.
"It's always interesting playing Ferris," Bemidji State coach Tom Serratore said. "They've had a lot of success as of late. Frozen Four a couple years ago, league title last year. They're a very good hockey team that's playing well right now."
A Bemidji State sweep would eliminate the Bulldogs from home-ice consideration. If Ferris State sweeps, the Bulldogs would leapfrog the Beavers with two games remaining.
Although neither team can clinch anything or be eliminated by themselves — Northern Michigan will have a lot to say about that as it spends the weekend at Lake Superior State — it's clear the teams know the implications.
"We have to win all these games right now," Beavers freshman forward Kyle Bauman said. "We realize how close of a race it is with Northern and Ferris. We're only beating Northern by a head-to-head tiebreaker, and Ferris is two behind. So we just have to keep winning."
Ice chips
• Alabama-Huntsville sophomore defenseman Brandon Carlson leads the nation with 74 blocked shots after getting in front of three shots last week against Ferris State. The WCHA has four players in the top 10 nationally in that category, including Bemidji State's Sam Windle (fourth with 71) and Michigan Tech's Matt Roy and Cliff Watson (tied for sixth with 69 each).
• Alaska-Anchorage will close out the regular season with four consecutive home games. The Seawolves, who have lost eight games in a row, are hoping to climb out of the league cellar and make the postseason. To do that, they will need to win at least two of their final four games — they host Bowling Green and Alaska — and have Lake Superior State go winless over the next two weeks.
• Alaska plays its final four games of the season on the road, starting this weekend at Alabama-Huntsville. While the Nanooks are ineligible for the postseason, they can still finish as high as fourth place in the league standings by sweeping out and getting some help.
• After getting swept at home by Northern Michigan last weekend, Bowling Green remains two points shy of clinching home ice. A win at Alaska-Anchorage also will secure third place for the Falcons, who are on a three-game losing streak, their longest slump of the season.
• Lake Superior State and Northern Michigan will play this weekend for the Cappo Cup, which dates to the 1991-92 season. The team that scores the most goals in the series wins the trophy. The Lakers, who have lost three games in a row, were swept at home by the Wildcats 4-2 and 3-0 in October. Northern Michigan heads into the home series fresh off its upset sweep at Bowling Green. Wildcats senior Reed Seckel has 10 points in 12 career games against the Lakers.
• This week's league players of the week are: Northern Michigan senior forward Reed Seckel (offensive), Ferris State senior goaltender CJ Motte (defensive) and Bemidji State freshman forward Kyle Bauman (rookie).