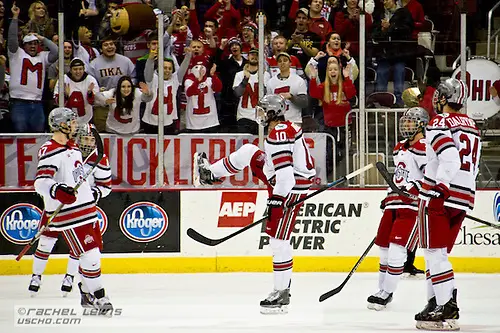 Ohio State resides in fifth place in the six-team Big Ten.
The Buckeyes are 15 points behind conference leader Michigan with four games remaining in the schedule and are 37th in the ever-important PairWise Rankings.
An at-large bid into the NCAA tournament is off the table for the Buckeyes, and in any other conference they would have to win at least one road series against one of the conference's top teams before proceeding to win the conference tournament to capture an automatic bid.
However, Ohio State playing in the Big Ten means it only has to do the latter — winning three games in a row at Detroit's Joe Louis Arena later this month would give Ohio State the conference's bid.
With the way the team played in January and for most of February — they lost six conference games in a row at one point — Ohio State might have been pretty even with Wisconsin in terms of teams people were betting on to find success in the postseason.
That being said, the Big Ten has proven to be a league where anybody can win any given weekend.
Ohio State hasn't won three games in a row this season, but with two weekends remaining in the regular season the Buckeyes are arguably playing their best hockey right now.
The way they've turned it around, according to coach Steve Rohlik, is simple: by taking everything one game at a time.
"We're buying into it, but that's just the approach we have to take," Rohlik said. "We certainly went through a struggle there after Christmas for a stretch of about a month and a half."
The No. 1 thing that has helped Ohio State turn things around is that Rohlik has, for the most part, a full stable to work with. At times this year various injuries made it difficult to field a full team.
He also pointed to the team rededicating itself to of working hard "Monday through Thursday." If Allen Iverson is reading this, you may want to skip this portion, because we are indeed talking about practice.
"I really believe that sometimes, as you know, the college hockey season is a very long year. Practices at times can become monotonous, and as a coach you have to take a look at what you're doing," Rohlik said. "For us, I think it was more or less we've got to understand what we're doing during the week, that really what you do every time you step on the ice is preparing yourself for Friday."
Rohlik added that a big thing was communicating with the team that it couldn't expect to simply "go through the motions" during practice and expect to get results during the actual game.
"Our focus seemed to change and they kind of pushed each other out of their comfort zone instead of just getting through practice," Rohlik said.
After what could be kindly described as a tough go between the pipes earlier this season, Christian Frey seems to have finally settled into his sophomore campaign. Frey, the goaltender who enrolled halfway through the school year last season and finished with an impressive 9-4-3 record and 2.27 GAA, has guided Ohio State to a 4-2 record in its last six contests.
"I think that both my goalies would attest and look back and say they didn't have best first half," Rohlik said. "Christian looks like he's back to where he was before. He's comfortable and he's giving us a chance every night, and that's the key.
"He's going out there, he looks comfortable and he's got that confidence and that little bit of swagger that you need from a goaltender," he added. "So that's exciting for a coach."
For Frey and the Buckeyes to continue their run of success this weekend, they'll have to find a way to beat the team that extended the previously mentioned conference losing streak to five and six games — Minnesota.
The Gophers beat Ohio State 4-2 and 6-2 at Mariucci Arena in early February. The wins helped Minnesota exit its own streak of less-than-favorable results.
"They're as good as anyone else in the country and I think everybody out there knows it," Rohlik said of Minnesota. "They start to lose a couple games and everybody's wondering what the heck is going on. Well, they're only human."
Minnesota is a hard team to beat on home ice — the Gophers are 12-3-1 at Mariucci this season — so the Buckeyes aren't the only team to go in there and get swept. Rohlik said playing at home this time around should help his team's chances.
The Buckeyes' miserable 2-6-1 record to start 2015 featured eight road games. This weekend's contests against Minnesota will be the team's last home games of the season.
"Minnesota knows what they have in the locker room and they know their skill-set," Rohlik said. "They're a scary team, for us and for anybody that plays them, but you just have to stick to your game plan and get after it and that's the approach anybody's going to take."
Whether the Buckeyes extend their winning streak to three games this weekend or not, the fact remains that a short winning streak could put them in the big dance at the end of the year.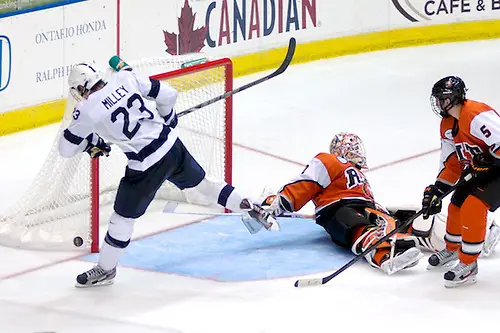 Milley calls it a career
Penn State announced on Monday that junior Jonathan Milley will not continue his career due to recurring injuries. Milley had six goals and seven assists for the Nittany Lions in 33 career games.
"I am very honored to have gotten this far in hockey," Milley said in a school release. "Injuries have prevented me from continuing to play, but at this point and time my health and degree are what is most important. I am so grateful to be considered part of an awesome team and to be able to get an education beyond my expectations."
Three stars of the week
First star — Michigan junior goaltender Steve Racine: Racine had a .960 save percentage and 1.00 GAA in Michigan's sweep of Wisconsin last weekend. He stopped all 22 shots he saw on Friday for his first collegiate shutout and turned aside 26 shots on Saturday. This is Racine's third career Big Ten weekly award.
Second star — Michigan sophomore forward JT Compher: Compher had four goals against the Badgers last weekend. He scored one goal in the Wolverines' 3-0 victory on Friday and recorded his first collegiate hat trick on Saturday. Michigan is undefeated this season when Compher scores a goal and is 11-2 when he records a point. This is Compher's third career Big Ten weekly award.
Third star — Ohio State senior forward Tanner Fritz: Fritz recorded four points last weekend and led Ohio State to a sweep over Penn State. He scored the game-winning goal in Friday's game and added a goal and two assists in Saturday's 5-3 victory over the Nittany Lions. This is Fritz's third career Big Ten weekly award.
Big Ten in the poll
No. 15 Minnesota and No. 16 Michigan represent the Big Ten in this week's USCHO.com Division I Men's Poll.
My ballot
1. North Dakota
2. Minnesota State
3. Michigan Tech
4. Boston University
5. Miami
6. Denver
7. Omaha
8. Minnesota-Duluth
9. Boston College
10. Providence
11. Quinnipiac
12. Yale
13. Bowling Green
14. Massachusetts-Lowell
15. Michigan
16. Minnesota
17. Harvard
18. Vermont
19. Colgate
20. Bemidji State
This week's matchups
Wisconsin at Michigan State (Friday and Saturday, Munn Ice Arena)
Minnesota at Ohio State (Friday and Saturday, Value City Arena)
Michigan at Penn State (Friday and Saturday, Pegula Ice Arena)