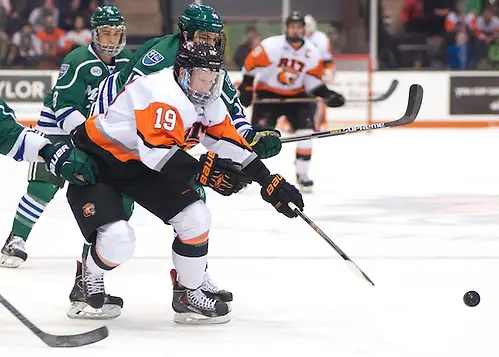 It took some wild finishes, but in the end the Atlantic Hockey standings didn't change much when the dust had settled on the final weekend of the regular season. The big mover was Rochester Institute of Technology, which was the only AHC team to earn four points last weekend and as a result jumped from fifth to third.
The Tigers dominated Mercyhurst 8-0 on Friday and then prevailed in a wild, 2-1 overtime game against the Lakers on Saturday. Knowing his team needed a win to gain home ice in the quarterfinals, Mercyhurst coach Rick Gotkin pulled his goaltender for an extra attacker in the final minute of overtime, and the Tigers capitalized when freshman Myles Powell cleared the puck from the RIT zone, sailing it 150 feet into the open net.
"You don't expect many of those games," RIT coach Wayne Wilson said of the eight goals scored on Friday, many of the highlight-reel variety. "And we knew it would be a different game the next night."
The win on Saturday moved the Tigers into their highest position in the standings of the season. His team, like most, has been a work in progress, Wilson said.
"We've cut down on the mistakes, which a young team is going to make," he said. "We've been skating three freshman defensemen all season, and no seniors [on the blue line]. We've had a young roster."
Up front it's been a pair of seniors and a junior that have clicked the way few lines have this season. Matt Garbowsky, Brad McGowan and Josh Mitchell have combined for 52 goals and 124 total points. Garbowsky notched his second hat trick of the season on Friday and McGowan's second goal of that game was his 100th career point.
"I've been happy with our play since Christmas," said Wilson. "I can look at our losses since then and think we played pretty well. I thought we played well in the Minnesota tournament even though we gave up seven goals to Lowell.
"The game we lost [2-1] at Bentley, we outshot them 33-17. The loss at Holy Cross [3-1], we were bad for 10 minutes and that cost us. It was unfortunate the way we lost [4-3 at home] to Robert Morris [on a goal with 10 seconds to play], but I was happy with our effort.
"We had one bad game against Army [4-2] where I thought we were very flat, but other than that, I have liked the way we have played."
RIT was able to counter each of those conference losses with a win the following night. Other than a sweep at the hands of Robert Morris in late October and a tie and a loss to Holy Cross at home the following weekend, the Tigers were able come away with at least a split in the other 12 Atlantic Hockey series played this season.
Wilson's team knew it needed three points against Mercyhurst to secure a home quarterfinal playoff series.
"It was a nice situation," he said. "We didn't have to scoreboard-watch. We were playing the team right in front of us and it was for home ice."
And while the Tigers will enjoy their first postseason series at the new Polisseni Center, Wilson said that his team will need the kind of effort it had last weekend in order to move on to Blue Cross Arena.
"There will be upsets in the first round," he said. "There will be upsets in the second round, and there will be upsets in the finals.
"Count on it."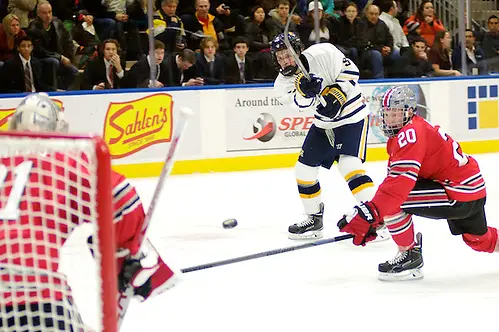 Taking a temperature reading
The postseason is all about momentum, and one has to look no further back than the last two Atlantic Hockey champions as examples.
In 2012, Canisius finished seventh but got on a roll late in the season that took the Golden Griffins all the way to the title. Last season, Robert Morris went on a tear in the second half and parlayed a fifth-place finish into a championship.
Here's where we stand at the end of the 2014-15 regular season:
Hot
• Robert Morris has cooled off a bit recently, but still has the best record (7-2-1) in the league over its final 10 games. But a 2-2-1 mark in the Colonials' final five contests ties for their biggest dry spell of the season.
• Canisius moved up in the standings to finish second on the basis of a 6-3-1 record in its final 10 games, 4-1 over the Griffs' last five contests.
• RIT was in seventh place just a few weeks ago, but the Tigers were 6-3-1 in their final 10 games, including 4-1 down the stretch.
• Sacred Heart defeated Holy Cross and Bentley to end the regular season, just the second time this season that the Pioneers have won back-to-back games. But they are 5-2-3 in their last 10.
Tepid
• Holy Cross has been playing .500 hockey for a while now, going 5-5 in its last 10 games. The Crusaders closed the regular season 3-2.
• Bentley was a respectable 5-3-2 in its last 10 but went only 1-2-2 down the stretch.
• Niagara was 2-6-2 in its last 10 but closed the season 2-2-1, the pair of victories accounting for 40 percent of the Purple Eagles' wins this season (5-25-4).
Cold as ice
• American International's win last Friday against Army was its first since Jan. 2. The Yellow Jackets are 1-7-2 in their last 10 games; 1-4 in their final five.
• Army has been unable to put together back-to-back wins all season and is 3-5-2 in its last 10 games and 1-2-2 in its last five.
• Air Force has struggled to find its groove since the end of January, and went 3-6-1 (final 10 games) and 2-2-1 (final five).
• Mercyhurst was looking good three weeks ago for a second- or third-place finish and home ice in the quarterfinals, but dropped its final four games to finish fifth. The Lakers are 4-6 in their last 10 games.
Here we go
The Atlantic Hockey quarterfinals will be hosted by Robert Morris, Canisius, RIT and Bentley. Mercyhurst claimed the final first-round bye and will travel to Bentley. The other three bye teams await the results of this weekend's three first round, best-of-three series:
No. 11 Niagara (5-25-4) at No. 6 Holy Cross (13-16-5)
This is the first playoff meeting between the schools. Holy Cross is 6-1 all-time in the first round of the AHC playoffs, while this is only Niagara's second time in the first round since joining the league in 2010. The Crusaders won all four regular season meetings between the schools.
No. 10 American International (4-23-7) at No. 7 Air Force (14-19-4)
Air Force has enjoyed a home playoff series each season since joining the league in 2006. The Falcons are 22-7 all-time in the AHC postseason but have been knocked out at home in the quarterfinals the past two seasons. Air Force went 4-0 against AIC in the regular season.
No. 9 Army (8-20-4) at No. 8 Sacred Heart (11-17-6)
The teams haven't met since their season openers on Oct. 10 and 12. They split those games at Army. This is the first postseason meeting between the two schools, and Sacred Heart's first home playoff games since 2010, when the Pioneers advanced all the way to the AHC championship game.
How'd we do?
Here's how Dan Rubin and I did in our preseason predictions compared to the league's coaches:
| Team | Actual finish | Coaches' prediction | USCHO prediction |
| --- | --- | --- | --- |
| Robert Morris | 1 | 2 | 2 |
| Canisius | 2 | 6 | 6 |
| RIT | 3 | 7 | 7 |
| Bentley | 4 | T4 | 3 |
| Mercyhurst | 5 | 1 | 1 |
| Holy Cross | 6 | 8 | 10 |
| Air Force | 7 | 3 | 4 |
| Sacred Heart | 8 | 9 | 8 |
| Army | 9 | 10 | 9 |
| American International | 10 | 11 | 11 |
| Niagara | 11 | T4 | 5 |
The coaches' prediction was off by an average 2.15 places per team while Dan and I missed by a slightly better 2.08 places per team.
Niagara was the farthest off, picked to finish fourth or fifth but coming in last. Canisius and RIT exceeded expectations the most, both finishing four positions higher than anticipated.
Weekly awards
I'm going with league's choices:
Players of the week — Matt Garbowsky, RIT, and Cole Gunner, Air Force: Two of the most explosive players in the league share the award. Garbowsky scored his second hat trick of the season on Friday. He is second nationally in goals (24) and fourth in points (46). Gunner also had a hat trick, his coming on Saturday in a 4-1 win against Canisius. He leads the Falcons with 39 points.
Goalie of the week — Mike Rotolo, RIT: The sophomore stopped 47 of 48 shots in a sweep of Mercyhurst, including his first shutout of the season on Friday. Rotolo is 8-1-1 in his last 10 starts.
Rookie of the week — Brendan McGuire, Army: McGuire scored twice and added an assist in a 5-0 win against American International. He has seven goals and four assists so far this season, third among Army's rookie class.
Defensive player of the week — Joe McNamara, Holy Cross: The junior led a Crusaders defense that held Bentley to a single goal in a 2-1 win. He assisted on Holy Cross' first goal and blocked four shots.