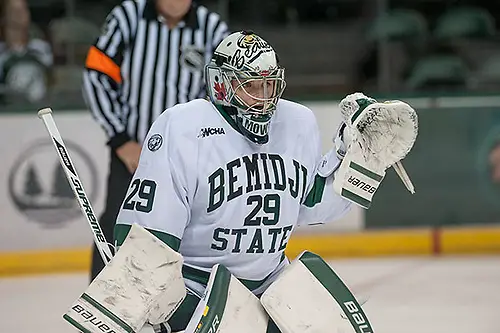 Arlan: The quarterfinals didn't offer any huge shockers, and part of the reason for that is so many teams are so closely bunched that wins by road teams aren't all that surprising. Still, road teams did advance in three of 14 series, one in every conference except the ECAC. That there wasn't an upset in the ECAC was perhaps a surprise in itself, because the results in that league had gone back and forth all year, but ultimately, the visitors couldn't even take one game.
RIT demonstrated that its players understand how to elevate their games when the postseason arrives. Even though the Tigers were seeded last, they had played Robert Morris even during the season, and the Colonials never really were able to get in a groove and stay there.
The upset in Hockey East, if we can call it that, was Connecticut going to Maine and coming home with a sweep. Since the Huskies did the same thing to close the regular season, we'd been prepared for that as well, and you predicted as much in your picks on Friday. New Hampshire extended Northeastern and all three games went down to the wire, but NU survived and advances.
The three versus six and four versus five series in the WCHA looked to be closely contested on paper, and they proved to be on the ice as well. Ohio State and North Dakota played into a third overtime Saturday before the UND could close out the series. The best series of all was probably Bemidji State at Minnesota-Duluth. The Beavers won a fairly straightforward game on Friday, and UMD bounced back by getting a third-period goal to break a scoreless tie. That recipe looked to be clicking again on Sunday for the Bulldogs, until Hanna Moher scored a last-minute goal to tie it and Kaitlyn Tougas struck in overtime to keep the Bemidji State ride going.
In addition to those results and the upcoming conference semis and finals, we also have the 10 finalists for the Patty Kazmaier Award to discuss. What seems like a good starting point?
Candace: Bemidji State ending Minnesota-Duluth's season seems as good a starting point as any. It's not really an upset per se; the Beavers and Bulldogs split their four games this season, but it's kind of an upset in that the Bulldogs were at home. Further, it seems that Shannon Miller's career at UMD has ended with a whimper. You have to wonder if all the sideshow with Miller affected the team on the ice, and if it did, it's a shame. Perhaps the Bulldogs were overrated slightly in January during their winning streak, considering the teams they were beating up on, but you would have thought that would give them confidence for the first round.
That's not to knock Bemidji. The Beavers have been the hardest out not named Minnesota or Wisconsin, and possibly North Dakota, in the WCHA this season. They have wins over everyone except Ohio State in the WCHA. Brittni Mowat was rock solid in net for Bemidji, making 35 saves in Friday's 3-2 win and another 35 in Sunday's 2-1 come-from-behind overtime win, including stopping five in the extra session.
Now the Beavers get Minnesota, who made a statement sweep of the Beavers in Bemidji a couple of weekends ago. I'm not sure the Beavers have the heroics to pull off an upset of Minnesota again, but you never know.
What stood out for you in the WCHA?
Arlan: I thought the WCHA went very much to form. St. Cloud State and Minnesota State really don't have the players to hang with Wisconsin and Minnesota if those two favorites play well. The Huskies did well to get a game off the Badgers to end the regular season, but they really don't match up that well. The Mavericks took it to Minnesota pretty well for a period on Saturday after getting blown out on Friday, but once they had the Gophers' attention, it was only going to end one way.
Ohio State and North Dakota are both capable of making it very hard for the other to score. The Buckeyes only had one lead in that quarterfinal series, and they couldn't quite take it to the locker room, as Andrea Dalen scored with six seconds left in the second period on Friday to tie the game. Both are really more effective when playing with the lead. North Dakota has a bit of an edge in goal, and I think it has more people that are dangerous in transition. That ultimately proved decisive when Meghan Dufault and Amy Menke got loose and were able to get up the ice and execute on a two-on-one break to end the triple-overtime game.
It will be interesting to see what impact, if any, that game has on North Dakota next weekend. When Minnesota and North Dakota played three overtimes two years ago, players said it took about three days before they quit feeling like they had been hit by a truck. That case was closer to a full three overtimes, and Minnesota had to come back and play on Friday, while North Dakota is off until Saturday. Another difference is that the game two years ago occurred during an NCAA quarterfinal where teams only played one game that weekend. North Dakota now had to play its marathon game on the heels of already playing a grueling first game of the series on Friday. I would think that players would hit the wall more quickly, but that likely isn't as bad as last year when Yale and Harvard played a pair of double-OT games and then went to a third game. I don't know that it necessarily had any impact, but the Crimson didn't win another game after that. North Dakota has had success versus Wisconsin in the WCHA tourney the last couple of seasons; that will have to continue if UND is going to make the national tournament.
When the news about Miller's contract not being extended broke, she complained that it would be a distraction for her players. She seemed to be the one trying to make it a bigger distraction throughout the second half, and when the players didn't play well, she'd point her finger at them. Someone else was always at fault when things went poorly, but the credit went to the coach when it went well. I do feel for the Bulldogs, because it is hard on the players, the seniors in particular. Ultimately, they were done in by a Bemidji State squad that was on a mission and refused to accept being beaten.
The Beavers will also be asked to face a more rested opponent come Saturday. BSU had to play three games plus half of an overtime, whereas the Gophers were able to play everyone versus Minnesota State. The good news for the Beavers is that they matched up against Minnesota better than anyone else did this year. None of the four games ever got away from them. Tougas and defenseman Ivana Bilic seem to play their best games against the Gophers, and players from the state like Stephanie Anderson and Alexis Joyce always get up for those games. If Mowat is on, it's very possible that Bemidji State could extend its season by at least another day. Pulling a second upset on Sunday to win the title will likely be the harder part.
What are your thoughts on how the WCHA tourney might unfold?
Candace: I have trouble seeing it as anything other than another WCHA championship for the most successful college hockey class in the game's history. Minnesota's seniors continue to roll, and they've bounced back from any setbacks they've had. Yes, Bemidji State and North Dakota have wins over Minnesota this season, but I think Minnesota's sweep of Bemidji a couple of weeks ago shows that the Gophers aren't going to take the Beavers lightly again. Wisconsin doesn't match up well with Minnesota; it's been years since they've beaten the Gophers.
That leaves North Dakota. While UND is at home, and is the team I think is most likely to be able to pull off the upset, the fatigue factor you alluded to might come into play, not only from the grueling win over Ohio State, but from having to play Wisconsin in the second game of the semis. Even should North Dakota win that, it will be a tough contest, and Minnesota will be better rested simply from having played earlier. The one X factor is that the WCHA semis and finals are in Grand Forks, so UND has its home crowd cheering it on. I don't know if that will be enough though to overcome all the challenges UND has in winning the WCHA tournament.
Let's move to Hockey East. Like the WCHA, there was a nominal upset, as Connecticut went up to Orono and swept Maine. New Hampshire gave Northeastern all it could handle, while Boston College and Boston University rolled. The latter was a small surprise, as the Terriers were facing Vermont, but the Catamounts had a lot of issues this season, particularly in conference.
BC plays Connecticut in one semi, and BU plays Northeastern. Can either Huskies team pull off the upset, and if not, can BU stop the Eagles?
Arlan: Looking first at Connecticut, I don't see an upset brewing. I get the sense it is playing well, having taken four straight from a decent Maine team, but there is nothing encouraging in the season results versus the Eagles. UConn and BC have essentially played a men's grand slam tennis match, and it is hard to find much promise in losing 6-1, 6-0, 6-0. Two of those meetings were in the first half, when the Eagles were more dominant than they were at times in 2015. Connecticut was outshot roughly three to one in that first pair of games, but the margin was still two to one a month ago. The troubling stat out of that game was that Elaine Chuli, likely her team's best hope for pulling off the huge shocker, allowed six goals on 31 shots over 40 minutes. The goals-against can't be higher than two or three for Connecticut to have any chance, and I don't see it being able to stop the Eagles at crunch time. All the games have been pretty well decided by the second intermission, so they never really get to crunch time. It was a nice achievement to reach Hyannis, but Connecticut's season should end on Saturday.
The other half of the bracket is more interesting because Northeastern's greatest strength, Kendall Coyne, is able to exploit BU's vulnerabilities defensively. She had a hat trick and a five-point game in the Northeastern win in the four games played to date, but Marie-Philip Poulin was out of the Terriers' lineup that day. Coyne was absent in the most recent NU versus BU game at the Beanpot. She's been skating on a line with Denisa Krížová, and one gets the sense that at last she's found someone on the Huskies' roster with whom she naturally clicks. In the past, the synergy with teammates hasn't always been ideal, because Coyne will either be a zone ahead of them or they just don't read each other that well, but the game just seems to flow with the Czech rookie. However, Northeastern wasn't able to really pull away from New Hampshire in the quarterfinal, which is a concern because BU typically plays at a higher level come the postseason. So I give Northeastern a chance, but Coyne likely has to be truly heroic for it to be anything above a minimal chance.
As for your question about the outcome of another possible BU and BC game, that answer isn't obvious. The Terriers came close to stopping BC on their senior day, couldn't quite close it out, and had to settle for the tie. That might indicate that the best chance for an upset has come and gone, but Boston College hasn't always done its best work in the league tournament. One could assume that this is a different team that will respond differently. Still, its only Hockey East Championship was back in the 2011 when Molly Schaus and Kelli Stack wore maroon and gold, and its last win in the event over BU dates back to 2009, when the Terriers hadn't yet established themselves as a national power. BU has won the last three meetings in the league playoffs. The Eagles should be aware of all of that and skate with something to prove, if they really are the team that they appear to be. I expect they'll add a second league tourney crown, but I do think it is more likely that they'd be upset there than in an NCAA quarterfinal.
Do you see anything additional that BU has working in its favor for an upset beyond history and Poulin?
Candace: The only other thing favoring the Terriers is that you can often throw out prior results when it comes to rivalry games. I said that before the first BC-BU game this season in January, which the Eagles squeaked out 4-3, and I stand by it. The emotion that comes from playing your biggest rival, especially in the postseason, can add that X factor that can lift a team at the most important time.
The other factor is the most recent result. BC is an awesome frontrunner, and when it gets an early lead by a couple of goals, the Eagles start coming in waves and often dominate opponents, even quality ones like Harvard. However, the Eagles have also shown themselves to feel the pressure if the game gets tight, and the goals don't come as smoothly because the players start to overthink things. If BU can stay close through the first period, it might plant a seed of doubt in the BC players, and that could be enough for Poulin and Lefort to work their magic.
Let's move to the conference I hate picking games in more than any other: the CHA. Does Mercyhurst extend its NCAA tournament streak, or do we see a different CHA team claim the first CHA auto-bid? At times, the Lakers have looked very vulnerable, and I wonder if they too might feel the pressure, or if playing on home ice will relax them and allow them to move on.
Arlan: I don't think there is anything relaxing about the postseason. Everyone is amped up, and it is the team that can turn that nervous energy into a positive that fares the best. That's truer than ever in the CHA this year, where all four teams are still alive for the NCAAs, but each knows with certainty that winning is the only way to gain entry. All of the other leagues have a mixed bag where some teams are in, some aren't sure, and others are in the same boat as the CHA teams.
There is no doubt that being at home is a plus for the Lakers, as they only lost once at home and went undefeated at home in conference play. Meanwhile, they were a .500 club on the road, both in league and overall. Only Syracuse even took a point in Erie, and there's no guarantee that the Orange make it out of their semifinal. Penn State is the slightest of favorites after the two teams split their games this season.
Of course, neither is it assured that Mercyhurst will be playing in the final that it is hosting. RIT outlasted the Lakers in two overtimes a year ago, so the Tigers won't be intimidated by the venue or the opponent. The flip side of that is Mercyhurst swept all four meetings this year by at least three goals, although it added empty-net goals in a couple of them. The Lakers are the pick, but I don't foresee any three-goal margins. Ali Binnington looks to be on form, only surrendering one goal all weekend to Robert Morris. The one-two punch of juniors Emily Janiga and Jenna Dingeldein is tough for the rest of the league to match, and that's the edge that Mercyhurst has over RIT, but as defending champion, I expect the Tigers will go down competing with everything that they have to give.
The other semifinal is even tougher to predict. It will be played at a neutral site, but Syracuse will get last change thanks to being the higher seed. The Orange are a touch better offensively, despite PSU having an edge on the power play. Defensively, the Nittany Lions have the advantage. In terms of depth I'd go with Syracuse, but really, it's just splitting hairs. The presence of Celine Whitlinger in goal likely tips the scale back in Penn State's favor. I could analyze this one to death, going back and forth, but this time of year, you just have to lace up the skates and go play.
Mercyhurst is the favorite, but I doubt the odds are as strong as 50 percent that the Lakers emerge as champion. I'd anticipate at least one of the three games in Erie going beyond 60 minutes.
That could be another question — how many OT games will we have? I'll say that out of the dozen games coming up this weekend that three of them extend beyond three periods. Does that sound high or low to you? Last year we only had the one, the RIT/Mercyhurst championship game.
Candace: That sounds close to being right. I think at least one of the CHA games and one of WCHA games will go an extra session. If a Hockey East game goes to extra session, I'd anticipate it would happen if BC plays BU in the final; I think both semis will be decided in 60 minutes, though it is possible that Northeastern will advance. That leaves the ECAC, which has been another wild league so far this playoffs. Interestingly enough, it was the one conference where there were no upsets, as all four home teams advanced with sweeps, which is ironic considering how much shifting there had been seemingly week-to-week, and how it seemed that all the upper seeds had shown some vulnerability in the last month.
The semis pit Cornell against Clarkson and Harvard against Quinnipiac. Harvard swept the season series against the Bobcats, and I anticipate that the Crimson will advance. I think Harvard is just a little bit better offensively, and defensively the two teams are a wash. Both Harvard and Quinnipiac are high enough in the PairWise that they should make the NCAA tournament, even if they don't win the ECAC tournament. Harvard is definitely in, and I'd say Quinnipiac is too, since the Bobcats are fifth. The only way they don't make it is if BU or Northeastern win Hockey East AND Cornell or Clarkson win the ECAC AND North Dakota or Bemidji wins the WCHA. Possible, but unlikely.
That leaves Cornell against Clarkson. The Big Red beat and tied the Golden Knights in the two games this season, with the win being a total beatdown on Clarskon's home ice. That game is going to come down to Cornell's top line of Emily Fulton, Jillian Saulnier, and Brianne Jenner against Clarkson's rookie goaltender, Shea Tiley. The Big Red will also be extra motivated because they are currently tied for ninth in the PairWise, so their only way of getting into the NCAA tournament is to win the ECAC tournament and its concurrent auto-bid. Of course, Clarkson, while in a good position at the moment, tied for sixth with Boston University, is anything but secure too. Say North Dakota wins the WCHA, and only the top six teams make the NCAA tournament. Then if Boston University were to win Hockey East, it would be down to five, and Clarkson would be out too, so it behooves Clarkson to play as if its postseason lives are on the line, because they just might be. Regardless, I'd say that game is the most likely to go to an extra session.
How do you think the ECAC might play out?
Arlan: You forgot Connecticut in your list of teams below Quinnipiac that could knock the Bobcats out of the NCAA field in the event of a perfect storm of auto-bid winners, but it doesn't change your overall point that it is still unlikely.
My inclination is to look past that 8-3 win for Cornell over Clarkson in the first meeting. Emily Fulton had just been added to a line with Brianne Jenner and Jillian Saulnier that week. Maybe having more time to prepare helped, because Clarkson fared much better versus that trio and overall in the second game, even though it didn't have last change, like it will on Saturday. I think that is more the type of game that we'll see this time.
The worst defensive performances for both teams came in the first half of the season, and they have tightened up since then. Clarkson plays as many as a half dozen freshmen, so it is natural that more seasoning would solidify the ranks. While Cornell doesn't start a freshman in net like the Golden Knights do, sophomore Paula Vorheis has only five more starts in her career than does Tiley, so her learning curve has to be similar. The Big Red have fewer rookies overall, but two of them are on the blue line, and it took awhile for the defensive game to gel. That's a big reason why Cornell finds itself in win-or-go-home territory.
Clarkson's situation isn't quite as dire, but should it fall in the semifinal, that will make for an anxious Saturday night into Sunday. Clarkson has historically performed well versus the Big Red in Potsdam, so I look for the Golden Knights to find a way to win that game. Either way, I expect a low-scoring game, more likely 2-1 or 3-2 than 8-3.
The games that pair the second and third seeds at a neutral site are always interesting. Which teams gets the support of the home crowd, and do any of them even stick around for the second semifinal? It's probably not a big factor. I don't think the fact that the Crimson swept the series counts for much either. The first game was the Bobcats' first loss of the season and came a week after Harvard had been embarrassed by Boston College; the Crimson had to take more motivation into that 2-1 win. The second encounter ended with the same score, but that one went to OT. There's not much in the way of separation. As tight as both defenses can play, it could come down to a bounce or other timely break. All indications are that this game will be low-scoring as well. I wouldn't be shocked to see it wind up being Quinnipiac's day.
So if I'm leaning a little bit toward Clarkson and maybe Quinnipiac to advance, that would pair two teams looking for their first ECAC Championship, and they could play a game that goes well beyond 60 minutes. Nothing like making the selection committee wait. I have no idea who would win that, and it surely would be a guess. Really, the rest of the ECAC tourney is at this point, because it wouldn't be a big surprise to see any two opponents or outcome on Sunday.
Speaking of surprises, did you see any in the list of 10 finalists for the Patty Kazmaier Award that was announced last week, or do you have any general reactions to that list?
Candace: Yes, I thought there were a couple surprises, actually. There were a few players, such as Alex Carpenter and Haley Skarupa from Boston College and Hannah Brandt and Dani Cameranesi from Minnesota, that were locks. It's a nice nod for Cameranesi in her sophomore year, but I don't expect to see her name on the final three. Brianne Jenner of Cornell and Marie-Philip Poulin of BU came on very strong in the second half, so it's not really surprising for them to be the list. Kendall Coyne has carried Northeastern to whatever success it has had, so she was a strong choice as well.
I was a little surprised not to see BU's Sarah Lefort on the list. Perhaps it was a factor of there already being five Hockey East players on the final 10 when you include BC's Emily Pfalzer, who is the highest-scoring defenseman in the country, but Lefort is eighth in the country in scoring, only one point behind Poulin. Granted, Poulin played five fewer games, but still.
Likewise, no CHA player made the list, and I thought Mercyhurst junior Emily Janiga had a pretty good shot, as she is ninth in the country in scoring and is probably the most important factor in whatever success the Lakers have.
I found the selection of Shelby Amsley-Benzie a minor surprise, given that she is only the fourth-best goalie in the country in goals-against right now. Perhaps the committee weighted her play in what is likely the toughest conference in the country, which includes two highly potent offenses. Still, Benzie played seven fewer games than Quinnipiac's Chelsea Laden, a senior, four fewer than Boston College's Katie Burt, a freshman, and six fewer than Wisconsin's Ann-Renée Desbiens. In fact, of the top seven goalies in the country, Benzie is the only one to play less than 30 games, and if you look at the top 10 and throw out Holy Cross' Alexandra Stevenson, who plays against D-III squads, only Benzie and Emerance Maschmeyer played fewer than 30 games.
It's no knock on Benzie, who has had a terrific season, and does have the highest save percentage of any goalie in the country, but usually, the goaltender selection is the one ranked tops in the country in almost every category, so like I said, minor surprise.
The major surprise to me was seeing Minnesota's Rachel Ramsey on the list. Yes, she is the top-scoring defenseman on the Gophers, but she's significantly behind freshman Kelly Pannek and junior Maryanne Menefee, two players from Minnesota I thought had a good chance to make it. Ramsey is second in scoring among defensemen to Pfalzer, but whereas Pfalzer is 13 in the country and has spent much of the season in the top 10, Ramsey is down in a tie for 34.
If the committee wanted to reward a senior, they could have gone with Minnesota's Rachel Bona over Ramsey.
I'm not saying Ramsey is a bad player; far from it. I just find her selection a puzzle.
What stood out to you on that list?
Arlan: Overall, the coaches did a very nice job in compiling that list. There are always many people that could be on the list and aren't; there just isn't room for everyone with 10 spots. High-scoring forwards always do well come awards time, but when teams get too top-heavy on pure scorers, they never do as well as expected. At least a third of the players on the ice at any one time are defensemen, but people always wonder why a defenseman is recognized with lower point totals.
Had Bona been included over Ramsey, that would have been more puzzling to me. Bona had a huge season last year, but she's gone through stretches this year where the puck hasn't gone into the net for her. She only has five points more than Ramsey, and she spends her shifts in much closer proximity to the net. Pannek's had a nice season, and if she keeps progressing, accolades are in her future. However, Ramsey is much more of a proven commodity. She was first-team All-American last year, as well as WCHA Defensive Player of the Year, and has been on top of one of the Minnesota power-play units that set NCAA records each of the last two seasons and leads in conversion percentage again this year. Beyond the offense, her main job is to help prevent goals, and she is often matched against top forwards on the opposing team.
If defensemen are important, goalies are even more vital, so at least one should be on the list. I've always thought that goals-against average, when taken by itself, is a very flawed way to judge goalies. A goalie could play on a team that is so dominant that she only gets 10 shots a game and stops nine of them. Her GAA would be a sparkling 1.0, but a save percentage of .900 isn't very good in the women's game. While it is imperfect as well, because it doesn't account for the quality of defense being played in front of her, save percentage is the best single stat commonly available.
From that respect, Amsley-Benzie has done as well as any goalie at controlling what she can control. I'm sure she'd like to start more games, but if the coach doesn't call your number, what can you do? Keep working hard and force him to play you. North Dakota's surge coincides with her getting almost all of the starts. North Dakota entered a key string of series of games versus Ohio State, Bemidji State, UMD, and Minnesota in must-win mode. She started all of them and allowed 0, 0, 1, 1, 0, 2, 0, and 3 goals in those games and lifted UND back into the picture as it went 6-1-1 over that stretch. Sure, she allowed three goals in the loss to Minnesota, but who has held the Gophers to three goals or less on a weekend in recent memory? Only Brittni Mowat, and the Four Nations tourney factored into that. Amsley-Benzie followed that with four straight shutouts and a sweep of Ohio State, including holding the Buckeyes to one goal into a third overtime. She's in her fourth year with a chemical engineering major and a GPA that I found more impressive than her save percentage. She definitely belongs on the list, although the lack of starts has likely cost her any shot at winning.
As for the omissions, somebody like Lefort is hurt by having not only so many from Hockey East on the list, but so many dominant players. Who is going to vote for Carpenter, Poulin, and Coyne? Everyone. When you add in the years that Skarupa and Pfalzer produced, it's difficult for others from Hockey East just to get nominated. If you were going to ask me for one player that I watched that I would add to the list, it would probably be Jillian Saulnier — great speed, a nonstop motor, and lots of skill and hockey sense. There just isn't room for everyone on a list of 10.