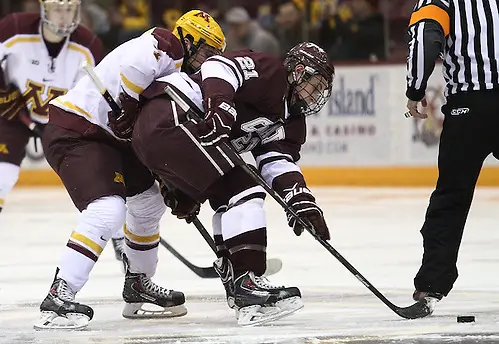 In a way, Colgate forward Mike Borkowski's progression leading into the postseason has mirrored the Raiders' improvement the last few weeks.
Initially thought to be out for the year after injuring his knee against Quinnipiac in November, the junior returned to the lineup Feb. 6.
Since then, it's been a steady progress from Borkowski and Colgate, as both player and team look to be getting up to speed entering the playoffs. The Raiders ended the regular season on a 4-0-1 run, giving Colgate a first-round bye for the third time in four years.
With Borkowski back in the lineup, the Raiders finally have their contingent of top-six forwards together. In addition to Borkowski's injury, Colgate was without an injured Tylor Spink for most of the first half.
"Anytime you are hit with an injury bug like we have, it throws things off," Borkowski said. "Guys step up and play some roles they're not normally accustomed to. With our forward lines intact, it solidifies things a little bit. It's allowed us to build some chemistry with guys we're used to playing with. It's a well-oiled machine right now."
That chemistry is due in part to a quick comeback by Borkowski, who had surgery following his injury and was deemed out for the rest of the season at the time.
"Getting my range of motion back has been huge," Borkowski said. "My game is slowly getting better here in terms of how much pain there is after a game. I feel like I am getting a little more jump back."
Last Friday against Yale, the junior scored his first goal since returning, stealing the puck from the Bulldogs' John Hayden in the slot and firing a shot past an unsuspecting Alex Lyon.
"It's a remarkable story," Colgate coach Don Vaughan said of Borkowski's return. "I don't know any guys who have come back after three months with the type of injury he had. He was so driven to do it. Our trainer, Steve Chouinard, did a fantastic job with him. It's phenomenal.
"He's not at 100 percent, but I'll take him at 85 [percent], which is probably about where he is at, and everything else he brings to our team."
The bye was especially important for Colgate because it gives a chance for senior defenseman and captain Spiro Goulakos to return to the lineup. Goulakos, who plays plenty of key minutes for the Raiders, has been out since Jan. 17, and is "week-to-week," according to Vaughan.
"I'm really proud of that part of this group," Vaughan said following Saturday's win at Brown. "It's not just injuries, it's injuries to key players. We fought through it and hopefully a couple of weeks off will do us some good. You always ask guys to step up and play different roles and more minutes when guys are down, and our guys responded that way."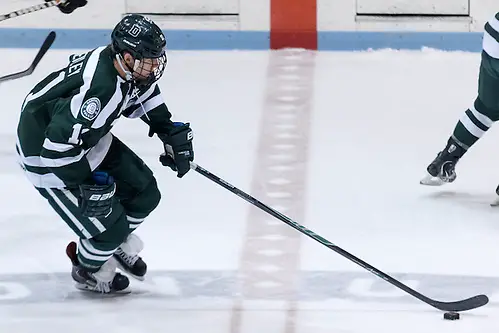 Playoff central
Here's a quick look at the four first-round series taking place this weekend. Each series is a best-of-three matchup. Check back later in the week for colleague Brian Sullivan's predictions.
No. 12 Princeton at No. 5 Dartmouth
Season series: Dartmouth 2-0
The Big Green are one of the hottest teams in ECAC Hockey entering the playoffs, ending the regular season on a 9-2-1 run, including a 3-1 win over Princeton Saturday. Dartmouth tied fourth-place Colgate with 26 points but lost out on the final first-round bye due to a tiebreaker. Princeton, meanwhile, struggled to find consistency for much of the year. The Tigers are averaging just 1.32 goals per game, last in the country. Goalie Colton Phinney is solid, but it's hard to pick up wins when you're not scoring.
No. 11 Brown at No. 6 Harvard
Season series: 1-1
Just as they were a trendy pick for a surprise team entering the season, the Bears could be one of the favorites to pull off an upset this weekend. Brown beat Harvard 2-1 on Feb. 7, continuing a second-half free fall for the Crimson. The Bears ended the regular season on a 4-2-1 stretch, thanks in part to goalie Tim Ernst and the top line of Matt Lorito, Mark Naclerio and Nick Lappin starting to produce. Harvard misses top defenseman Patrick McNally, who won't return this year, but still has plenty of firepower in Jimmy Vesey, Kyle Criscuolo, Tyler Moy, Alexander Kerfoot and Sean Malone.
No. 10 Union at No. 7 Cornell
Season series: Cornell 2-0
A miserable second half of the season has Union on the road for the playoffs for the first time since 2009. Defense has been a problem for the Dutchmen for much of the season, but the offense disappeared for a stretch before Union scored three goals in each of its two wins last weekend. Cornell ranks second in the country in team defense, trailing only Yale. But the Big Red have scored only 55 goals in 29 games this year, although they did score a season-high five times against the Dutchmen on Jan. 16.
No. 9 Rensselaer at No. 8 Clarkson
Season series: Clarkson 1-0-1
Like Cornell, Clarkson has been stout defensively, but simply can't score; the Golden Knights are averaging just over two goals per game this season. Both teams play a tough, physical style game, and it will be interesting to see who is in goal for each side. Clarkson has rotated Steve Perry and Greg Lewis of late, while senior Scott Diebold started on RPI's senior night Saturday in place of junior Jason Kasdorf, making 34 saves in the Engineers' win over St. Lawrence. RPI hasn't won a playoff series since 2012 when it beat Clarkson in three games in Potsdam.
Around the league
• Dartmouth's Brandon McNally (player), Rensselaer's Drew Melanson (rookie) and Dartmouth's James Kruger (goalie) were named the weekly award winners by the league. McNally and Melanson each had three goals on the weekend, while Kruger stopped 52 of 54 shots in a 2-0 weekend for the Big Green.
• Dartmouth's Eric Neiley was named the player of the month for February, while Melanson was the rookie of the month and Brown's Ernst was the goalie of the month.
• The league announced that all of the upcoming games in the ECAC tournament will be streamed online and on iOS devices and Androids through www.ecachockey.com. The cost is $9.95 per game.
• Former Union forward Daniel Carr was named the AHL rookie of the month for February. Carr plays for the Hamilton Bulldogs, an affiliate of Montreal, and led the league with 10 goals in February.
Looking back
One of my favorite things about preseason polls is looking back at the end of the season to see how wrong I was. Here's how I slotted the league's 12 teams, with each school's actual finish in parentheses.
1. Union (10)
2. Colgate (4)
3. Quinnipiac (1)
4. Yale (4)
5. Cornell (7)
6. Brown (11)
7. Dartmouth (5)
8. Clarkson (8)
9. Rensselaer (9)
10. Harvard (6)
11. St. Lawrence (2)
12. Princeton (12)
Here's what I had for the preseason all-conference team:
F Mark Naclerio, Brown
F Matthew Peca, Quinnipiac
F Sam Anas, Quinnipiac
D Joakim Ryan, Cornell
D Gavin Bayreuther, St. Lawrence
G Colin Stevens, Union
Looking back, I'd leave Peca on (although Harvard's Kyle Criscuolo made a strong case) and swap out Naclerio and Anas for Harvard's Jimmy Vesey and Union's Daniel Ciampini. For defense, I'd have Yale's Rob O'Gara and St. Lawrence's Eric Sweetman, with St. Lawrence goalie Kyle Hayton in place of Stevens.