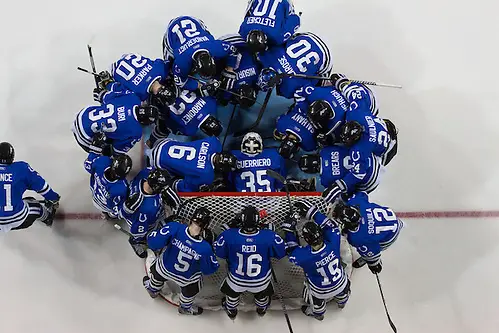 Well, here we are again.
It's 2015 and we have reached the end of the regular season in the WCHA. Just two games left for every team and virtually every team has something on the line.
Pardon if it sounds like you've taken a time machine back to 2014, but so far as we know that technology doesn't exist yet.
The teams are slightly different but the situations are similar: Only two teams know their fates for sure while the rest are either trying to win the league title (Minnesota State and Michigan Tech), looking for home-ice advantage in next week's playoffs (Bemidji State, Northern Michigan and Ferris State) or clawing for the final playoff spot (Alabama-Huntsville, Lake Superior State and Alaska-Anchorage).
Only Bowling Green (third place) and Alaska (ineligible) are locked in to their playoffs fate.
"There's always going to be something on the line," said Bemidji State coach Tom Serratore, whose team hosts Minnesota State this weekend. "We have a lot going on in our world and so do they. That's what happens in leagues that are tight this day in age. There's so much parity. It's going to be no different in Bemidji here this weekend."
So without further ado, here's what's at stake in the league's final weekend:
Minnesota State
The second-ranked Mavericks go to in-state rival Bemidji State needing just one point or a Michigan Tech loss to clinch the MacNaugton Cup and the No. 1 seed for the conference tournament. The only way Minnesota State drops to second in the standings is with two losses to the Beavers plus two wins by Michigan Tech.
Still, the Mavericks are trying to keep momentum going into the postseason and maintain their high PairWise Ranking (No. 2) after their three-point series against Tech last week. Saturday's victory snapped a three-game winless streak (0-1-2).
"We're just preparing like we do every week," coach Mike Hastings said. "It's been very businesslike, which I appreciate."
Minnesota State became just the second WCHA team since the league went to a 28-game schedule to post back-to-back 20-win seasons in conference play, joining North Dakota, which did it in 1997-98 and 1998-99.
Michigan Tech
The Huskies, the No. 4 team in the country, had a chance to come into this weekend in pole position for the MacNaughton Cup race, but a tie and a loss against Minnesota State last weekend has them needing some help for a chance at a league title.
"We went into Mankato with high hopes of coming out of there in first place but unfortunately we didn't get the bounces or the breaks," Michigan Tech coach Mel Pearson said.
Tech has a home-and-home series with Upper Peninsula rival Northern Michigan this weekend and needs a sweep (and some help from Bemidji) to have any chance at the league title.
But regardless of what happens this weekend, the Huskies (24-8-2) will have their best record since the early 1980s and are a virtual lock for the NCAA tournament, their first appearance since 1981.
Bowling Green
No. 13 Bowling Green will be the third seed and home for the playoffs no matter what happens in this weekend's home series against Alabama-Huntsville. But that doesn't mean it doesn't have something to play for.
The Falcons have improved their win total in each of coach Chris Bergeron's five seasons and are now looking to win 20 games for the first time since 1995-96. More importantly, the Falcons have to be worried about maintaining or moving up in the PairWise Rankings, where they are 14th thanks to just one win in their last five games, including a 6-1 loss at Alaska-Anchorage last Saturday.
Once considered to be in a fairly safe position for the NCAA tournament, Bowling Green's current bubble position is awfully close to needs-to-win-the-conference-tournament territory.
Bemidji State
The Beavers have a one-point advantage on Northern Michigan for the fourth and final home-ice slot.
Although that one-point edge is preferable to entering the weekend with the Wildcats tied, the Beavers still have some work to do before they can clinch their first home playoff series since joining the WCHA in 2010.
The easiest way to make sure they get a home series at the Sanford Center is, of course, sweeping Minnesota State. The Beavers need just three points to earn home ice on their own.
Bemidji State beat Minnesota State 3-1 in the North Star College Cup in January but was swept by the Mavericks in Mankato in November.
The Beavers will need some help from Michigan Tech otherwise — Tech plays a home-and-home series with Northern Michigan, and the Beavers would love to see the Huskies take three points from the Wildcats to help them out, just in case.
Northern Michigan
The Wildcats' situation is opposite of Bemidji State's: They can't leap the Beavers and earn home ice without some help from Minnesota State.
Because the Beavers hold the tiebreaker due to the head-to-head matchup, the Wildcats need at least two points and some Bemidji State losses to Minnesota State to host a first-round series in Marquette.
And Ferris State is nipping at the heels and could pass Northern Michigan for both fourth and fifth if things break right for the Bulldogs.
Walt Kyle's team has a home-and-home series with Michigan Tech, which it took to overtime twice earlier this season — the teams tied Jan. 3 in Marquette and the Wildcats won 4-3 in OT the next day in Houghton.
Although Northern Michigan has been streaky for much of the season, it had won three straight before losing 3-0 to Lake Superior last week. Which NMU team shows up in the clutch?
Ferris State
Ferris State, the defending MacNaughton Cup champion, is still in the hunt for the final home-ice spot but will need plenty of help to get there: a sweep at Lake Superior State, two losses by Bemidji State and no better than a one-point weekend for Northern Michigan.
The Bulldogs need to have a three-point weekend and get some help from the Beavers and Wildcats to be the fifth seed for the playoffs and can drop no further than the sixth seed. (Ferris State sits in seventh place in the standings, but sixth-place Alaska is ineligible for postseason play.)
History has shown that Ferris State will be able to do its part. It has won seven games in a row and is 8-1-1 in its last 10 games against the Lakers.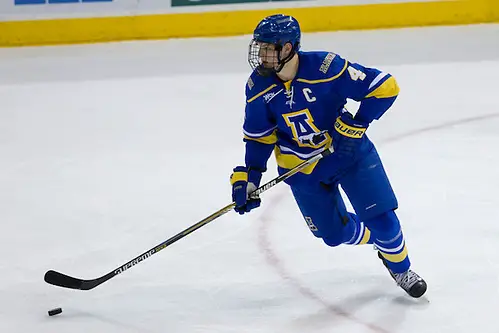 Alaska
This weekend marks the end of the season for Alaska, which, due to NCAA violations, has been banned from postseason play.
While that's too bad for the Nanooks, especially seniors such as Garrick Perry, Trevor Campbell and Nolan Kaiser among others, the rest of the WCHA may be breathing a sigh of relief.
There aren't many teams in the league hotter than Alaska, which went undefeated in February (5-0-1), including a tie and win against Minnesota State. Only one other team in the country finished the month without a loss, and that was No. 1 North Dakota, which had the same record.
The Nanooks, who could finish as high as fourth place in the regular season standings, aren't playing for nothing — they go to Anchorage to play for the third and fourth games of the Governor's Cup series.
Alabama-Huntsville
Alabama-Huntsville needs just one point to secure a playoff spot for the first time since joining the WCHA in 2013.
But that's easier said than done against Bowling Green, a team that swept the Chargers earlier this year in Huntsville and has already secured itself a home-ice playoff spot for next week.
Although UAH has dropped four straight, the Chargers hold the tiebreaker over Lake Superior State for the No. 7 seed; the teams are tied with 15 points.
They also hold tiebreakers over Alaska-Anchorage, which is three points behind.
Lake Superior State
The Lakers are tied with Alabama-Huntsville in the standings and are in position for the final playoff spot.
Last season, they found themselves in a similar situation in the final weekend but couldn't find a point and were eliminated from the playoffs after losing to Ferris State in the last game.
That loss ultimately cost coach Jim Roque his job.
Things haven't been great for the Lakers this season under new head coach Damon Whitten, but returning to the WCHA playoffs would help the rebuilding process greatly.
The Lakers host Ferris State and need just a point to clinch the final playoff spot and fend off last-place Alaska-Anchorage.
Alaska-Anchorage
Alaska-Anchorage sits in last place in the standings and needs a lot to go its way to keep its season alive after this weekend.
The Seawolves staved off elimination by beating Bowling Green 6-1 on Saturday to snap a nine-game losing streak. But to make the playoffs, they need to sweep rival Alaska in the second series of the Governor's Cup and also have either Alabama-Huntsville or Lake Superior State get swept. If each of those teams, who sit three points ahead of the Seawolves, gets one point this weekend, Anchorage is out.
While it sounds tough, it's not an impossible situation. Anchorage swept Alaska in Fairbanks on Jan. 16-17 (its last victories before the losing streak started), and its competition for the seventh or eighth seed have tough matchups.
Tiebreakers
According to the WCHA, there are several tiebreaker scenarios that may needed to be dealt with after the weekend.
Possible two-way tiebreakers:
• Minnesota State over Michigan Tech (3-0-1 head-to-head)
• Bemidji State over Northern Michigan (3-0-1 head-to-head)
• Ferris State over Bemidji State (more WCHA wins)
• Ferris State over Northern Michigan (more WCHA wins)
• Alabama-Huntsville over Lake Superior State (2-1-1 head-to-head)
• Alabama-Huntsville over Alaska-Anchorage at 16 points (tied on wins, 2-0-0 head-to-head)
• Alabama-Huntsville over Alaska Anchorage at 15 points (more WCHA wins)
• Lake Superior State over Alaska-Anchorage at 16 points (tied on wins, 1-1-0 head-to-head, LSSU 2-0-0 vs. 4/5 Bemidji State, UAA 0-2-2 vs. 4/5 Bemidji State)
• Lake Superior State over Alaska-Anchorage at 15 points (more WCHA wins)
Possible three-way tiebreakers:
• Ferris State over Bemidji State over Northern Michigan (more WCHA wins; then BSU 3-0-1 head-to-head vs. NMU)
• Alabama-Huntsville over Lake Superior State over Alaska-Anchorage at 16 points (tied on wins, UAH 4-1-1 head-to-head, LSSU 2-3-1, UAA 1-3-0; then Lake Superior State over Alaska-Anchorage per above two-way tiebreaker)
• Alabama-Huntsville over Lake Superior State over Alaska-Anchorage at 15 points (more WCHA wins for UAH and LSSU; then UAH 2-1-1 head-to-head vs. LSSU)
Players of the week
This week's WCHA players of the week were Alaska junior forward Tyler Morley (offensive), Bemidji State freshman goaltender Michael Bitzer (defensive) and Alaska-Anchorage freshman forward Austin Azurdia (rookie).