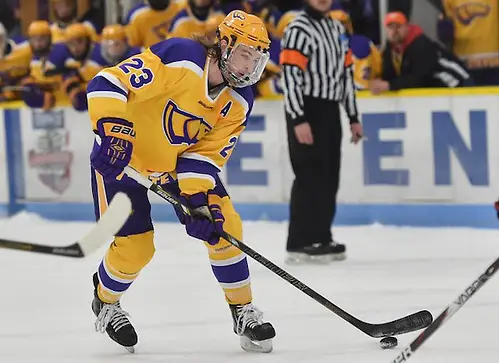 The WIAC men's conference announced its year-end awards recently, in addition to the All-WIAC Team and Honorable Mentions.
Wisconsin-Stevens Point defenseman Kevin Gibson picked up Player of the Year honors after leading the WIAC in defensemen scoring with 29 points. He recorded at least one point in 19 of 27 games, including eight multi-point games.
Matt Loen of Wisconsin-Eau Claire earned Coach of the Year for the fourth time in the past six seasons. This year, Loen led the Blugolds to an 18-7-2 record and a second-place finish in the WIAC standings.
2014-15 All-WIAC Team
| Player's Name | Position | Class | School |
| --- | --- | --- | --- |
| Ross Andersen | F | Sr. | Wisconsin-Eau Claire |
| Kyle Brodie | D | Sr. | Wisconsin-Stevens Point |
| Alex Brooks | D | Sr. | Wisconsin-Stevens Point |
| Jack Callahan | D | Sr. | Wisconsin-Eau Claire |
| Jay Deo | G | So. | Wisconsin-Eau Claire |
| Kyle Gattelaro | F | Fr. | Wisconsin-River Falls |
| Christian George | F | So. | Wisconsin-River Falls |
| Kevin Gibson | D | Sr. | Wisconsin-Stevens Point |
| Brandon Jaeger | G | Sr. | Wisconsin-Stevens Point |
| Joe Kalisz | F | Jr. | Wisconsin-Stevens Point |
| Garrett Ladd | F | Sr. | Wisconsin-Stevens Point |
| Tanner Milliron | G | Jr. | Wisconsin-River Falls |
| Jeff Pauluk | D | Jr. | Wisconsin-Eau Claire |
| Eric Shand | D | So. | Wisconsin-Superior |
| Kyle Sharkey | F | So. | Wisconsin-Stevens Point |
2014-15 WIAC Honorable Mention
| Player's Name | Position | Class | School |
| --- | --- | --- | --- |
| Jeff Bergh | D | So. | Wisconsin-River Falls |
| Tanner Dion | D | Sr. | Wisconsin-Superior |
| Terry Leabo | D | Fr. | Wisconsin-River Falls |
| Patrick Moore | F | So. | Wisconsin-Eau Claire |
| Justin Moody | F | So. | Wisconsin-Stout |
| Ethan Nauman | F | Jr. | Wisconsin-Eau Claire |
| Jordan Tredinnick | D | Sr. | Wisconsin-Stout |
| Brandon Wahlin | F | So. | Wisconsin-Eau Claire |
2014-15 WIAC All-Sportsmanship Team
| Player's Name | Position | Class | School |
| --- | --- | --- | --- |
| Matt Audette | D | So. | Wisconsin-Superior |
| Evan Dixon | F | Jr. | Wisconsin-Stevens Point |
| Michael Lant | D | So. | Wisconsin-River Falls |
| T.J. Stuntz | F | Fr. | Wisconsin-Eau Claire |
| Jake Useldinger | F | Jr. | Wisconsin-Stout |