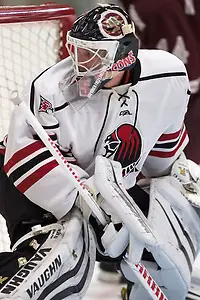 Nine championship games.
Nine champions crowned.
That was the name of this past weekend across men's Division III hockey.
ECAC EAST – It took a three-goal rally featuring Nick Pichette's overtime game-winner, but defending East champion Norwich managed to pull out a 3-2 victory over Babson to take its first league tournament crown since 2012. Pichette's goal came at 1:24 of the extra session, and snapped a deadlock that lasted since the first period when Dean Niezgoda scored twice for the Cadets to erase a 2-0 Babson lead. Norwich will go on to host Plymouth State in Saturday's NCAA tourney first-rounder.
ECAC NORTHEAST – No. 1 seed Nichols successfully defended its Northeast championship by downing Salve Regina 3-0. Bison sniper Frank Butler scored late in the second period (his 20th), while Daniel Bufis and Sean Swanson added insurance markers in the third. Nichols goalie Alex Larson, owner of the nation's top save percentage (.951) stopped all 46 Salve salvos to record his sixth shutout of the season (and ninth of his career). The Bison will make their second consecutive NCAA appearance Saturday at Trinity.
ECAC WEST – It took a whopping 68 shots on goal to do it, but top-seed Hobart captured its second West league tourney in three years with a 2-1 overtime win over Neumann. Sean Rudy's tally at 11:31 of extra time settled the affair, which saw Knights' goalie Ben Curley pull off a massive 66-save effort in a losing cause. Hobart received an at-large NCAA bid and will host SUNYAC runnerup Oswego on Saturday.
MASCAC – "Panther Power" prevailed in a big way Saturday as top-seed Plymouth State rolled over No. 2 Salem, 6-2. Josh Woody led the Panthers' 42-shot attack with a pair of goals – Nos. 12 and 13 – while goaltender Gordon Ceasar stopped 24 shots to record his 15th win. Plymouth, which is making its second-ever NCAA appearance (2012), will travel to Norwich Saturday.
MIAC – The Pipers are headed back to the NCAA tournament for the first time since 2011 after taking down the Cardinals 4-2 in front of a sold-out crowd on the road Saturday.
Brandon Zurn fueled the attack, scoring twice, while Charlie Adams and Chad Hennum punched in goals as well as Hamline improved to 14-10-4 under first-year head coach Cory Laylin. Winning this game wasn't easy. Hamline had to rally twice to prevail, trailing 1-0 and 2-1 before taking control.
Adams' goal tied the score at 2-2 in the second and third-period goals by Zurn and Hennum capped a MIAC tourney run in which the Pipers won two road games, including a semifinal showdown with defending champion St. Thomas. Hennum's goal was an empty-netter with 31 seconds remaining.
John Sellie-Hanson made 28 saves for Hamline and Phil Heinle tallied 25 saves for St. Mary's, which came in looking for its first NCAA tournament bid in 20 years. Nick Albergo and Bob Kinne both scored for St. Mary's, which ends its season at 15-10-2. The Cardinals' 15 wins is the most since they went 15-11-1 during the 1996-97 campaign.
NCHA – For the sixth time in program history, Adrian is the Harris Cup champion. The second-ranked Bulldogs won the title with a 4-2 win over St. Norbert Saturday at Arrington Ice Arena, punching a ticket to the NCAA tournament.
Kyle Brothers scored his 23rd goal of the season in a game where Adrian never trailed. The two teams were tied at 1-1 after a goal by the Green Knights' Pijus Rulevicius but Mathew Thompson came up his with his 21st goal of the year to give the Bulldogs the lead for good.
Ryan Gieseler and Chris Leone also scored for the Bulldogs, who improved to 23-3-3 and defeated the fifth-ranked Green Knights for the third time this season. Leone scored at the 19:04 mark on an empty-net goal, which came after a 30-minute delay in the game because a pane of glass was shattered in front of the scorer's booth.
Brothers was named the MVP of the conference tournament. He finished with three goals and six assists in four games.
Thompson, Gieseler and Josh Ranalli earned all-tourney honors for the Bulldogs as well. Ranalli tallied seven assists in the tournament, including two in the title game, while Thompson finished with five goals and three assists in four games. Gieseler finished with two goals and a plus-two rating during the playoffs.
Adrian goalie Scott Shackell made 22 saves and won his 17th game of the season.
The Green Knights are 20-6-2 and will have to hope for an at-large bid to the NCAA tournament if they want a shot to win a second consecutive national championship.
Marian Fiala scored a goal for the Green Knights and earned a spot on the all-tournament team. He was joined by teammates Tony Kujava, Chris Rial and Fiala. Kujava made 24 saves.
The loss to Adrian ended St. Norbert's six-game win streak. It was also the first time in five games the Green Knights have given up more than one goal.
NESCAC – The lone Sunday championship game saw No. 2 seed Amherst edge No. 4 Williams 1-0. Andrew Fenwick produced the game's lone tally on an assist from Austin Ho at 3:08 of the third period, which was all the goal support Lord Jeffs' goalie Danny Vitale (23 saves) needed. Amherst, which is making its first NCAA showing since 2012, received a first-round bye and will await the winner of the Norwich/Plymouth bout.
SUNYAC – Top-seed Plattsburgh captured its 22nd league tourney title with a hard-fought 2-1 triumph overOswego. Connor Gorman's goal at 17:27 of the second period proved to be the decisive goal in a contest that saw all the scoring come in the middle stanza. Connor Toomey struck first for the Cardinals at 5:23 before Morgan Bonner answered for Oswego at 11:34. Shots were at a premium, as Cards' goalie Brady Rouleau stopped 16 of 17, while Matt Zawadzki turned away 20 of 22. Both teams will head to the NCAAs, with Platty receiving a first-round bye and will face the Hobart/Oswego winner. Plattsburgh has earned tourney berths in six of the last eight seasons, while the Lakers will make their sixth appearance in a row and seventh since 2007.
WIAC – Wisconsin-River Falls won a conference tournament title for the first time since 1996 with a 3-1 win over Wisconsin-Stevens Point on the road Saturday in the WIAC championship game. It was the first WIAC Commissioner's Cup for River Falls, which erased an early 1-0 deficit en route to the win.
The title is the third overall for the eighth-ranked Falcons, who also won a championship in 1988.
River Falls trailed 1-0 after a goal by Kyle Sharkey, but Zach Schrotenboer tied the game at 1-1. Schrotenboer has played in only two games since Dec. 5. Neither team scored in the second period. The Falcons took control in the third on goals by Mike Fazio and Mike Dietrich.
River Falls, which is 20-7-1 overall, has been impressive on the road, going 10-4, and its win Saturday was its second of the year against the fourth-ranked Pointers, who fall to 21-6-1.
Tanner Milliron made 23 saves for the Falcons and Brandon Jaeger tallied 27 for the Pointers, who will now have to wait to see if they will get a bid to the NCAA tournament. Stevens Point didn't win the league title last year, but made it to the tourney and advanced all the way to the national championship game.