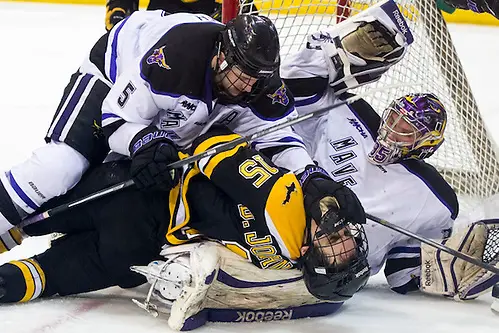 The WCHA tournament begins in earnest this week, but most of the league's teams have been in playoff mode for a couple of weeks at least.
Minnesota State, for example, won the MacNaughton Cup and will get to defend the Broadmoor Trophy as the No. 1 seed by taking three of four points from its closest competitor, Michigan Tech, two weeks ago and then getting a must-win on Saturday at Bemidji State after losing the previous night.
"I think that was a good series, going into the playoffs, preparation-wise," Mavericks coach Mike Hastings said of the series in Bemidji. "It was hard to score; we had to defend."
Bemidji State's win over Minnesota State on Friday secured home ice for the playoffs, something it had didn't accomplished in its first four seasons as a WCHA member. Now the Beavers hope to turn the tables on Ferris State, hosting the Bulldogs one year after getting eliminated at Big Rapids.
"You hope the motivation for the playoffs takes care of itself," Beavers coach Tom Serratore said.
Meanwhile, the tournament's two newcomers, Alabama-Huntsville and Lake Superior State, both lost on Friday night and didn't know their fate until early Saturday morning when Alaska-Anchorage did the same.
For those two teams, winning on the road will be tough, as their respective opponents, Michigan Tech and Minnesota State, have been not just the best two teams in the WCHA all season but among the best teams in the nation, with hopes of securing top seeds for the NCAA tournament.
"We want to get to the Final Five," Hastings said, not looking beyond this weekend. "The only way to get the job done is to do it well."
Huskies coach Mel Pearson, whose team has home ice for the first time in 22 years, echoed that during this week's radio show.
"We're trying to get somewhere," he said. "There's a lot still to play for. We talk a lot about — it doesn't matter who we're playing — there's a standard of play we need to play up to."
Another team that hopes to keep playing beyond the Final Five is Bowling Green, which hosts Northern Michigan. Two home losses to the Wildcats three weeks ago nearly killed the Falcons in the PairWise Rankings, and they probably can't afford to let that happen again.
"It was hard to believe we walked away with no points from that weekend," Bowling Green coach Chris Bergeron said in an interview on the Bowling Green website. "We had plenty of opportunity, and obviously, we found a way to lose both games versus finding a way to win."
Here's a look at the playoff matchups:
1 Minnesota State vs. 8 Lake Superior State
The MacNaughton Cup-champion Mavericks swept the season series against the Lakers, shutting them out twice, 7-0 and 3-0, in Sault Ste. Marie over Thanksgiving weekend and beating them 5-2 and 3-1 in Mankato on Jan. 9-10. Lake Superior State was left out of the league playoffs a year ago.
About the Mavericks
Record: 25-7-3 (21-4-3 WCHA)
Top scorers: Matt Leitner (7-30–37), Bryce Gervais (24-8–32), Teddy Blueger (10-14–24), C.J. Franklin (7-17–24)
Top defensemen: Casey Nelson (6-23–29), Zach Palmquist (8-18–26)
Top goalie: Stephon Williams (21-5-3, .925, 1.66)
X-factor: Jon Jutzi has bolstered the Mavericks' defense and power play since returning to the team after the holidays. He has nine points and is plus-8 in 16 games.
That's a fact: The Mavericks are 13-2-1 at Mankato's Verizon Wireless Center this season and have lost just three times in their home rink over the past two seasons.
About the Lakers
Record: 8-26-2 (7-20-1)
Top scorers: Stephen Perfetto (10-7–17), Bryce Schmitt (7-8–15), Alex Globke (5-5–10), Chris Ciotti (4-6–10)
Top defensemen: James Roll (1-10–11), Eric Drapluk (3-6–9)
Top goalie: Gordon Defiel (8-24-2, .917, 2.94)
X-factor: Defiel is capable of stealing games, as he proved in the Lakers' Florida College Classic wins Dec. 28-29. The freshman has four shutouts.
That's a fact: The Lakers have just one win in their last nine games, a 3-0 victory at Northern Michigan. Their three wins before that came against teams playing at home this weekend: Bemidji State and Bowling Green.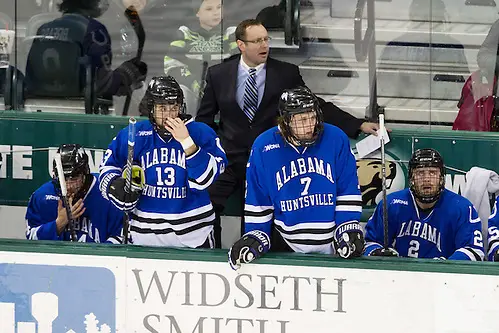 2 Michigan Tech vs. 7 Alabama-Huntsville
Hosting a first-round series for the first time since 1992-93, the Huskies will take on a WCHA playoff newcomer. Tech has had the Chargers' number this season, sweeping the season series (two wins in Huntsville Nov. 28-29 and two in Houghton on Jan. 30-31) and outscoring them 25-5 along the way.
About the Huskies
Record: 26-8-2 (21-5-2)
Top scorers: Tanner Kero (18-25–43), Alex Petan (14-25–39), Malcolm Gould (14-17–31), Blake Pietila (13-15–28)
Top defensemen: Shane Hanna (6-12–18), Cliff Watson (3-9–12)
Top goalie: Jamie Phillips (25-7-2, .935, 1.76)
X-factor: When Kero scores goals, the Huskies are literally unbeatable — 14-0-1 to be exact. Kero won the WCHA scoring title on Saturday. His goal and assist on the final day of the regular season gave him 34 points in 28 league games.
That's a fact: The Huskies haven't won a playoff series since 2011-12 when they upset Colorado College as a No. 8 seed to advance to the Final Five.
About the Chargers
Record: 8-24-4 (7-20-1)
Top scorers: Max McHugh (12-11–23), Chad Brears (3-12–15), Jack Prince (5-9–14), Brandon Parker (0-14–14)
Top defensemen: Parker, Frank Misuraca (6-6–12)
Top goalie: Carmine Guerriero (8-16-3, .923, 2.69)
X-factor: McHugh has had a more-than-solid freshman year, raking among the league's top three in rookie scoring for most of the season.
That's a fact: The last time the Chargers played a postseason game was 2009-10 as a member of College Hockey America. Despite an under-.500 record, UAH beat Robert Morris and Niagara to win the CHA tournament and qualify for the NCAA tournament.
3 Bowling Green vs. 6 Northern Michigan
The Falcons and the Wildcats know each other well. This is the third time in five years that the teams are meeting in the postseason. The other two times happened as members of the CCHA. Northern Michigan won the season series this year, going 2-1-1, including a sweep at Bowling Green on Feb. 20-21.
About the Falcons
Record: 21-10-5 (17-8-3)
Top scorers: Brandon Hawkins (14-14–28), Pierre-Luc Mercier (8-16–24), Matt Pohlkamp (8-16–24), Ben Murphy (11-10–21)
Top defensemen: Mark Friedman (2-17–19), Sean Walker (5-12–17), Nolan Valleau (2-15–17)
Top goalie: Tommy Burke (12-5-3, .191, 2.19)
X-factor: The Falcons' other goaltender is no slouch. Freshman Chris Nell went 6-4-2 with a .917 save percentage and 2.32 GAA.
That's a fact: The Falcons, who reached 20 victories for the first time since 1995-96, have won a best-of-three playoff series in each of the last four seasons.
About the Wildcats
Record: 14-16-6 (11-13-4)
Top scorers: Darren Nowick (7-15–22), Dominik Shine (7-12–19), Gerard Hanson (5-14–19), Shane Sooth (5-14–19)
Top defensemen: Brock Maschmeyer (9-10–19), Mitch Jones (5-6–11)
Top goalie: Michael Doan (4-9-2, .913, 2.97)
X-factor: Senior forward Reed Seckel has 16 points but five of them have come against Bowling Green.
That's a fact: The Wildcats have not won a first-round series since the 2010 CCHA playoffs when they advanced to the conference championship game and the NCAA tournament.
4 Bemidji State vs. 5 Ferris State
This is a rematch from a year ago when the then-top-seeded Bulldogs swept the eighth-seeded Beavers 8-0 and 3-2 in double overtime in Big Rapids, Mich. In their one meeting this year, Bemidji State took three of four points on the road, winning 2-1 and tying 1-1 on Feb. 27-28.
About the Beavers
Record: 16-15-5 (12-11-5)
Top scorers: Matt Prapavessis (9-15–24), Brendan Harms (9-11–20), Nate Arentz (9-10–19), Gerry Fitzgerald (6-12–18)
Top defensemen: Prapavessis, Ruslan Pedan (3-7–10), Sam Rendle (2-8–10), Graeme McCormack (1-9–10)
Top goalie: Michael Bitzer (14-9-3, .932, 1.76)
X-factor: The Beavers' freshman class has some great chemistry. Some of that is built in, with the Fitzgerald triplets of Gerry, Leo and Myles. But don't overlook the unheralded Kyle Bauman, who has scored 12 of his 15 total points, including all eight goals, since the calendar turned to 2015.
That's a fact: The Beavers finished their regular season home schedule 10-5-2 (9-3-2 in WCHA), with their only league losses at Sanford Center coming to Michigan Tech (twice) and Minnesota State.
About the Bulldogs
Record: 16-19-2 (13-14-1)
Top scorers: Matt Robertson (6-16–22), Gerald Mayhew (10-11–21), Justin Buzzeo (8-12–20), Chad McDonald (9-9–18)
Top defensemen: Simon Denis (3-11–14), Jason Binkley (2-9–11)
Top goalie: CJ Motte (16-19-2, .921, 2.12)
X-factor: Motte became Ferris State's all-time winningest goaltender last weekend in a sweep at Lake Superior State. With his 64th career victory, he surpassed former Bulldogs All-American Mike Brown.
That's a fact: Ferris State is 10-6-1 all-time against Bemidji State, including a 5-1 record in six games a season ago.
Ice chips
• The WCHA had its first early departure this week as Alaska junior defenseman Colton Parayko signed a two-year entry-level contract with the St. Louis Blues, who held his draft rights. Parayko was last season's WCHA defensive player of the year and could very well win that title again this year.
• Alaska was ineligible for the postseason due to NCAA sanctions, but it closed the season as one of the hottest teams in college hockey. The Nanooks finished up with a national-best eight-game unbeaten streak (7-0-1), including a sweep of Alaska-Anchorage last weekend. A shootout win after Saturday's game gave Alaska the Governor's Cup, the trophy that the rivals play for each season.
• Alaska-Anchorage freshman goaltender Olivier Mantha finished the season with a .914 save percentage, third-best in team history and the best in 10 years, according to Doyle Woody of the Alaska Dispatch News. The Seawolves finished last in the 10-team league, missing out on a playoff spot by four points.
• This week's WCHA players of the week were: Michigan Tech sophomore forward Tyler Heinonen (offensive), Ferris State senior goalie CJ Motte (defensive) and Alaska freshman forward Tayler Munson (rookie).