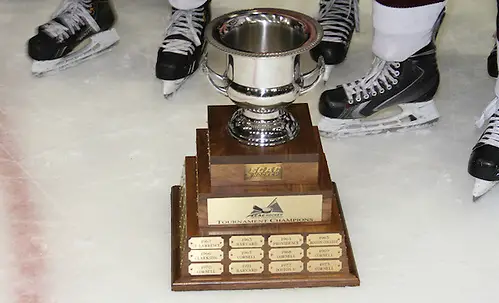 Whether it's been Atlantic City or Lake Placid, the last two ECAC Hockey championship weekends have featured the eventual national champion.
If that's going to be the case again this year, it will be a new team, as Yale and Union, the last two national title winners, were eliminated in the quarterfinals. The Dutchmen have no shot at making the national tournament, while the Bulldogs will need a lot of pieces to fall into place (although that happened two years ago and Yale won it all).
ECAC Hockey playoffs
See the tournament bracket and get links to schedules and stories at ECAC Hockey Playoff Central.
The league returns to Lake Placid, N.Y., for the second straight season, with two of the four teams making a return trip. Quinnipiac and Colgate met in the second game last year, with the Raiders winning 3-2 in double overtime. The Bobcats have made three straight appearances in the league's championship weekend, while Colgate has made it to the finals four times in the last five seasons.
Quinnipiac is looking for its first league playoff title, while Colgate's only championship came in 1990. Newcomers Harvard (2006) and St. Lawrence (2001) have gone lengthy stretches without a league title, meaning it will be a different looking championship celebration on Saturday night.
The Saints, picked 11th in both the media and coaches' preseason polls, finished second in the regular season before sweeping Rensselaer in the quarterfinals. Harvard was picked 10th in the media poll and ninth in the coaches' poll.
The Crimson were the top team in the PairWise Rankings near the midpoint of the season but underwent a second-half swoon before winning its season finale and then going 4-1 in the first two rounds of the ECAC playoffs, including a 3-2 double-overtime win Sunday at Yale. Harvard last made the semifinals in 2012, while St. Lawrence made it in 2010.
None of the four teams heading to Lake Placid is a lock to make the NCAA tournament; Quinnipiac could have a chance if the Bobcats lose the first game, while the Saints, Raiders and Crimson likely will need to win the title game Saturday to make the NCAAs.
Here's a look at the first-round matchups Friday. Check back with USCHO for picks and updates throughout the weekend. Ticket information can be found at www.ecachockey.com.
No. 1 Quinnipiac vs. No. 6 Harvard, 4:07 p.m. EDT
Season series: 1-1
The opening game of the weekend features the league's most consistent team (Quinnipiac) against a Harvard team that looks to be back on the upswing following a second-half slump.
Health is a big reason for the Crimson's turnaround. Senior captain and defenseman Patrick McNally returned against Yale last weekend after missing over a month of the regular season.
"I think that we have shown flashes of being a very good team," Harvard coach Ted Donato said, adding that injuries to McNally and forwards Sean Malone, Alexander Kerfoot, Colin Blackwell and Luke Esposito held the Crimson back at times.
Each player was in the lineup Sunday in the deciding game of the quarterfinal series against Yale. Blackwell has been a surprise contributor down the stretch, returning last month after missing most of the last two seasons due to a concussion.
"It's been a roller-coaster ride for him, mostly down," Donato said of Blackwell. "He was a difference-maker for us in the [opening-round] Brown series and in the Yale series. He's kind of like a Christmas present that we just got a little late."
Getting McNally back after it was originally reported he was out for the season has been a bonus for the Crimson. He's not only a steady defensive player and important penalty killer, but is Harvard's best puck-moving defenseman.
"Pat's a winner and our team definitely feeds off his confidence," Donato said. "Getting him back, maybe even in a limited situation, is still a huge bonus for our team."
McNally's puck-moving skills might help jump-start Harvard's offense, but it's forwards Jimmy Vesey and Kyle Criscuolo who are the finishers. Vesey scored the game-winning goal in double-overtime Sunday and leads the country with 27 goals, while Criscuolo has 17 goals and 27 assists.
With the Crimson healthy, Tyler Moy slides down to the third line, but he had a solid season filling in when needed on the top two lines.
Lost among the shuffle is senior goalie Steve Michalek, who had a solid season even with all the injuries in front of him. The Minnesota Wild draft pick has started every game and has a .924 save percentage.
While Harvard is making a late surge, Quinnipiac has been consistently one of the top teams in the ECAC all year, at least record-wise. With 18 freshman and sophomores, Bobcats coach Rand Pecknold knows it can be a rough go of it at times.
"Every game we play is like three games," he said. "We were all over the map a little bit with our intensity Sunday [against Union]. We were awesome in the first, solid in the second and holding on to life rafts in the third. That doesn't mean we're not a good hockey team; we've got some very good hockey players."
Key among those is sophomore forward Sam Anas, who has a propensity for highlight-reel goals. However, Anas was hurt against the Dutchmen on Sunday, and Pecknold said on Monday he was going to be re-evaluated for the weekend.
If it wasn't for St. Lawrence goalie Kyle Hayton, the Bobcats' Landon Smith might win the league's rookie of the year. The forward has 15 goals in 37 games overall, and joins junior Travis St. Denis as another dangerous scorer in Quinnipiac's lineup.
Senior captain Matthew Peca has done a little bit of everything over his college career. He leads the Bobcats with 28 assists and joins Tim Clifton as the team's two best penalty-killing forwards.
Junior goalie Michael Garteig has come on strong for Quinnipiac, and Pecknold said he played the best game of his college career in Sunday's 3-1 win over Union that sent the Bobcats to the championship weekend.
Quinnipiac's defense is fairly young, although Danny Federico and Justin Agosta are key veterans. Federico is an excellent stay-at-home defender, while Agosta provides some offense from the blue line.
Quinnipiac runs a 1-3-1 forecheck and looks for neutral-zone turnovers. McNally's return could help Harvard counter that, but the Crimson will have to deal with Garteig, who has been sharp in the second half.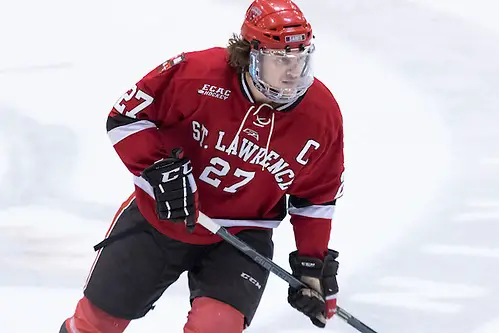 No. 2 St. Lawrence vs. No. 4 Colgate, 7:30 p.m. EDT
Season series: Colgate, 2-0
Second-half surges helped the Saints and Raiders clinch first-round byes, and then sweep their respective series last weekend. St. Lawrence is 11-3-1 since Jan. 16, while Colgate is on a 6-0-1 run entering the semifinals.
There are different reasons for each of those streaks. For the Saints, it was a matter of a young team coming together, while the Raiders were finally able to get healthy over the season's final weeks.
"The last 15 or 20 games our lineup has been set and we've set our defensive partners. We think we've found guys who have paired well together," Saints coach Greg Carvel said when asked about his team's second-half success.
It doesn't hurt having goalie Kyle Hayton. The freshman is among the national leaders in save percentage and shutouts, and plays with plenty of confidence for St. Lawrence.
But the group in front of Hayton has improved as well, with senior Chris Martin and freshman Matt Purmal emerging as a shutdown pair for the Saints. Sophomore Eric Sweetman is a solid two-way defenseman, while classmate Gavin Bayreuther fell short of his point totals from his freshman season but has improved his overall game, according to Carvel.
"The second half of the season he really took off as a hockey player," Carvel said of Bayreuther.
Offensively, St. Lawrence's sum is better than its parts. Senior captain Gunnar Hughes and freshman Mike Marnell are the only players with double-digit goals, yet the Saints average just over three goals per game. In addition to his offensive production, Carvel has consistently praised Hughes, along with assistant captains Brian Ward and Patrick Doherty for the leadership they bring to St. Lawrence's younger players.
Like Harvard, Colgate made it to it the championship weekend on the strength of getting healthy. Senior defenseman Spiro Goulakos returned for the quarterfinals against Dartmouth, giving the Raiders their full lineup for the first time this season. Colgate was without top-six forwards Tylor Spink and Mike Borkowski for lengthy stretches this season; Borkowski returned last month after initially being declared out for the year following a knee injury in November.
"Over the short term, you try to survive and manage [the injuries], but over the long haul, you really need certain marquee players," Colgate coach Don Vaughan said. "Having Spiro back, aside from him being our captain, there's more of an at-ease feeling. It's like OK, here is what we have the potential to be."
Goulakos and Borkowski each play the point on the Raiders' power play, and are both key penalty killers as well.
Forwards Kyle Baun and Tylor and Tyson Spink might be one of the best lines this weekend behind Harvard's top line of Vesey, Criscuolo and Kerfoot, while defenseman Jake Kulevich and Ryan Johnston have been solid for the Raiders. In net, sophomore Charlie Finn is tied for second in the nation in shutouts.
"We adjusted our game plan a little bit and really focused on playing solid defensively," Vaughan said of managing his team's injuries. "We tried to get the guys up front to buy in to being a six-man defensive unit and win some lower-scoring games. That was a factor is us being able to stay in it and then compete for a [first-round bye]."
While both the Saints and Raiders were excellent defensively, both play with plenty of speed and move up the ice with ease. It may be a low-scoring game, but it shouldn't be for lack of chances.
Around the league
• Cornell senior forward Cole Bardreau signed a two-year entry-level deal with the Philadelphia Flyers last week. Bardreau, a solid defensive player, was the Big Red's leading scorer this season and was an alternate captain the last two years.
• Quinnipiac's Sam Anas (player) and St. Lawrence's Kyle Hayton (goalie) and Mike Manell (rookie) were named the league's weekly award winners.