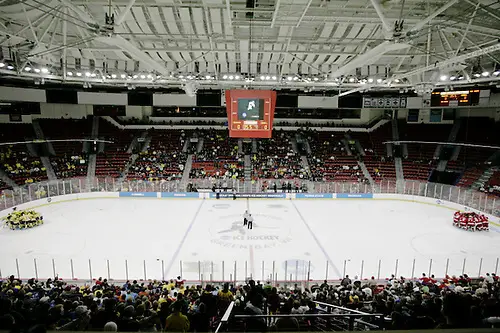 Could we be seeing the end of the regional format for the NCAA tournament?
New NCAA men's ice hockey committee chair Brian Faison has signaled that he'd like to see competing teams host games instead of the regional format that has been in place since 1992.
Midco Sports Network's Dan Hammer tweeted a series of details from a conversation with Faison, the athletic director at North Dakota.
UND A.D. Brian Faison, new NCAA hockey committee chair tells me he will move for realignment of NCAA regionals to include home sites

— Dan Hammer (@Hamsbrew) March 18, 2015
Whether those are top 8 or top 4 hosting and format remains to be seen. Likely top 8. He believes there is growing support from coaches.

— Dan Hammer (@Hamsbrew) March 18, 2015
Will certainly be major topic at hockey coaches convention this spring but Faison says he will take the lead on realignment of regionals .

— Dan Hammer (@Hamsbrew) March 18, 2015
Attendance and, by extension, atmosphere, has been a concern at regionals in recent years.
In 2013, the regionals recorded the lowest combined attendance in 11 seasons since the tournament expanded to 16 teams, 37,321. That was followed by a bit of a resurgence last season, featuring a regional final in Massachusetts between two teams from that state and a similar situation in Minnesota.
Fewer venues have been bidding on the events, especially in the West. This season's Midwest Regional is being played at Notre Dame even though the NCAA prefers to have regionals at neutral sites and on NHL-sized ice sheets. The Compton Family Ice Arena has a 90-foot-wide rink, 5 feet wider than NHL size.
But Notre Dame was the only bidder on the Midwest Regional this season, forcing the NCAA's hand.
Former committee chair Jim Knowlton said last season that the committee left the 2017 and 2018 regionals open because it was studying a return to on-campus play.
"We did not want to tie our hands with four years of regionals," Knowlton said in December 2013. "So we went out two and we'll continue to assess how the regionals do and whether or not the fan experience and the student-athlete experience will benefit from being on campuses."
The counterpoint to moving NCAA games to host sites is that the regionals in many instances provide a neutral site that can be a more level playing field.
With a committee chair that appears to be behind the idea of moving NCAA tournament games back to campus sites, however, it seems the idea has more of a chance of acceptance.