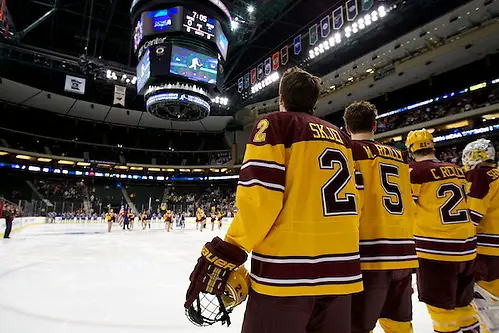 The formula is simple: uncommon opponents, neutral sites, national television audience and a propensity for unpredictable results. Only, it's not basketball. It's March Madness, college hockey style.
As per usual, the NCAA men's ice hockey tournament's opening weekend took place across four neutral regional venues last week, mimicking the men's basketball regional format.
However, one major concern facing this year's tournament was a recent downturn in attendance. According to official box scores filed to collegehockeystats.net, a total of 37,321 fans passed through turnstiles in four regional sites in 2013, the lowest total in the 11-year history of the 16-team format.
Happily, the tournament rebounded this year with total attendance of 54,416, aided by juicier matchups closer to home venues, with Massachusetts-Lowell, Boston College, Minnesota, St. Cloud State, Quinnipiac and Providence all within about an hour's drive of each venue.
Since peaking in 2006 at 64,527, total regional attendance has been virtually flat or has declined in most years. While 2014 bucked the trend, the figures have become increasingly worrisome to the college hockey community.
While the NCAA and its men's ice hockey committee have resolved to consider all options over the next two years, it's increasingly apparent that some kind of shakeup is required.
Returning to campus sites has long been discussed but hardly makes sense in the context of a format that uses predetermined venues.
For all that the ideal of a truly neutral-site tournament may hold, the tournament has been straddling the home-ice line for years, giving guaranteed close-to-home games to host schools if they make the field of 16, regardless of seed.
So instead of an unfair home-ice advantage, why not reward higher seeds with home games in the first round, as was the case before 1992?
One option is the lacrosse model: campus sites in the first round and neutral sites for the second round. That might address some of the tournament's ills.
It would inject a dash of atmosphere into first-round games, reward teams who finish in the top eight of the PairWise Rankings and (by adding another weekend of play to the tournament) keep momentum going strong all the way through the Frozen Four.
Of course, there are questions. Where would you host the regional finals? How would TV be impacted? Would the coaches go along with it? Would small arenas even have the resources available to host a tournament game? How would you avoid bumping into the basketball Final Four?
The Western problem
For that first question, it's important to note the tournament's particularly acute trouble in the West and Midwest.
Since 2009, outside of St. Paul, Minn., an average of 3,780 patrons attended a regional session in the West and Midwest. During that time, venues included Grand Rapids, Mich.; Green Bay, Wis.; Fort Wayne, Ind.; St. Louis; and Toledo, Ohio.
Cincinnati, drawing an average of roughly 5,500 last weekend, was actually the most well-attended Midwest regional since 2008, when Wisconsin hosted at the Kohl Center. It was certainly a vast improvement from 2013 in Grand Rapids, when a paltry 1,918 fans saw Yale complete its improbable run to the Frozen Four by defeating North Dakota in the regional championship.
The average of 2,104 across two days in Grand Rapids was the lowest for any venue in the history of the 16-team tournament format, which started in 2003.
It wasn't always this way: Between 2003 and 2008, West/Midwest neutral-site regionals (excluding St. Paul) drew an average of 6,649 per session, virtually equal to crowds in the East.
Something has clearly gone wrong in recent years, and it's hurting the market for potential bidders. According to Kristin Fasbender, the NCAA's associate director of championships, fewer venues are stepping up to bid on regionals in the West.
If St. Paul is the only healthy option out west, it would pose a challenge to find a second regional site for the two-day, lacrosse-style regional finals.
Compounding the problem is that fans are already spending money on postseason play even before the NCAA tournament arrives.
"We're asking folks to buy tickets week in and week out," Fasbender said. "At the end of the day, we're hitting the same people. They've already been buying tickets for the league playoffs, then the conference championships."
The sport is healthy, as evidenced by TV exposure and regular season attendance, but the regional round has not been well-supported recently, despite it being the sport's second-biggest national stage of the year.
Even Boston College-Lowell, just an hour's drive from each school's home campus, sold only 5,474 tickets.
The common thread
A near-universal complaint from all stakeholders (coaches, athletic directors, fans) has been ticket pricing. At $94 per ticket package at the Xcel Energy Center in St. Paul, it cost a family of four $376 to see the whole regional, not including fees, parking and concessions.
Prices in Worcester and Bridgeport were under $350 but were still steep. Cincinnati, however, had ticket packages priced at just $40 per person.
Arena operators are charging what the market will bear, not necessarily what will fill up the building — their first goal is to break even with the cost of meeting NCAA venue specifications.
The problem with a competitive venue award process, however, becomes the winner's curse: An arena and/or organizing committee wins a regional but then faces the challenge of recouping the cost.
"We've had all different types of ticket pricing models," said Fasbender. "We've gone back to these venues and asked, what can your market bear?
"There are a lot more options for our fans — there are opportunities for single sessions, for groups, for students. We've got a great marketing and ticketing staff working with those venues and those sites, to determine those prices," Fasbender added.
The competition for a bid is based on a larger package, including the availability of downtown entertainment, hotels, and sweeteners thrown in by a host committee. This model certainly works for the Frozen Four, which comes close to selling out every year, no matter the venue.
For regional hosts, it becomes an uphill climb, battling the availability of televised games yet pricing tickets to what the market will bear. That's all without knowing which teams will participate in that section of the bracket until one week before the event.
The tournament format
The story isn't all bleak. Last year, over 8,000 fans watched both regional contests at the Verizon Wireless Arena in Manchester, N.H. The games happened to involve local fan-favorite New Hampshire against a regional opponent, Massachusetts-Lowell.
Similarly, in 2012 a marquee West Regional final between archrivals Minnesota and North Dakota drew 10,150 at the Xcel Energy Center in St. Paul.
But for some coaches and athletic directors, a host institution being allowed to stay at home (regardless of seed) while other teams play in disparate half-full arenas undermines the fairness of the bracket.
Beyond automatic hosts (UNH, Minnesota and Yale come to mind), in recent years the selection committee has increasingly placed teams based on geography within the limits of a four-team seeding band. But there are limits.
An example is this year's bracket, when North Dakota was moved from a true 14-versus-3 matchup with Union in Bridgeport, Conn., to a juicier matchup with No. 4 overall seed Wisconsin in Cincinnati.
"Bracket integrity is important, but student-athlete experience is also important," said Vermont coach Kevin Sneddon, a member of the NCAA hockey selection committee. "We're restricted to the banding, so within that band, if we can send a team that travels well to a certain venue, we'll try to do that."
While it takes away steadfast adherence to the PairWise Rankings, this tool can create more attractive matchups. But one of the four regionals is bound to be left without a compelling set of games. Or — in the case of Grand Rapids in 2013 — even with marquee names in the bracket, fans may still watch at home instead.
The selling points
Something to consider is the broader mission of the NCAA tournament, and how it can be used as recruiting tool for a young player deciding between the NCAA and Canadian major juniors.
For advocacy groups such as College Hockey Inc., the shadow of attendance woes at regional sites undermines the pitch to prospective recruits, which touts the on-campus experience.
All season, raucous arenas and thousands of passionate fans in attendance are a selling point to recruited players. And yet, the reward for being one of the last 16 teams standing is, at times, to play in venues with thousands of empty seats.
There are two important reasons why neutral sites exist in the first place. Consistency of rink dimensions is one.
"Our preference, since about 2008, was for neutral sites with NHL-sized sheets," Fasbender said. "And that's how we divide it up with venues. [Coaches] would prefer it would be NHL rinks since that's what the Frozen Four is played on."
Second, neutral sites have produced parity and improbable upsets over the years. Bemidji State over Notre Dame. Rochester Institute of Technology over New Hampshire. Holy Cross over Minnesota. The games are etched into NCAA tournament lore.
But it's hard to find consensus in the coaching community to change the format when lower-seeded teams may be denied a level playing field.
"It comes down to what's important in the coaching community, but [ultimately] it's the NCAA's tournament," Sneddon said.
Potential solutions
Even if ticket prices remain a hindrance to attendance, telling arenas to lower them is an untenable solution. If they can't make money, they can't bid on the events, further complicating matters.
The NCAA and its selection committee are taking a close look at how regional venues fare over the next few years. Only 2015 and 2016 hosts were awarded in the last round.
"We awarded only two years on the regionals because discussions are going on for where do we want to be?" said Fasbender. "Is it going back to campus sites? Is it staying on neutral sites? Is it pre-determined [hosts]?"
According to Fasbender, all options are on the table, including the lacrosse format.
"The committee wants to have a great experience for our student-athletes, bottom line," said Fasbender. "We want great ice, we want great facilities. Those are the things we're looking at.
"If the committee starts throwing out all these ideas from a format perspective, we'll work with our network partners," Fasbender said, speaking to ESPN's involvement. "They love college hockey."
To that end, college hockey's visibility has never been greater. Unprecedented regular season and conference tournament exposure on television, formation of two new leagues in the offseason, and marquee programs are driving attention to the game.
But Kevin Sneddon may have said it best: "We want our game exposed but we understand that basketball is a whole different animal."
The NCAA hockey tournament should follow that same line of thinking.
That the NCAA is considering changes to the format is a positive development. There's universal agreement that the format producing the best student-athlete experience should be the one adopted.
After expanding the field to 16 teams in 2003, perhaps that meant four neutral-site regionals. But times have changed and fans have voted with their feet. There's no time like the present to give hockey's twist on March Madness a fresh look.