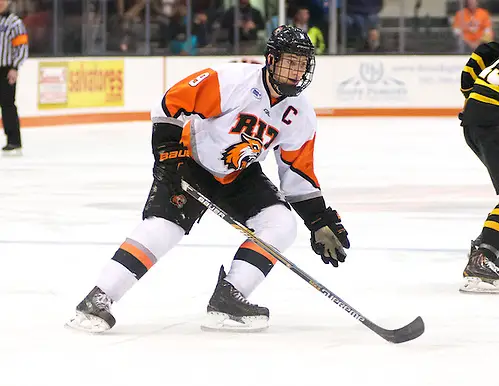 Atlantic Hockey unveiled its year-end award winners Thursday night and also named three All-Conference teams and the Gladiator Custom Mouthguards All-Rookie Team.
RIT's Matt Garbowsky was named Player of the Year, Best Defensive Forward and also won the scoring trophy after leading the conference in scoring with 23 goals and 44 points in 28 games.
Bentley's Steve Weinstein took home Best Defenseman honors, while Canisius' Keegan Asmundson won the goaltending trophy with a 1.89 GAA and a .931 save percentage.
Tyler Pham from Army was selected Rookie of the Year and Robert Morris bench boss Derek Schooley was tabbed Coach of the Year.
Army's Zak Zaremba earned the individual sportsmanship award and American International won the team sportsmanship award.
2014-15 First Team All-Conference
| Player's Name | Position | School |
| --- | --- | --- |
| Matt Garbowsky | F | RIT |
| Cody Wydo | F | Robert Morris |
| Andrew Gladiuk | F | Bentley |
| Steve Weinstein | D | Bentley |
| Chris Rumble | D | Canisius |
| Matt Ginn | G | Holy Cross |
2014-15 Second Team All-Conference
| Player's Name | Position | School |
| --- | --- | --- |
| Ralph Cuddemi | F | Canisius |
| Josh Mitchell | F | RIT |
| Cole Gunner | F | Air Force |
| Brady Norrish | D | RIT |
| Ryan Misiak | D | Mercyhurst |
| Keegan Asmundson | G | Canisius |
2014-15 Third Team All-Conference
| Player's Name | Position | School |
| --- | --- | --- |
| Daniel Bahntge | F | Mercyhurst |
| Zac Lynch | F | Robert Morris |
| Brad McGowan | F | RIT |
| Alexander Kuqali | D | RIT |
| Chase Golightly | D | Robert Morris |
| Jayson Argue | G | Bentley |
| Dalton Izyk | G | Robert Morris |
2014-15 All-Rookie Team
| Player's Name | Position | School |
| --- | --- | --- |
| Tyler Pham | F | Army |
| Jack Riley | F | Mercyhurst |
| Brady Ferguson | F | Robert Morris |
| Brady Norrish | D | RIT |
| Keegan Harper | D | Niagara |
| Jayson Argue | G | Bentley |