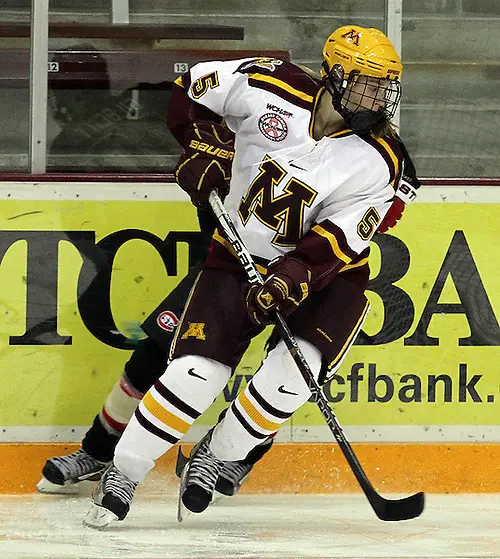 Two years ago when the Frozen Four was in Minneapolis, the storyline was all about whether or not Minnesota would be able to complete its perfect season. The Gophers are back as the top seed, but they are far from being the dominant team. They may not be a favorite at all, to win the program's fifth NCAA title, or even to advance out of their semifinal game versus Wisconsin.
"I think there are four great teams in this field," said Boston College coach Katie King Crowley, the STX/AHCA Division I Women's Coach of the Year.
For much of the year, it looked like BC would fill the role of prohibitive favorite. The Eagles steamrolled through their first four months and 28 games with only a single tie with St. Lawrence preventing them from their own perfect start. Their victims included Harvard, a team they destroyed by eight goals in November, in a game where from Crimson coach Katey Stone's perspective, "Not a lot of good things happened."
"We weren't, at that stage of the season, ready to play at that level," Stone said. "Our compete level wasn't where it needed to be and our desire to win wasn't as strong as it could have been at that point."
During the 2014 portion of the schedule, the Eagles were inflicting such damage on most of their opponents.
"We did have that stretch during the season where we put up a ton of goals," junior forward Haley Skarupa said. "If there was a game where we didn't score six or eight goals, we still know that we won the game."
The team may have viewed it that way, but some outside the team were starting to question wins that were "only" by three or four goals. Just over five weeks ago, Harvard toppled BC from the unbeaten ranks with a 3-2 decision in the championship game of the Beanpot.
"We have improved since November and we played in a really exciting Beanpot championship game with them and we were fortunate to come out with a win there," Stone said. "It was a great, great hockey game, just like it will be tomorrow night. There will be a lot of great players on the ice, and both teams go through highs and lows during their season, and I imagine that both teams are peaking at the right time."
The rosters of the two squads feature five Olympians, the National Rookie of the Year in Wisconsin's Annie Pankowski, and seven of this season's CCM All-Americans: Alex Carpenter and Emily Pfalzer, Boston College; Hannah Brandt, Rachel Ramsey, Dani Cameranesi, and Lee Stecklein, Minnesota; and Sarah Edney, Harvard.
Foremost among them is Carpenter, the national leader in goals, assists, and as the math would dictate, points.
"She is so dynamic in the way she plays the game," Crowley said. "She is fast, she is strong, and she thinks the game. She works hard all the time, and she wants to make her teammates better."
In addition to Harvard's Beanpot, each team won a league title this year. Minnesota and Wisconsin split the regular and playoff crowns in the WCHA. Boston College ran away with Hockey East's season title. Harvard finished tied atop the ECAC's standings with Clarkson; the Crimson bested the field in the ECAC tourney.
The semifinals pair teams that are very familiar with each other.
"We've been able to play Harvard a couple of times and we haven't played the teams in the West," Crowley said.
As always seems to be the case, the Western teams have been too busy playing each other. Wisconsin and Minnesota will play for a fifth time for the second straight year and four of the last five. The Badgers owned the first year of that stretch, but the Gophers have had far the better of things ever since, including this very same round of the NCAAs last March.
"You can't change history," Wisconsin coach Mark Johnson said. "That is one thing we can't control, but we can learn from history and that is the challenge we have tomorrow afternoon. We were in that game last year and we played a really strong game, but it just seems that in the last little bit we've come up short. Two of our last three games [against Minnesota] have gone into overtime and one ended in a tie. Minnesota's players have been able to make plays, but that's just a piece of history. We're just concentrating on the future."
"We were in this exact same situation last year, playing Minnesota in the semifinal round and being the lower seed," Wisconsin senior captain Blayre Turnbull said. "Whatever has happened in the past between these two teams is completely irrelevant at this point."
True, but between them, they've done a lot of winning. One or both of the two WCHA squads has participated in each of the last dozen Frozen Fours; 2010 was the only year in that stretch where neither reached the final. Combined, they've won eight of those NCAA Championships.
"We have a ton of respect for them and I know they have a ton of respect for us," Gophers' coach Brad Frost said. "They recruit great kids like we do, and they are great hockey players that are very well-coached."
The two winners of those semis head into a final where the opponents have yet to play each other this year. Of the possibilities for the final game, only Wisconsin versus Harvard would yield a duo that played last season.
Whatever teams' familiarity with opponents may be, Minnesota is most familiar with this event. Not only are they competing on their home ice, but the team's seniors have ended all of their seasons at the Frozen Four. The senior classes of Wisconsin and BC are back for a third time, while Harvard checks in for the first time in seven years.
That's not to say that the Crimson are strangers to a big stage; three of them competed for coach Katey Stone a year ago in the gold medal game of the Olympics.
"I certainly hope that it is a good thing that they have had a lot of big-game experience, but all of our kids have had those experiences in different ways," Stone said. "They have played for state championships, New England Prep School championships, and U-18 National Team experience. Players coming into all of our programs are pretty seasoned and they are winners."
The seniors for the Gophers won national championships the previous two times they competed in Frozen Fours in their home state, and it truly is their home state, as the entire class of four are natives.
They don't have a monopoly in that department. Harvard's Samantha Reber and Hillary Crowe also hail from the Twin Cities.
"I've had this in the back of my mind since my sophomore year when the Frozen Four was also here, and we were just a game shy of making it," Reber said. "Being in my senior year now, playing for a national title in Minnesota with this group of girls is just a dream come true. With that being said, we're going to take it one day at a time, just like we have so far. We have a huge game against BC tomorrow that we're getting ready for the best, but I also know that everyone is excited to be here. It just means so much more, for me personally and another senior, Hillary Crowe, to be playing this game here."
Of course, everyone is filled with anticipation, be the competition close to home or far from it, no matter the familiarity of the foe.
"First of all, I think if you're lucky enough to still be playing a game at this point of the season, you are excited no matter what," Turnbull said. "For me, I love playing new opponents and testing out our team's ability to see how well we do against teams from out East. At the same time, it's fun to face a team like Minnesota in this atmosphere, too."
Two years ago in the aftermath of winning the championship in Ridder Arena before a sold-out crowd, Ramsey described the atmosphere as noise all the time. She heard a different sound to punctuate last season — another team, Clarkson, celebrating.
"That one is one that hurts," Ramsey said. "I think we had only given up three goals at the most all season, so to give up five was a heartbreaker for us. It's something that we've learned from, because it was a defensive collapse to give up five goals, which I think makes us a better team now. Three-fourths of this team was there last year and has had the opportunity to have an entire season worth of growth, so I think we're coming in better this year than we were last year."
The Badgers are one team that has had trouble scoring against the Gophers, being held to one goal in all four meetings during the regular season.
"Their blue line is tall and strong and they're good players," Johnson said. "Minnesota's goaltender has played really well since she's been a freshman here, so similar to some of the other opponents within our league, it's hard to get pucks past the goaltender."
As he says, that's in the past.
"The last two or three weekends, we've been able to find the back of the net, and hopefully, that will continue tomorrow," Johnson said.
It doesn't figure to be easy for anyone from this point on.
"Obviously, BC had an incredible season so far and they were going on a fairly historic streak for awhile," Frost said. "Harvard started a little slower, but they certainly look to be firing on all cylinders. We know Wisconsin and our two teams have been two of the best teams out here in the West. So I think it's going to be an incredible weekend of hockey, and the top four teams don't always advance, but this time, they have."
That makes it hard to predict. The only thing one can say with any certainty is that three of the four will go home disappointed.
As for Ramsey, she's not missing the expectations that the team carried a couple of years ago.
"This year I think is the first time, in my four years at least, there hasn't been as much pressure as there has been in the past," Ramsey said. "Like coach Frost said, all four teams in here this year deserve to be here and any of them could win. For us, it's about playing loose and fast and having fun. It's not like coming in 39-0 and being expected to seal the deal. It's just a great team ready to play some great hockey."
Wisconsin at Minnesota starts things off at 5 p.m. CDT on Friday, with the Harvard versus Boston College tilt scheduled for 8 p.m.
"The dinner table is set, and now it is time to sit down and eat," Johnson said.