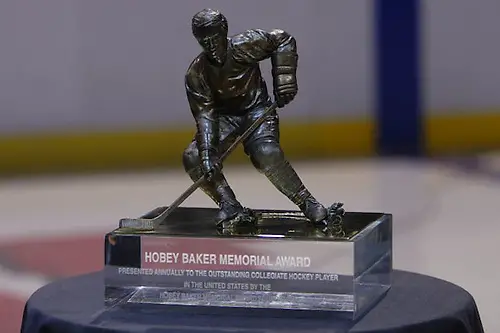 Six of the nation's top 10 scorers, including leader Jack Eichel of Boston University, are among the 10 finalists named Thursday for the 2015 Hobey Baker Award.
The finalists, in alphabetical order, are:
• Union senior forward Daniel Ciampini
• Boston University freshman forward Jack Eichel
• Rochester Institute of Technology senior forward Matt Garbowsky
• Michigan senior forward Zach Hyman
• Michigan Tech senior forward Tanner Kero
• Denver senior defenseman Joey LaLeggia
• North Dakota junior goaltender Zane McIntyre
• Minnesota junior defenseman Mike Reilly
• Harvard junior forward Jimmy Vesey
• Robert Morris senior forward Cody Wydo
The finalists were selected by a vote of the 59 Division I men's coaches and online fan balloting.
The winner will be selected by a 27-member selection committee after the NCAA regionals.
Three Hobey Hat Trick finalists will be announced on April 2, and the winner will be named at the Frozen Four in Boston on April 10. The ceremony is scheduled for Northeastern's Matthews Arena.
Seven of the 10 finalists are forwards, with two defensemen and one goaltender. Six of the 10 are seniors, three are juniors and one is a freshman.
No conference had more than two finalists, with Hockey East and the WCHA having one each. Atlantic Hockey had two finalists for the first time.
None of the finalists has been on a previous season's Hobey top-10 list.
Wydo is the only one of the seven forwards on the list that isn't among the top 10 in scoring. He's tied for 19th with 41 points and tied for 18th with 19 goals.