This year's field in the Frozen Faceoff, the NCHC's playoff championship weekend, is about as strong as it ever could've been. The league has been Division I's best this season from top to bottom, and perhaps none of the four teams going to Minneapolis will see its 2014-15 campaign end there.
Three of them — North Dakota, Denver and Miami — are all locks at this point to qualify for the NCAA tournament. UND sits atop the PairWise Rankings, which mimics the selection process for the NCAA tournament field, while Denver sits in third and Miami in seventh.
NCHC playoffs
See the tournament bracket and get links to schedules and stories at NCHC Playoff Central.
All three will want to win the NCHC playoff title, but they needn't worry about qualifying for the NCAA tournament if they don't win a game at the Target Center. However, No. 10 St. Cloud State, the fourth team heading to Minneapolis, can give itself a great shot of continuing with just one win this weekend.
No. 6 Minnesota-Duluth and No. 8 Omaha both lost first-round playoff series to Denver and St. Cloud State, respectively. Despite that, both UMD and UNO are NCAA tourney-bound.
As for who is still alive in the NCHC tournament, UND will face SCSU at 4 p.m. CDT Friday in one semifinal matchup before Denver meets Miami. Third-place and championship games will then take place on Saturday.
What follows are capsules for the four teams involved in this weekend's showcase in Minneapolis
1. North Dakota
Record (NCHC): 27-7-3 (16-6-2-0)
Leading scorers: Drake Caggiula (16 goals, 17 assists), Michael Parks (12 G, 20 A), Jordan Schmaltz (4 G, 23 A)
Top goaltender: Zane McIntyre (27-7-3, 1.97 GAA, .932 save percentage)
About UND: North Dakota has been one of the country's best teams all season long, and the NCHC's regular season champion could add to its trophy haul this weekend. UND will need to navigate a SCSU team fighting for its season and then either Miami or Denver, but all three will be beatable in UND's collective eyes.
UND struggled at times last weekend at home against Colorado College and hasn't looked the same team without injured senior forward Mark MacMillan. However, considering UND has eight players with at least 20 points this season and 16 in double-digits in scoring, this is a team with plenty of weapons even when not at full health.
Perhaps the most remarkable piece of UND's team, however, has been junior goaltender Zane McIntyre. He has been the NCHC's best starting goaltender this season and one of the best throughout Division I, and he may yet be named as a finalist for the Hobey Baker Award.
2. Miami
Record (NCHC): 23-13-1 (14-9-1-1)
Leading scorers: Austin Czarnik (8 G, 32 A), Riley Barber (19 G, 18 A), Blake Coleman (17 G, 16 A)
Top goaltender: Jay Williams (17-8-0, 1.84 GAA, .924 save percentage)
About the RedHawks: Miami had to outlast seventh-place Western Michigan in a three-game first-round series last weekend, but the RedHawks are still very much playoff title contenders. In fact, you wouldn't be crazy to call them favorites.
UND will win the NCHC playoff title if the Frozen Faceoff goes chalk, but that's by no means set in stone. If Miami dispatches Denver in the semifinals and UND knocks off SCSU, the RedHawks would have every right to feel confident going into another meeting with UND, as the teams split evenly their four games thus far this season.
A fifth could be on the cards if the RedHawks take care of business against DU. That's a very real possibility for a Miami team that boasts seven players with at least 20 points apiece so far and a goaltender in Jay Williams who has a save percentage for this season that's well above the .900 mark.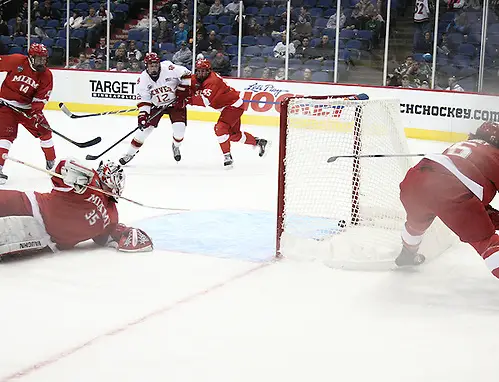 3. Denver
Record (NCHC): 22-12-2 (13-10-1-1)
Leading scorers: Danton Heinen (16 G, 28 A), Trevor Moore (20 G, 20 A), Joey LaLeggia (13 G, 25 A)
Top goaltender: Tanner Jaillet (13-6-0, 2.42 GAA, .917 save percentage)
About the Pioneers: If there's any one big thing that the Pioneers have on their side going into the Frozen Faceoff, it's pedigree. DU will know what it's doing this weekend at the Target Center, as the Pioneers won last year's NCHC playoff title after fending off a theretofore surging Miami squad in the championship game.
This is a different DU team than that one, but the Pioneers are getting a good mix of contributions from both older players and newcomers. LaLeggia has been his normal rock self on DU's blue line this season, and freshman forward Heinen and classmate goaltender Jaillet are two of the league's best rookies.
Denver didn't have the best record this season against league opponents, but a strong nonconference mark has helped the Pioneers into a sure NCAA tournament bid. Two wins in Minneapolis this weekend and a defense of their playoff title would be pretty great-tasting gravy.
4. St. Cloud State
Record (NCHC): 18-17-1 (11-12-1-0)
Leading scorers: Jonny Brodzinski (19 G, 16 A), Joey Benik (14 G, 21 A), David Morley (16 G, 11 A)
Top goaltender: Charlie Lindgren (17-16-1, 2.27 GAA, .920 save percentage)
About the Huskies: It's hard to say that there's any one surprise inclusion in this year's Frozen Faceoff, but SCSU is about as close as it gets to that. The Huskies are going to Minneapolis on merit, however, having won each of their past three games, including a road sweep last weekend at Omaha.
That said, St. Cloud needs to be careful as it lost its last three games before starting on its current winning streak. Two of those losses came at North Dakota late last month, and UND will try to pick up on Friday a fourth win from the teams' five games this season.
Even if that happens, however, a path to the NCAA tournament will still be available. The NCHC playoffs feature a third-place game, and that could be the Huskies' ticket to an at-large berth should they falter on Friday against a favored UND team.
Acknowledgements
This is my last NCHC column of the season and, in fact, the last This Week in the NCHC piece before we get started again in October. However, I will still pop up from time to time in the coming weeks with game predictions and the occasional story having to do with NCHC teams.
Before we get there, though, I'd like to take a moment to thank some people for their support this season and, in many cases, for years before that. I probably don't thank any of them often enough, but this is as good a time as any to start remedying that.
First off, thanks go out to Todd Milewski, our esteemed executive editor here at USCHO. This has been a sometimes awkward past 12 months for me as I moved last spring from Omaha to Bottineau, N.D., and I've been as glad as ever this season to sound like I know what I'm talking about (ish) before he rounds out the edges.
Thanks to my NCHC co-columnist, Candace Horgan. Yes, she wiped the floor with me again in our predictions contest, and yes, Candace, the beer money we've been competing for will be on its way to you shortly.
Thanks to all of the NCHC coaches, players, sports information directors and league officials who have all been incredibly generous with their time this season.
Thanks to USCHO senior writer and my Tuesday Morning Quarterback partner Jim Connelly. I took over TMQ duties for Milewski early on this season, and it's been fun bickering about hockey with Jim like the old man I am and that he's glacially becoming.
Thanks to Lynn Evenson, my wonderful boss at the Bottineau Courant, for allowing me this non-newspaper indulgence.
Thanks to my parents, Doug and Karen, and my brothers, Ben and Tim. Each of you mean the world to me.
Finally, thanks go out to you, dear reader. You are what everyone at USCHO works for.