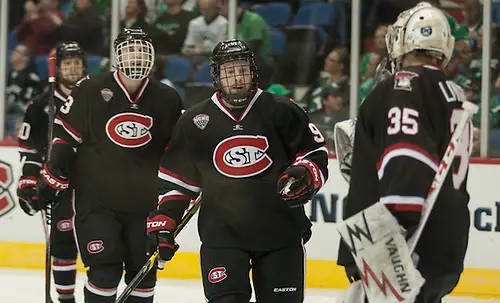 MINNEAPOLIS — It took less than 20 seconds for the St. Cloud State Huskies to prove this game would be different.
In much a similar fashion as North Dakota and St. Cloud State's previous four meetings this season, UND made its mark on the scoreboard first when a point shot from Keaton Thompson provided a 1-0 lead at 15:02 of the first frame.
NCHC playoffs
See the tournament bracket and get links to schedules and stories at NCHC Playoff Central.
St. Cloud State made sure it didn't last long — tallying two goals in the final minute of the opening period and an empty netter in the third — never letting North Dakota do what it's been capable of doing time and time again.
Friday night in the NCHC Frozen Faceoff semifinals, the Huskies pushed aside North Dakota's familiar strong start and etched a 3-1 victory into their record books.
"It's their calling card," SCSU coach Bob Motzko said. "They're such a good hockey team and they want to dictate it early and get a lead and then smother you. You have got to meet the challenge, and you've got to respect that. They raise it at a real high level. Their coaching staff does a tremendous job to have that team year in and year out do that, and we have to counter that. You're not going to be able to do that every time."
But Friday, the Huskies succeeded when David Morley and Joey Benik put goals in the net at 19:35 and 19:54 in the first period.
Less than a month ago in Grand Forks, North Dakota posted back-to-back 3-0 starts against St. Cloud.
SCSU battled back, taking it into the final minutes of play on that particular Friday evening to attempt to add just one more goal to the 3-2 mark and skate into overtime. It wasn't quite enough, and Saturday's attempt was countered by a determined North Dakota roster playing in its final regular season home series; UND won that one 3-1.
North Dakota has clinched victories in 10 of 12 conference playoff battles over the Huskies and is 3-1 in the teams' previous three meetings.
That one goal UND scored first at Target Center on Friday didn't intimidate a St. Cloud team with a clear goal in mind.
"We came ready to play tonight," Motzko said. "Even on the bench, you could hear them — 'we're fine, we're fine' — and they continued to make plays. From the get go, we came with a real strong frame of mind tonight, and the No. 1 goal was to have a very solid first period. The past couple times we played North Dakota, we fell 3-0, 3-0 and then made it close in the end. But we had to fight to prove it to them in the first period. I think our guys did a great job of that."
It was St. Cloud that dealt UND its first road loss back in November, and North Dakota knows the level at which the Huskies are capable of playing.
"St. Cloud's a good team," UND coach Dave Hakstol said. "The way they played is the way we expected them to play tonight. But when you give up a couple of easy ones this time of the year, it's tough to come out on top."
The Huskies will move on to the NCHC Frozen Faceoff championship game Saturday evening with hopes of fighting toward a strong finish, though it was the start of Friday's game that set the tone for its finish.
One goal from North Dakota was overshadowed by St. Cloud's strong will to prove this game would end differently, and the resiliency of its skaters on the ice and on the bench.
"After that one got through, guys on the bench were screaming, 'not another one gets through,'" Motzko said. "That was these guys selling out."