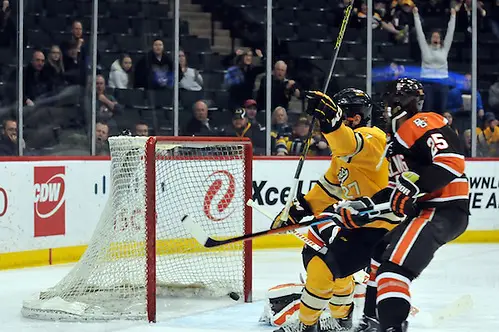 ST. PAUL, Minn. — Michigan Tech sophomore forward Tyler Heinonen is heating up at exactly the right time for the Huskies.
The Deleno, Minn., native scored two goals, including the game-winner, in Michigan Tech's 5-2 WCHA Final Five semifinal victory over Bowling Green Friday afternoon.
WCHA playoffs
See the tournament bracket and get links to schedules and stories at WCHA Playoff Central.
Heinonen's second goal came in the third period on a beautiful breakaway shot that was made possible by a nifty lob pass by David Johnston. After receiving the puck around center ice the sophomore skated in and beat Tommy Burke over his left shoulder. He also scored in the first period on a play that was assisted by Johnston and Cliff Watson.
Although he played his high school hockey in Minnesota, Friday was the first time that the Twin Cities-area native played a game at the Xcel Energy Center.
"Anytime you get a win it's a great homecoming," Heinonen said after the game. "It was an awesome night.
"It's fun to be back with friends and family in the stands," he added. "It's a lot better to get the win when they're in the stands."
Heinonen is one of the hottest Huskies' skaters right now. The two-goal effort gave him six goals and nine points in the last five games.
"A lot of my goals lately have come from playing on the right side of the puck and beating guys up the ice," he said. "That's the key."
After he made that remark, his head coach, Mel Pearson, was quick to point out that Heinonen's breakaway goal had little to do with where he was positioned in relation to the puck and more with his opportunistic vision to sneak behind the defense.
"On that third goal, I didn't see him on the right side of the puck," Pearson said. "If that's the right side of the puck then obviously I'm not communicating the right things."
Heinonen's two goals each broke a tie in the game. The first one gave the Huskies a 2-1 lead and the second gave them a lead that was built on.
"This team, they really keep their focus and they didn't get rattled by giving up a goal, and I thought that was evident tonight," Pearson said of his team's reaction when it gave up its first lead. "I'm glad Tyler, again, was on the right side of the puck for that third goal."