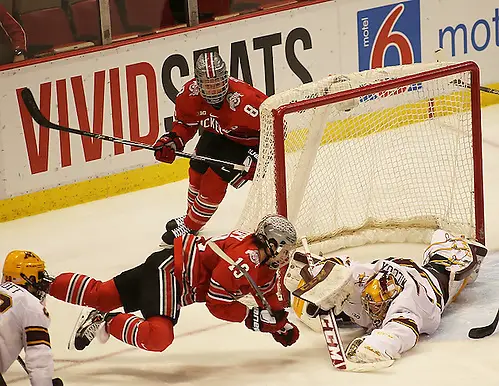 DETROIT — With Friday's 3-0 semifinal win over Ohio State, Minnesota extended its unbeaten streak to three games — three important games, games that cemented the Golden Gophers' regular season conference championship and propelled them into Saturday's Big Ten playoff title game.
In those three games, junior Adam Wilcox registered two shutouts and allowed two total goals, both in last Saturday's 6-2 win over Penn State. That's an average of 0.67 goals allowed per game in that stretch for a team whose defense is 31st-best in the nation.
So, given how much was on the line last weekend and how precarious Minnesota's PairWise placement has been — right on the bubble — you might think that the Gophers shifted gears heading into the series with Penn State. Not so, said coach Don Lucia. The focus on the end of the season came much earlier.
"To be honest, I think it was more the end of January," said Lucia. "We knew the position that we were in, and you keep getting asked the question on what do you have to do? Well, just keep winning. If you keep winning, you put yourself in the position.
"I never felt we were that far out of it even within the Big Ten at that point because of so many … away [games]. We hadn't played many home games. We'd been really good at home the last few years."
Since their series with Wisconsin the last weekend in January, the Gophers are 11-3-1 and 7-1 at home. In those 11 total wins, Minnesota gave up on average just 1.72 goals per game; in their seven home wins in that stretch, the Gophers averaged 0.64 goals against per game and Wilcox had three shutouts total.
Wilcox said that at this time of year, it's important to limit goals against and that the entire team in front of him is contributing to that effort.
"I thought the guys did a good job of reloading when their D started to pinch," said Wilcox, "I think our forwards are getting back and doing a lot better job of that. I think they're doing a better job of rush starting and getting guys back and having layers in our defensive zone."
Tied for second place with Michigan last weekend and one point behind first-place Michigan State, Minnesota swept Penn State in two games while the Wolverines and Spartans split. That made last Saturday's game was one of the most important of the season, said Lucia.
"The last thing we wanted was to end up third, having to play the Thursday game knowing we had to win three to make the NCAA tournament. That was a huge game.
"Tonight was a huge game for us. I'm just proud of the guys how they've responded and what they've been able to accomplish. This season has been a bit of a roller coaster, and we've kind of ridden it out."