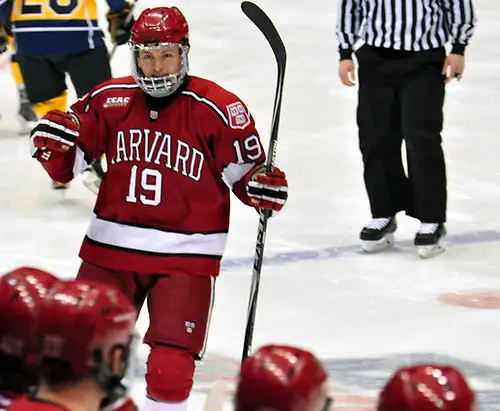 LAKE PLACID, N.Y. — For a number of years now, observers have looked up and down Harvard's often impressive, occasionally intimidating lineup and pondered upon how the Crimson could so consistently fail to turn a roster of winners into wins. In essence, they wondered, "who are the Crimson?"
They wondered again this year, louder than ever, as the blue-chip buckles and straps supporting Harvard's 10-1-2 first-half record snapped under the weight of a 4-10-1 January and February. Superstar junior Jimmy Vesey was still scoring, senior goalie Steve Michalek was still saving, but the goals weren't going in — and staying out — at anything close to the same rate they had earlier in the campaign.
ECAC Hockey playoffs
See the tournament bracket and get links to schedules and stories at ECAC Hockey Playoff Central.
Then subtly smooth sophomore center Sean Malone returned to the lineup. Then waterbug winger Colin Blackwell got back in shape. Then brawny blueliner Patrick McNally was back in uniform. Then, all of a sudden, Harvard played March hockey the same way it played in October, November and December.
Who is Harvard? It's a three-line machine that, when oiled and maintained, can go head to head with anybody. Just ask Boston University and Boston College, top-ranked victims of Harvard's early-season surge.
It would be easy to identify the Crimson top line of Vesey, sophomore Alexander Kerfoot and junior Kyle Criscuolo as the engine driving the victories, but that would be selling short the talented depth of the Harvard roster.
"Our second line has been awesome since we've got Colin and Sean healthy," said Vesey, himself a Hobey Baker Award finalist who scored twice in Harvard's 5-2 victory over Quinnipiac in Friday's ECAC Hockey semifinal.
"[Sophomore left wing Luke] Esposito does a great job. To have all of those guys in the lineup, our top six — and really our top nine — could go against anyone in the country."
"Last year, we played together to start the year and got split up about halfway through, so there was definitely some preexisting chemistry from last year," Vesey said of his linemates, "and I think the big thing this year is that we're all a year older. We've stepped up into our roles. … It's been great to play with those two guys."
"They definitely feed off each other," said coach Ted Donato, a member of Harvard's 1989 national championship team and an NHL veteran. "As hot as we were early in the season, they were obviously a big part of it, and it's remarkable the consistency that Criscuolo and Vesey were able to have even when Kerfoot wasn't in. When he's in, [he gives us a new] dynamic and allows us to spread out and have a lot more depth, with Malone, Blackwell, Esposito and [Friday goal-scorer Tyler] Moy, who filled in very well early in the season playing first-line center. He's down at third line now, and we like that matchup most nights.
"I think that line, the two times we've had luck against Quinnipiac, they've scored on the first shift of the game. It gave a good boost to the lineup. … They're awfully dangerous to play against."
So, therefore, is Harvard. Observers can finally consider the Crimson defined.