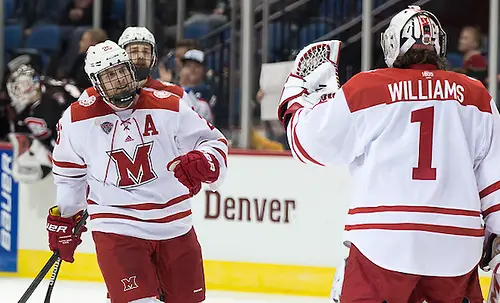 MINNEAPOLIS — Blake Coleman joined his celebrating teammates on the ice after the game. The NCHC Frozen Faceoff tournament MVP accepted a championship trophy with the Miami RedHawks for a game he played in for just under 35 minutes.
The closing minutes of the second frame and the entirety of the third period were played without Miami's only goal-scorer Saturday night.
NCHC playoffs
See the tournament bracket and get links to schedules and stories at NCHC Playoff Central.
But Coleman's goals were just what the RedHawks needed to defeat St. Cloud State 3-2 in an NCHC championship game they fell just short of winning last season.
With 5:48 left in the second period, Coleman went down the tunnel after a five-minute major for contact to the head and a game misconduct, unable to contribute any more on the ice for the night.
"It was the most stressful game I think I've ever played in," Coleman said. "I said I could never be a coach I don't think because that was just absolutely terrible. I'm so proud of the team. I put us in a tough situation and they bailed us out. It takes a team to win this championship, and I'm really thankful that my teammates have my back and we were able to celebrate together."
Less than five minutes before his misconduct, Coleman launched a point shot that served as the eventual game-winner and his third goal of the night.
Despite St. Cloud State getting on the board first at 12 minutes, Coleman found the equalizer before the first period ended when he slapped in a puck midair on a pass from Riley Barber.
The second period followed suit. Jonny Brodzinski fired one past Jay Williams, but Coleman showcased his team's resiliency once again with a shot from the top of the circle.
The senior who overcame an injury last season capped off his night with a hat trick at 9:20 of the second period before he was dealt the game misconduct.
"I didn't even realize he had three goals, but he came out big and we got that third one," Miami coach Enrico Blasi said. "I think the bench felt real good about it. Obviously, we had to kill off some penalties there, but he stepped for us in the last few weeks — really all year, since his injury last year. He came back on a mission."
Not only did Coleman garner MVP honors, he also dominated the faceoff dot, going 14-2 on the night.
His effort was no surprise to his teammates.
"It was a special one for sure, until he got that penalty," fellow senior Austin Czarnik said. "He was hot all night. It was a great night for him — he's done it all year."
He won't get that chance again right away next week, however.
According to NCAA rules, Coleman will receive a one-game suspension for his third game misconduct of the season. The others came on Oct. 25 against St. Lawrence and March 7 against North Dakota.
Though Coleman never anticipated spending what had become a tight battle in the closing weeks of college hockey career without his skates on, he can only hope he will be back on the ice to help his teammates continue their season.
"I guess we'll have to step up a bit more," Czarnik said. "We'll see what happens — hope for the best."