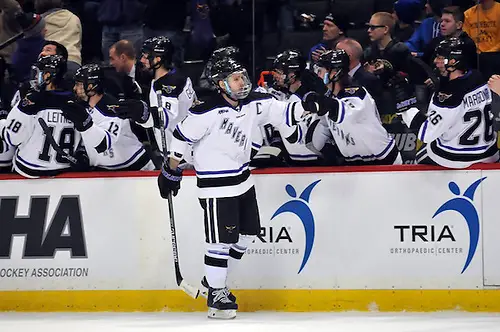 The NCAA Division I men's ice hockey selection committee did a fair amount of shuffling in creating the bracket for the 2015 tournament.
It didn't do anything to the Midwest Regional.
Midwest Regional (South Bend, Ind.)
• Minnesota State vs. Rochester Institute of Technology, 4 p.m. EDT Saturday, ESPNU
• Omaha vs. Harvard, 7:30 p.m. EDT Saturday, ESPN3/WatchESPN (tape delay: 8 a.m. EDT Sunday, ESPNU)
• Regional championship game, 7:30 p.m. EDT Sunday, ESPNU
No. 1 overall seed Minnesota State will play Atlantic Hockey champion and 16th seed Rochester Institute of Technology, while No. 8 Omaha will play No. 9 Harvard at the Compton Family Ice Arena in South Bend, Ind.
As bracket integrity goes, it doesn't get much cleaner than that.
The Mavericks won the WCHA regular season and playoff titles, beating out Michigan Tech in both. It's the Mavericks' fourth Division I tournament appearance, and their third in three seasons under coach Mike Hastings.
Minnesota State is looking for its first Division I tournament victory and is a No. 1 seed for the first time.
Any thought that the Mavericks have a free ride to the second round in playing the team that finished 40th in the PairWise Rankings, however, needs to be tempered with this: RIT is 2-0 in regional play as a Division I team.
The Tigers beat Denver and New Hampshire in the East Regional in 2010 to advance to the Frozen Four.
This is their first appearance since that season, and they claimed their bid by beating Canisius and Mercyhurst in the Atlantic Hockey championship.
The Minnesota State-RIT matchup is a throwback to the schools' Division II and Division III eras. The Tigers beat the Mavericks in a 1983 quarterfinal series en route to the D-II national championship.
RIT led the series 3-1 in Division II/III days but lost the only two games the teams have played at the Division I level, in Mankato in January 2010.
Omaha is in the NCAA tournament for the third time in school history and first time since 2011, but it has won in regulation only once in its last eight games.
The Mavericks lost to St. Cloud State in two games at home in the first round of the NCHC playoffs, but they had already established themselves as an at-large team with a good start to the season.
Harvard's place in the tournament was much less of a certainty going into the conference championship weekend, but the Crimson took care of that by beating two higher-seed teams — Quinnipiac and Colgate — in the ECAC Hockey championship to seal their bid.
With 31 goals, Hobey Baker Award finalist Jimmy Vesey leads the Crimson and the nation. He scored twice in both games of the ECAC championship weekend.
Harvard has won the only two games it has played against Omaha, both in December 1998.