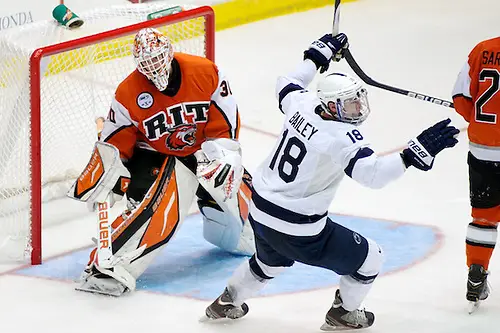 Penn State junior forward Casey Bailey will forgo his senior season with the Nittany Lions, signing with the Toronto Maple Leafs Saturday night on a two-year, entry-level deal.
Bailey is the first Penn State player to sign an NHL contract and could be with the Leafs on Monday for their game against Minnesota.
"I'm extremely happy for Casey," Penn State coach Guy Gadowsky said in a statement. "He's a great guy and a great player who had a great year. He deserves a lot of credit for his commitment to our objectives with and without the puck, and for the amount of work that he put into the weight room this summer and throughout the season with (strength and conditioning coach) Cam Davidson.
"We obviously would have loved to have him back next year, but at the same time, this is a great step for our program. We will all follow Casey's success in the NHL with great pride."
A 2014-15 All-Big Ten First Team member, Bailey recorded a Big Ten-leading 22 goals along with 18 assists for Penn State's first 40-point season. A Hobey Baker Award candidate, Bailey was among the top 10 scorers in the country all season long and leaves Penn State as the all-time leader in goals (45) and points (80).
"I am truly fortunate and humbled by this opportunity to sign with such a prestigious Original Six organization, the Toronto Maple Leafs," added Bailey in a statement. "I would also like to acknowledge how thankful I am for all of the love and support I have gotten over the years from my friends and family. I would not be where I am today without them. Also I would like to sincerely thank all of my coaches, teammates and staff at Penn State for getting me prepared for the next stage of my career."