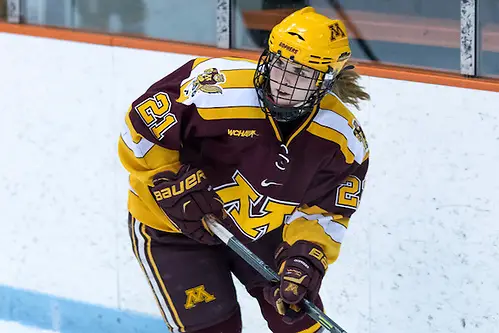 MINNEAPOLIS — Minnesota's seniors end their careers with a third national title. The junior class and redshirt sophomore Lee Stecklein celebrated their second.
However, for the rest of the Gopher sophomore and the freshman classes, this was the first chance to run over a goaltender and hoist the big trophy.
"The sophomores especially know what it feels like to lose one, and we didn't know what it felt like to win one," wing Kate Schipper said. "That pushed us as a class even harder."
She and classmate Dani Cameranesi are sources of nonstop energy for the team.
"We definitely had more hunger," Cameranesi said. "That feeling from last year is one of the worst feelings in the entire world, and the sophomores and freshmen wanted to know what if felt like to win a national championship, and we do now. It's the greatest feeling in the world."
Despite what the seniors may think, these appearances in the final don't come along every year.
"We knew that it's not a guarantee that we're going to get there next year or the year after that, so we kind of went out there and played our best game today," Cameranesi said. "What happens next year will happen. As of right now, we're just going to have a fun time celebrating a national championship."
One person who could identify with both camps was the person at the bottom of the victory pile, junior goaltender Amanda Leveille. She already had been part of a national championship team.
"My freshman year, I didn't play, but it was still awesome to be part of such a fantastic team," Leveille said. "The culture here is that while hockey is great, it's more important to be a better person off the ice and be a good teammate, and that year I had to be a good teammate and cheer on my team. When we won, it felt just as good as it feels right now."
Just as good?
"Last year was really hard," Leveille said. "It's really hard to watch the other team throw their gloves up in the air, especially when you work all season for this game. Now that we got to throw [our gloves] up and knowing how it felt last year, I think you're right, it does add a little bit more."
Sometimes, you get out what you put in.
"Last year we were in the national championship game, and we didn't get the result that we wanted," Leveille said. "We didn't prepare the way that we normally did. We thought that we were just going to walk through and take the national championship home, because the year before we went undefeated. This year, knowing that we weren't going to be able to just walk in and take it away, and that Harvard is a fantastic team, we prepared knowing that Harvard is going to give [us their best] and we have to match that and we can't take a second off or it's going to be in the back of our net. I think as a whole, we all played incredible tonight."
Some players found themselves in new roles. Leveille was in her second year as the starting goalie and a more veteran presence. Cameranesi skated with Hannah Brandt and Maryanne Menefee on Minnesota's scoring line. Defenseman Megan Wolfe saw more ice time and was able to step up in the final minute of the first period and score the game's first goal.
"I was told to shoot the puck more and I started doing it," Wolfe said. "I kept doing it in games and they were getting through, so I became more confident. Finally tonight, I just kept shooting, and finally one went in."
Senior captain Rachael Bona has seen the entire four-year run for Minnesota, so she has a basis for comparison.
"I think honestly going into this game was completely different from how we went into the game last year," she said. "You could see today that all those sophomores who lost last year wanted it that much more and the freshmen who hadn't won it yet had heard us talking about winning and losing it and I think that played in. I honestly thought before the game that we were the most ready we've ever been."
A number of Gophers such as Schipper have won state championships in high school.
"State tournament does not compare at all to winning a national championship," Schipper said. "You go from September to today, practicing with the same group of girls every day. The group of girls here is amazing, and I wouldn't want to win with anyone else."
In order to win and experience that shining moment, many hours have to be spent laying a foundation.
"Out coaches were saying all the discipline we've put in over the last however many months was going to pay off," Schipper said. "We just do what we have to do to win the game and come out with a 'W.'"