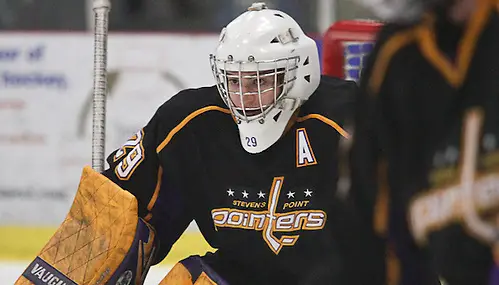 Adrian moved one step closer to a national championship Saturday night, holding off fourth-ranked Oswego State 5-4 in a thrilling quarterfinal showdown at the Arrington Ice Arena.
The second-ranked Bulldogs are headed to the final four for the first time since 2011 when they finished as the national runner-up. Their next challenge is Trinity in a national semifinal showdown Friday night in Minneapolis.
Adrian won its 12th consecutive game and ended the Lakers' streak of five consecutive final four appearances.
"I'm extremely proud of our boys and how they battled and came together to get it done," Adrian coach Adam Krug said in a story on the school website. "It wasn't pretty at times but at the end of the day that was a great hockey game."
The Bulldogs went in front for good in the second period on a goal by Ryan Lowe. It came just over a minute after Mathew Thompson tied the score at 2-2. Lowe punched in his ninth goal and Thompson scored his 20th.
Rob Heath's third-period goal, his fifth of the season, gave the Bulldogs a 4-2 lead. Daniel Lisi and Kyle Brothers also scored goals for Adrian, which improved to 24-3-3. The goal by Brothers was his 24th of the season. Lisi scored just his fourth goal of the year.
Scott Shackell came up big between the pipes, making 31 saves. Two years ago against the Lakers, he tallied 52 saves in a quarterfinal loss. Shackell has won 18 games this season.
Adrian last lost a game Feb. 23 when it suffered a stunning 3-0 loss to Finlandia. The Bulldogs have scored at least three goals in every game since then and will head into the final four riding a tidal wave of momentum.
A year ago, Wisconsin-Stevens Point fell short in its quest to win a national title, finishing as the runner-up to St. Norbert.
The Pointers stayed on track to make up for that shortcoming after knocking off Hamline 4-2 Saturday in a quarterfinal showdown at K.B. Willett Arena.
Stevens Point will battle Amherst Friday in a national semifinal in Minneapolis.
The Pointers took control early on goals by Joe Kalisz and Kevin Gibson, Kalisz assisted on the goal by Gibson as the Pointers surged in front 2-0.
Hamline, one of the great stories of the year in college hockey, didn't go down without a fight, slicing the Stevens Point lead to 2-1 in the third on a goal by Garrett Schmitz.
But Lawrence Cornellier scored twice in the third period, sandwiching his two goals around one by the Pipers' Kerry McGlynn, to finish off the win. Cornellier pushed his goal total to 12 on the year.
The Pointers (22-6-1) are headed to the national semifinals for the eighth time in program history.
Goalie Brandon Jaeger, instrumental to the Pointers' success all season, racked up 25 saves. It was his 22nd win of the year and the 61st of his career, tying Todd Chin for the most wins in program history.
Joe Rubbelke scored a goal for the Pipers and goalie John Sellie-Hanson made 35 saves.
Hamline (14-11) saw its remarkable run come to an end.
The Pipers won the MIAC tournament championship this year and reached the NCAA tournament for the first time since 2011, highlighting an impressive turnaround under first-year head coach Cory Laylin. The Pipers had won only three games the previous two seasons.
Trinity erupted for four goals in the third period and put away Plattsburgh, 5-1 in an NCAA quarterfinal clash staged at the Koeppel Community Sports Center Saturday.
Elie Brewer scored twice in that decisive stanza, which Tim Shea and Jackson Brewer also tallied. For Brewer, it was his second goal of the game, having also opened the scoring at 18:52 of the first period with a successful penalty shot attempt after having been tripped by Cardinal defender Brandon Beadow while on a clear breakaway.
The Bantams, who last appeared in the Frozen Four in 2008, will meet Adrian Friday in one semifinal tilt at Ridder Arena in Minneapolis.
Bantams' goalie Nathaniel Heilbron stopped 40 Plattsburgh shots, but lost his shutout bid with less than two seconds remaining in the game when Connor Toomey tallied for the Cards.
Mike Rowbotham's unassisted goal with 8:12 gone in overtime lifted Amherst to a dramatic 4-3 NCAA quarterfinal win over Norwich, and secured the Lord Jeffs a Frozen Four berth for the first time since 2012.
Amherst will face Wisconsin-Stevens Point Saturday in a semifinal contest to be staged at Ridder.
Rowbotham's tally, his ninth of the season, was of the flukey variety, having come on a deflection off of the stick of a Cadets' defender following a faceoff in the Norwich end.
Rowbotham was attempting to make a cross-ice pass when it took the crucial hop and caromed past Norwich goalie Ty Reichenbach.
It was the final twist in a contest full of them.
Norwich held three one-goal leads, but was unable to hang on to any of them.
The Cadets' final lead came when William Pelletier scored at 18:09 of the third period to make it 3-2.
However, after Jeffs' goalie Danny Vitale had been pulled for an extra attacker, Aaron Deutsch capped a furious comeback effort by scoring the tying goal with 13 seconds remaining in regulation.
That set the stage for Rowbotham's game-winner.