In the Northeast Regional, everyone has at least one national championship in its trophy case and three of the four teams have been in the national championship game in the last four seasons.
Minnesota-Duluth won it all in 2011, while Yale did in 2013. Minnesota was the runner-up last season.
That leaves regional top seed Boston University left out, although you have to go back only to 2009 to find the Terriers' last run to the final game of the season and a national title.
Here's a look at the teams playing in the 2015 NCAA tournament Northeast Regional in Manchester, N.H., starting Friday:
Boston University Terriers
Team page | Statistics | Roster | Schedule/results | History
Coach: David Quinn, second season at Boston University and overall
Record: 25-7-5 (14-5-3 Hockey East, first place)
How they got in: Hockey East tournament champion
Regional seed: First
Last NCAA tournament appearance: 2012
Best NCAA finish: Champions, 2009, 1995, 1978, 1972, 1971
Why they'll get to the Frozen Four: This is a team stacked with offensive talent and an often overlooked defense and goaltender. It is the complete package.
Why they won't get to the Frozen Four: Outside of the seniors, this team has no NCAA tournament experience. Being in a bracket with two recent national champions in Yale and Minnesota-Duluth and a Minnesota team that reached the final a year ago leaves the Terriers the least-experienced and least-tested NCAA tournament team.
The Boston University Terriers will begin their run toward a national title Friday afternoon against Yale. But if you ask second-year coach David Quinn, this process began more than a year ago.
After the Terriers went through one of the worst years in the program's history, finishing 10-21-4, Quinn had plenty of time to work on building the team he wanted.
The recruiting, for the most part, was done. But Quinn still had to find a way to better condition the returning players and hope there could be a bond with a large freshman class that helped make BU the youngest team in the nation.
Quinn said he saw that happening way back in the summer.
"When you go through the year we went through, guys didn't ever want to live through that again and I think there was a drive and a determination to not ever have to go through that again," said Quinn. "And I think when our freshmen arrived for the second semester of summer school, a lot of our returning players were here and you could see immediately that there was a connection and a bond.
"I think that's where our team came together and started to unfold. Getting into September, I didn't feel like there were 10 freshmen on campus."
That success certainly translated and, as most know, was led by freshman Jack Eichel, the front-runner to become the first player since Maine's Paul Kariya in 1993 to win the Hobey Baker Award as a rookie.
But while much of the attention is focused on Eichel, Quinn said his team is about so much more. He is careful heading into this tournament to emphasize the ability of these players to be a team as opposed to a bunch of individuals.
"We really have a team," said Quinn. "Guys get a lot of attention because we have a lot of stars, but we really have a true team. There's a lot of respect for each other. There's a lot of love for each other. There's no egos. We need that moving forward."
While BU may have a team mentality in spades, one thing it certainly doesn't have is NCAA tournament experience, particularly compared to the other three teams playing this weekend in the Northeast Regional. Yale, BU's first-round opponent, won the title two years ago. Minnesota-Duluth was in the tourney three seasons ago and won it four years ago. Minnesota played in last year's final.
That is why Quinn hopes his team can draw on the experiences it went through to already win the Beanpot and Hockey East tournaments.
"I think [winning championships like the Beanpot and the Hockey East] helps," said Quinn. "When we get in that situation on Friday afternoon, you can draw on some of the experiences you have gone through. It might alleviate some of those nerves and settle you down a little bit more than a team that hasn't been put in that situation."
— Jim Connelly, Scott Weighart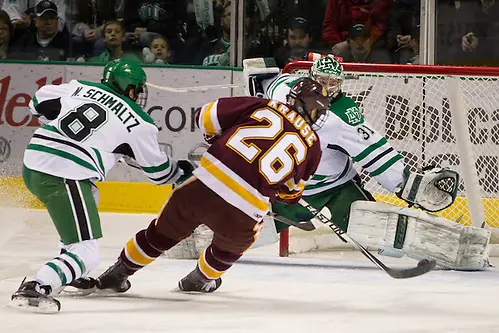 Minnesota-Duluth Bulldogs
Team page | Statistics | Roster | Schedule/results | History
Coach: Scott Sandelin, 15th season at Minnesota-Duluth and overall
Record: 20-15-3 (12-9-3-0 NCHC, third place)
How they got in: At-large bid
Regional seed: Second
Last NCAA tournament appearance: 2012
Best NCAA finish: Champion, 2011
Why they'll get to the Frozen Four: The Bulldogs played well in nonconference games this season, including 3-1 against first-round opponent Minnesota. If Duluth can make it 4-for-5, that could launch a run to Boston.
Why they won't get to the Frozen Four: UMD faltered down the stretch, losing seven of its last eight in the NCHC's eyes (two were in shootouts).
Minnesota-Duluth got together on Sunday to watch as the NCAA tournament field was revealed, and a roar went up in the room when UMD's name popped up.
Being safe in the knowledge that the Bulldogs were tourney-bound for the first time in three years had to be a good feeling for the UMD personnel. What's more, they might not have been too unhappy when they saw who they'd be playing on Friday: Minnesota.
Duluth has done well against its archrival this season, winning three of the teams' four meetings. Following a 4-3 Ice Breaker Tournament loss to Minnesota on Oct. 10, UMD swept the teams' home-and-home series in mid-November, and the Bulldogs got the best of the Gophers yet again, 2-1 in the North Star College Cup championship game on Jan. 24.
An 8-4 nonconference record, including those three wins against Minnesota, was a big reason why Duluth found itself heading to this year's NCAA tournament. That berth came despite the Bulldogs finishing only fifth in the NCHC and dropping a pair of games to Denver in the first round of the NCHC playoffs.
UMD is fielding a young squad this season, complete with only three freshmen. One of them, Bulldogs forward Adam Krause, spoke following the selection announcement and said that he hopes his younger teammates take advantage of the opportunity in front of them.
"You kind of took [qualifying for the NCAAs] for granted the first year and thought that it'd probably happen every year," Krause said. "But then it didn't the last two years. I know how special it is and how hard it is to make it to the tournament, so you've got to take advantage of the opportunity.
"I'd just say [to younger teammates] that it doesn't happen every year," Krause continued. "It's hard and it's not something that's given to you. You've got to work extremely hard for it and don't take it for granted. Take care of the opportunity now because it might not ever come again."
— Matthew Semisch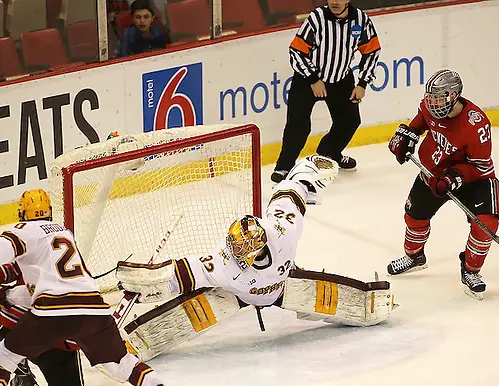 Minnesota Golden Gophers
Team page | Statistics | Roster | Schedule/results | History
Coach: Don Lucia, 16th season at Minnesota, 28th season overall
Record: 23-12-3 (14-5-3-0 Big Ten, first place)
How they got in: Big Ten tournament champion
Regional seed: Third
Last NCAA tournament appearance: 2014
Best NCAA finish: Champions, 2003, 2002, 1979, 1976, 1974
Why they'll get to the Frozen Four: The majority of the players on the roster have been to the Frozen Four at least once in their careers. That experience could help Minnesota make a playoff run.
Why they won't get to the Frozen Four: The last two times Minnesota made it to the Frozen Four, it advanced through a regional that it hosted in St. Paul, Minn. The last time the Gophers had to travel out of state to play at a regional, they lost to regional fourth seed and eventual champion Yale.
Minnesota enters the NCAA tournament possibly playing its best hockey of the season. The Gophers won their final two games of the regular season and won the Big Ten tournament last weekend in Detroit. However, the road to their sixth national title isn't a smooth one.
Minnesota will face an in-state rival in its first game of the tournament and will have to potentially get past a team that has been ranked near the top of the polls all season long, Boston University, to get back to the Frozen Four.
This season was the first time since 2007 that the Gophers captured their conference's regular season and postseason titles.
"I think it's a good sign for our team because the conference regular season is kind of like a marathon, and we had our ups and downs throughout the year," goaltender Adam Wilcox said after the Big Ten championship game victory over Michigan. "But for the most part we got games, and toward the end of the year we got a lot of sweeps. And when you get a conference playoff title, it's kind of like what it is in the NCAA."
As Wilcox said, the Gophers season was a roller-coaster ride. They started and ended the season with winning streaks but played a stretch of rather uninspired hockey during the middle of the season.
Minnesota and Minnesota-Duluth are familiar with each other. The Gophers are 1-3 against the Bulldogs this season. Manchester's Verizon Wireless Arena will be the fifth arena that the two teams have played against each other in this season. They opened the season at the Ice Breaker Tournament, hosted by Notre Dame (Compton Family Ice Arena), played at each team's home arenas (Mariucci Arena and Amsoil Arena) and met at the North Star College Cup (Xcel Energy Center).
— Drew Claussen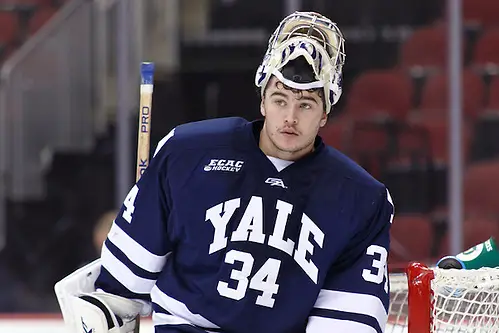 Yale Bulldogs
Team page | Statistics | Roster | Schedule/results | History
Coach: Keith Allain, ninth season at Yale and overall
Record: 18-9-5 (12-6-4 ECAC Hockey, third place)
How they got in: At-large bid
Regional seed: Fourth
Last NCAA tournament appearance: 2013
Best NCAA finish: Champion, 2013
Why they'll get to the Frozen Four: The nation's best defense backboned by goalie Alex Lyon is enough to shut down any team in the tournament.
Why they won't get to the Frozen Four: Offense. Yale isn't the high-scoring juggernaut of years past and the Bulldogs are 0-8 when allowing three or more goals, which could happen against Boston University's top-ranked offense.
The Bulldogs have been here before — and it's worked out well for them. Much like 2013, Yale was knocked out of the conference playoffs and was forced to wait for an at-large bid. That year ended with the Bulldogs beating three No. 1 seeds en route to the program's first national title.
This year's team lost to Harvard in the ECAC Hockey quarterfinals, with Walter Brown Award winner Jimmy Vesey scoring the double-overtime goal in Game 3.
That loss meant the Bulldogs entered last weekend outside the NCAA tournament and needed to wait a week to learn if their season would continue. That was much longer than the roughly 24-hour wait Yale had after losing to Quinnipiac in the 2013 ECAC consolation game.
It was an up-and-down week for the Bulldogs. Coach Keith Allain told the New Haven Register the team continued to practice throughout the week, but it was hard to focus with its NCAA fate uncertain.
Several players are still left from Yale's national championship team, including defensemen Ryan Obuchowski, Rob O'Gara, Tommy Fallen, Mitch Witek and Matt Killian, although Killian has rotated between forward and defense during his collegiate career.
Those players, along with freshmen Adam Larkin and Nate Repensky, comprise one of the steadiest defensive groups that Yale has had in several years. It doesn't hurt having a goalie like sophomore Alex Lyon, who leads the nation in save percentage, GAA and shutouts. Lyon has made steady progress during his first two years with the Bulldogs and is especially adept at playing the puck.
Sophomore Mike Doherty is the only Yale player with more than 10 goals, entering the NCAA tournament with 12. Classmate and Chicago draft pick John Hayden has plenty of size, while junior center Stu Wilson is a sold two-way player.
— Nate Owen