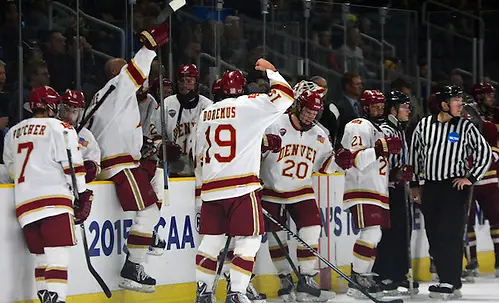 PROVIDENCE, R.I. — With each team skating three NHL draft picks on defense, goals figured to be at a premium Saturday between Denver and Boston College in the opening game of the East Regional.
The game appeared to be shaping up as a tight defensive matchup, but the Pioneers scored two goals in a span of 59 seconds midway through the third period to turn a 2-1 lead into a 4-1 advantage.
2015 NCAA East Regional
See all of our coverage of the East Regional on our regionals page.
That was too much to overcome for a Boston College team that wasn't its usual high-scoring self this season. The Eagles cut it to 4-2 on Ryan Fitzgerald's power-play goal late in the third, but Denver responded with an empty-net goal to make it 5-2.
"We had a couple of good chances to get it to 2-2, but Denver played well and they deserved to go on," Boston College coach Jerry York said.
It was only the second NCAA tournament win for Denver since 2005, when the Pioneers won the second of two straight national titles. Denver made the tournament seven straight years entering this season, but lost in the first round each time with the exception of 2011. Last year's loss came against the Eagles, with BC erupting for six goals en route to winning the Northeast Regional in Worcester, Mass.
The Pioneers' defense not only held the Eagles to 13 shots on goal through the first two periods and 24 in the game but contributed offensively as well. Senior Hobey Baker Award finalist Joey LeLeggia's power-play goal made it 1-0 at 4:48 in the first, while Will Butcher scored the first of Denver's two quick-strike goals in the third period.
"Our defensemen being active is a huge part of our system," Butcher said. "Moving off pucks and creating some space for ourselves is a big key to success for our team."
LeLeggia's goal was his 14th of the season, the second-most by a defenseman in the nation, trailing only the 15 scored by Notre Dame's Robbie Russo.
"They have some skilled defensemen. They moved the puck pretty well, so we found ourselves chasing some pucks," York said. "I thought it was a good, solid effort by our team, but Denver was just a touch better."
In turn, the Pioneers' forwards were able to keep Boston College's talented defensive group, which includes a likely first-round pick in freshman Noah Hanifin, from making much of an impact in the game.
"I think our puck pressure [did well], not letting their defensemen really possess the puck, especially in the neutral zone," Denver coach Jim Montgomery said.
"You're not going to shut down that D corps all night long, but for the most part our forwards were very conscious and did a great job of making sure the puck got out of their hands quickly," he added.
Arnold comes up big for Denver
Denver junior captain and fourth-line winger Grant Arnold entered Saturday's game with no goals this season and only three in 113 career games. He nearly equaled his collegiate total in the third period alone, snapping a shot past Demko from the low slot at 9:04, and then sealed the game with an empty-net goal in the closing minutes of the game.
"It was an awesome time to score the first one, that's for sure," Arnold said. "My mindset in the playoffs has always been that it's a new season, so one game, [two goals] for me so far."