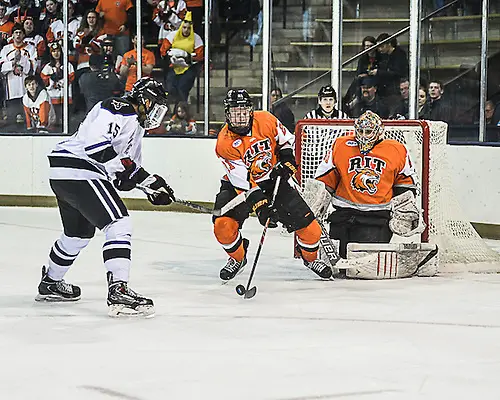 SOUTH BEND, Ind. — It took five seasons, but lightning struck again in the NCAA tournament Saturday afternoon. Atlantic Hockey autobid Rochester Institute of Technology took down another No. 1 seed.
From the get-go, the Tigers fed off a hyperactive and well-traveled fan section and ambushed Minnesota State 2-1.
2015 NCAA Midwest Regional
See all of our coverage of the Midwest Regional on our regionals page.
The top-seeded Mavericks came out trying to get their speedy offense going, but they found themselves up against a fearless Tigers squad that beat the Mavericks at their own game early in the first.
"That's the nature of our team," Tigers coach Wayne Wilson said. "We're very up-tempo. We're not a trapping-type team. When I watched Minnesota State, I thought we're very similar in styles. They get up and down the ice. I thought they were very tenacious from the drop of the puck. You've got to be awful conscious off of faceoffs. They really get off of circles really quick and get on loose pucks."
And Alexander Kuqali's first-period goal punctuated that.
"I thought the first goal was important," Wilson said. "It got us grounded and off to a good start."
RIT spent the next 20-plus minutes keeping the Mavericks offense off the score sheet. Minnesota State got the tying goal but no more thanks to a determined defense that blocked 26 shots and killed five penalties — each one becoming more of a critical kill than the last.
"I thought they did a good job of eliminating second and third chances," Mavericks coach Mike Hastings said. "They really did a good job of getting inside those hash marks, making sure the puck didn't get below the circles."
The storms kept coming and came to a head with Chase Norrish's penalty early in the third. But goaltender Jordan Ruby and the resilient Tigers didn't flinch, killing that key penalty and setting up Josh Mitchell's controversial game-winning goal just a few minutes later.
"Right at the bitter end there, we were tied at one and we knew that Jordan was going to be there," Mitchell said. "He gave us a lot of confidence to just keep driving and play the game and hopefully get some offense going. It felt good to reward his play, for sure."
"I tell our penalty killers, if you're doing your job, it's more valuable," Wilson said. "Nothing goes up on the board if you kill successfully. But if you're not successful on your penalty, there's a goal up on the board, it's 1-0."
With time running down, the confident Tigers kept blocking and blocking to seal the deal.
"For as hard as they came in the third period and really most of the game, I thought we were composed," Wilson said. "When they pulled their goalie I thought we did some key things in relieving some of the pressure. A lot of key moments I thought we came out big and rose to the occasion when we needed to and weathered some storms when we needed to."
Now, the task ahead is to make their second Frozen Four trip in as many NCAA appearances in such a short Division I history. Any doubt of that possibility seems far away.
"It gives us momentum now," Wilson said. "It gives us credibility amongst ourselves — yes, we can do it, and now we move on to the next opponent. We're hoping to use momentum and energy for a 60-minute game. That's what it comes down to. Sixty minutes goes by pretty quick, so you have to get off to a good start. Tomorrow's going to be just as important to get started quickly."