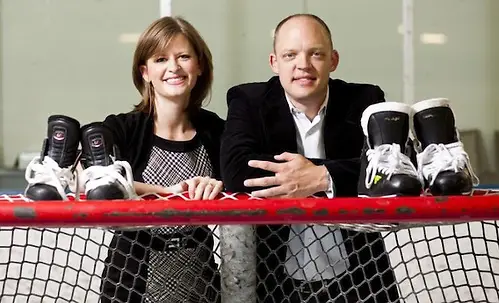 Life as a top-flight official, just like as an athlete, can be a bit of a nomadic experience.
Whether that reffing takes place at the Division I college hockey level, in the professional ranks or with some of the country's best juniors in the USHL, the life of a hockey official usually means being willing to travel and go wherever you are needed.
Longtime official Johnathan Morrison has just about seen and done it all, officiating in the USHL, AHL, Ontario Hockey League and ECHL. Sprinkled in among a distinguished college officiating career are stops to such far-flung hockey destinations as the Netherlands and Japan.
"I grew up in Mason City, Iowa, and I was pretty fortunate that there was a USHL team [the North Iowa Huskies] in my hometown," Morrison said. "Both my dad and my uncle had officiated in that league for quite some time, so it was just a natural thing to get into officiating myself. Now I've been able to referee overseas. As a ref, we often carry the attitude of 'pack bags, will travel.'"
Morrison's wife Kristine Langley's officiating path is considerably different. She rose through the ranks, starting her high-end officiating career at the college hockey level in the women's WCHA the year after she completed four years of Division I hockey (2001-05) as a defenseman at Wayne State.
"Officiating is a great way to stay on the ice and get more ice time than just practice," said Langley, who followed her father and her older brother into the profession starting at the ripe old age of 10.
She dreamed of following in the footsteps of another official, Evonne Young (now Young-Fix), who worked as an official in Nagano, Japan, during the 1998 Winter Olympics.
"I remember thinking, 'She went to the Olympics and I really want to do that,'" Langley said. "Interestingly, she refereed my first college game, which I served as a linesman for, while we [officiated] together for her final college game."
Langley has grown into one of the most respected women's hockey refs in the United States and has excelled at several IIHF events overseas.
So when Langley and Morrison, married in the summer of 2013, finally crossed paths with assignments in the same city in February, it may have seemed like a blessing.
The timing could have worked out a little better, though.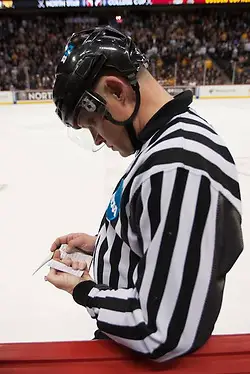 "We are both laughing because we literally barely saw each other in Madison," Morrison said of the couple's weekend in Wisconsin for Feb. 19-21 men's and women's series. "It's funny, because it was the first time that we were on the road together in three years and our schedules were so opposite at Wisconsin."
Langley and Morrison's devoted relationship is far from a typical one. Yet, the two have found many benefits in their situation.
"Many peers of ours make sure to contact their spouse continuously, and stay in touch throughout a weekend of traveling," Morrison said. "We both know the job we have to do and the focus we have to have to do it well. [Instead], Krissy and I usually stay in touch via a little text message stating, 'Did everything go OK in your game?' The other will respond with something like, 'Good, now get back to work.'"
Around the house it's a melding of the minds between two people always honing their craft.
"We joke that our pillow talk is more about rule knowledge and rule interpretations," Langley said. "I learn a lot from talking with Johnathan about different situations, so it's really fun for us to be able to share our profession."
Originally, it was Morrison's career that involved more traveling. Rising upward through the USHL, Morrison had his sights squarely set on officiating in the NHL. But after developmental refereeing stints in the Ontario Hockey League and the AHL, that path wore stale and Morrison found himself a more comfortable home in college hockey ranks and later primarily as a linesman.
At present, Morrison is the more home-bound of the pair, carrying on a winter day job as the coordinator of travel and logistics for USA Hockey's junior development program, and as a Big Ten and AHL linesman serving around Minnesota and Wisconsin.
His generally twice-a-month travels are a far cry from his truly nomadic AHL days. Last year Morrison bid farewell to the USHL after over 20 years of service but he still serves as a linesman in the AHL from time to time.
"I'm very fortunate and lucky in the fact that I usually get to work from home during the hockey season," said Morrison, who also owns a college moving business that operates in the summer. "When I supervise for the USA junior development program, I do my best to stay local and I try to plan that supervision on the weekends when Krissy is gone because if both of us are headed in opposite directions, it becomes stressful."
On the other hand, Langley continues to keep on the move, wearing her stripes and orange band for weekends spent throughout the WCHA's Midwestern footprint.
"That weekend in Madison was rare and it actually was the first time since Bemidji three years ago that we traveled to the same place," Langley said. "Last year I worked 40 individual hockey games, and whether it was Minnesota and sleeping in my bed at home or more likely traveling, that was a lot of time away from home in our first year of marriage."
Her day job continues to evolve at General Mills. If you've ever had a Progresso Soup, or perhaps eaten or baked a Betty Crocker product, chances are she played a part in its development.
"I have a food science degree and currently I'm a technician at General Mills," Langley said. "So that's my day job in corporate America. There are a lot of skills, especially the teamwork aspects that the job teaches me that I use in regards to hockey and I feel the same way about how hockey has helped me professionally."
That role has made her popular with her peers.
"Those years when I supported Betty Crocker products I would go on a lot of hockey trips or go to hockey games and bring treats for my partners," Langley said. "That was kind of a fun door opener to build relationships with my fellow refs. I can't really do that as much with soup."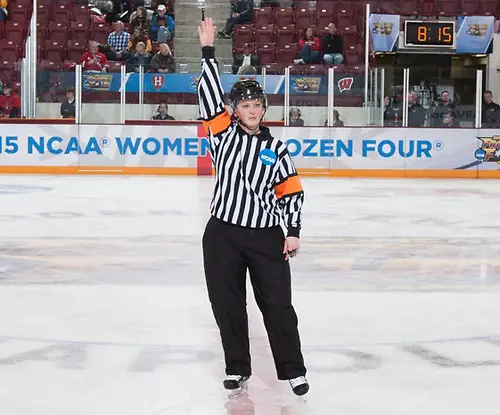 Often one or the other is on the road during the hockey season, sometimes traveling internationally, for extended periods of time. That time apart can certainly create some strains, especially on the household bulldog.
"Even though we don't have a real two-legged kid yet, we have a dog that is just like a child for us," Morrison said. "But we both know what a long trip means and how to travel. So when I'm getting ready to depart, Krissy's always helping out by getting the little odds and ends that you need to travel internationally."
They both relish sharing memories with their peers or when they cross paths with someone that shared in their favorite officiating moments.
For Langley, it was a pair of marathon NCAA games at Ridder Arena — the 2010 NCAA title game, in which Minnesota-Duluth defeat Cornell in double overtime, and a more recent three-extra-period classic between rivals Minnesota and North Dakota in the 2013 NCAA first round.
"Leah Wrazidlo and I were reffing together, and that game went into triple overtime," Langley said. "It was one of those games where the referees should not be a factor and these players were just playing their heart out. We were doing what we can to stay out of the way, but also to make sure that if a penalty happens or a call has to happen, that it counts and it's the right call. Just being the ice for almost two full games was a remarkable experience."
Morrison's favorite officiating memory was a famous 2011 World Junior Championship title tilt between longtime geopolitical rivals Canada and Russia.
"To be able to skate a gold medal game with fellow American ref Keith Kaval on our home soil in that atmosphere was crazy and intense," Morrison said. "Plus, it was the game where Russia was down 3-0 after two periods and came back to win 5-3."
A few years before, he also earned the right for the unique experience of officiating the sled hockey gold medal game in Torino.
"I was fresh into the sport but had a really good tournament and was actually assigned to do the gold medal game at the Paralympics between Canada and Norway," Morrison said. "To be put in a situation like that with medals on the line and to come out of it feeling like you did an amazing job and gave the players the type of effort that they deserve is something I'll never forget."
That deep-down love for the sport often makes the difference during the times when their relationship could be strained. And it's that shared love that really makes the pair feel lucky to have found each other.
"Johnathan's often telling officials that if they are in relationships with people that don't understand hockey, how difficult it is," Langley said. "I think for us, we are lucky. We are lucky in the fact that there are some weekends where we don't even have to call each other. There is no harm in that for us, but obviously, it's not the same for other couples."
Expect both to continue to wear the stripes for a long time forward.