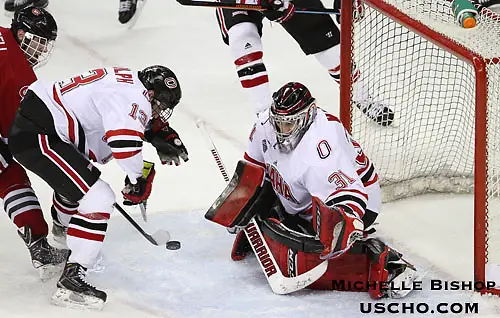 SOUTH BEND, Ind. — Omaha goaltender Ryan Massa handles words as efficiently as he handles pucks.
In Sunday night's 4-0 win over Rochester Institute of Technology, the Mavericks trailed in shots on goal 22-19 through the first two periods, in spite of a five-minute power play early in the game.
2015 NCAA Midwest Regional
See all of our coverage of the Midwest Regional on our regionals page.
Through the first 41 minutes, until Jake Randolph scored the game-winning goal at 1:01 in the third, Massa was tested repeatedly and when he was asked about it after the game, the senior had the simplest of answers.
"It's just my job," he said. "On the roster, I'm listed as a goalie, so my job is to keep the puck out of the net at whatever cost it may be."
And Massa did just that, allowing one goal in two games in the Midwest Regional with a two-day save percentage of .986 and backstopping the Mavericks to their first Frozen Four — to their first two NCAA tournament wins, ever.
Massa said that RIT "put on one hell of a fight," that the Tigers "were limiting our time and space. They were making physical hits on our top players." But, said Massa, "It was just a matter of time.
"I had to keep the boys settled and keep them in it to give them a fighting chance to get a greasy goal, to get an opportunity and fortunately Randy found the back of the net first and from there everything kept going."
Massa and the Mavericks played with that one-goal lead until late in the third period, when they scored three goals in quick succession to secure their trip to Boston in two weeks. Sophomore forward Jake Guentzel, who had assists on UNO's second and third goals Sunday, said that the Mavericks might have suffered another fate without Massa in net.
"A lot of the credit goes to Ryan," said Guentzel. "He kept us in for a while, the whole game, and without him it would've been a whole new game."
This season, Massa's numbers put him among the top netminders in the country, fifth in GAA (1.92) and with this weekend's performance, first in save percentage (.939). With a record of 11-9-1 last year, Massa's GAA was 2.74 and his save percentage .899.
He skipped the first half of his sophomore season to "reprioritize," as he said, following a disappointing end to his freshman year, during which he suffered concussions that affected his attitude toward the game.
"I really didn't have that passion for hockey anymore," Massa said. "I didn't feel every day waking up wanting to go to the rink."
But between his junior and senior years, Massa rededicated himself to his craft — to his job as goaltender.
"I really buckled down and worked extremely hard in developing and fine-tuning my game," said Massa, "to put myself in a position to be where we are today."
And the position the Mavericks hold is one of the last four teams standing in the 2014-15 season, with a goaltender who came through when he was needed most.
"The road of a goaltender is certainly filled with a lot of highs and even more lows," said Massa. "It's just your ability to persevere and get through those lows that put you in opportunities to succeed."