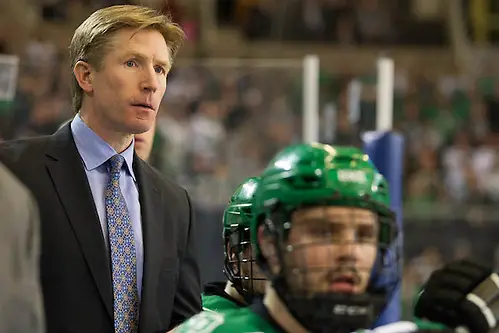 In June 2004, Dean Blais stepped down after 10 seasons as North Dakota's head coach, and Dave Hakstol, associate head coach to Blais, was named his replacement. Hakstol had big shoes to fill, and he has not disappointed. However, he is still missing one piece from his coaching legacy: a national championship.
Since Hakstol took over in 2004-05, North Dakota has not missed the NCAA tournament. This is Hakstol's 11th season in charge, and he has taken North Dakota to the Frozen Four seven times, including this year. Let's look back at his previous six:
2005: Columbus, Ohio
It was a great start to Hakstol's tenure (he had spent 2000 through 2004 as the associate head coach to current Omaha coach Blais) in making the Frozen Four right away.
2015 Frozen Four
Follow all of USCHO's coverage at Frozen Four Central.
This particular tournament is memorably for being the first in which the four semifinalists all came from the same conference (WCHA).
Hakstol began as a winner as North Dakota defeated Minnesota 4-2 in the semifinals, but UND lost to Denver 4-1 in the championship game.
2006: Milwaukee
With a roster loaded with talent such as future NHLers TJ Oshie and Jonathan Toews, UND took Hakstol to his second Frozen Four in as many years. However, North Dakota was bounced quickly this time, losing to Boston College 6-5 at the Bradley Center. BC ended up losing to Wisconsin in the championship game.
2007: St. Louis
After struggling midway through the season, North Dakota managed to bounce back to make Hakstol 3-for-3 in Frozen Four appearances. UND advanced to St. Louis after knocking off Minnesota in overtime in the West Regional final, avenging an OT loss to the Gophers in the WCHA Final Five championship the week before.
Once again, however, Boston College got the better of North Dakota. The Eagles won another high-scoring battle, this time 6-4. BC lost to Michigan State in the title game.
2008: Denver
After a 23-win regular season, North Dakota moved on to its fourth straight Frozen Four, this time in the Rockies. UND fell short of the national title game for the third straight year, however, as Boston College once again spoiled their plans, handing North Dakota a 6-1 drubbing at the Pepsi Center. The Eagles went on to beat Notre Dame in the title game.
2011: St. Paul, Minn.
After a couple of first-round knockouts in their last two NCAA tournaments, North Dakota, WCHA regular-season and playoff champion, was looking in great shape to win its first NCAA title in 11 years after breezing through the regional.
But UND fell short of the championship game again after being upset by Michigan 2-0 at the Xcel Energy Center. Michigan lost to Minnesota-Duluth in OT in the championship game, giving the Bulldogs their first title.
2014: Philadelphia
After a lackluster regular season finish and underwhelming playoff performance in their inaugural season in the NCHC, North Dakota was able to sneak into the NCAA tournament for the 12th straight season. In taking care of Wisconsin and Ferris State in the Midwest Regional, UND advanced to its sixth Frozen Four in 10 seasons.
But they were unable to advance to the title game once again, as this time it was old rival Minnesota getting in the way. The Gophers scored with 0.6 seconds remaining in regulation to send North Dakota home with a 2-1 loss. Minnesota lost to Union in the championship game.
Now let's take a look at this year.
North Dakota won the NCHC regular season championship after coughing it up to St. Cloud State late last year. However, the loss of leading scorer Mark MacMillan seemed to take an emotional toll on the team, as they struggled to put away Colorado College in the first round and were humbled in the NCHC Frozen Faceoff in losing to St. Cloud State and Denver.
But they didn't let that performance affect them in a West Regional that they hosted in Fargo, N.D., last weekend, getting past Quinnipiac and St. Cloud State in a pair of 4-1 victories to advance to Boston. Goaltender Zane McIntyre, in particular, was terrific.
Dave Hakstol told me last week that his players never needed to bounce back after their weekend in Minneapolis; they simply turned the page.
There's something about this team this year that I like. I think they'll turn the page on their previous Frozen Fours as well and bring an eighth title to Grand Forks.
And that'll bring Hakstol immortality in North Dakota hockey history.