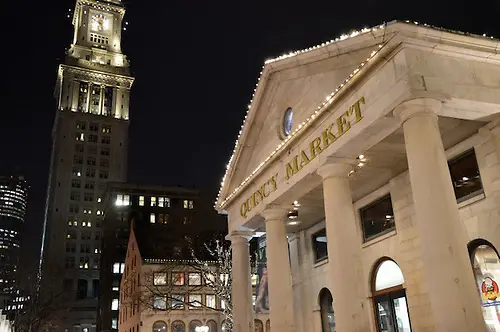 When the NCAA men's Frozen Four gets underway on Thursday at Boston's TD Garden, two of the four teams will get there via bus (Boston University is about 15 minutes away from TD Garden; Providence is a little more than an hour by bus without traffic) while two will experience travel to Boston Logan International Airport, one of the few major airports in the United States located within the city proper.
And whether you arrive by plane, train (Boston's South Station serves Amtrak trains from all over the country) or automobile (careful driving, Boston drivers are aggressive and the roads tend to be crazy), here are five things to know about the city they call Beantown.
1. There is so much history here, you likely won't have time to see even a fraction of it
2015 Frozen Four
Follow all of USCHO's coverage at Frozen Four Central.
Boston really is the birthplace of American history. It was the home of the start of the Revolutionary War, and you can tour a plethora of landmarks related to the war and the founding of America. The
Freedom Trail
, a 2.5-mile walking tour that begins on the
Boston Common
and spans through the city visiting historic places like the site of the
Boston Massacre
, the
old State House
,
Faneuil Hall
,
Paul Revere's House
,
Old North Church
and the
USS Constitution
. The tour ends at site of the
Battle of Bunker Hill
in Charlestown (one of the many neighborhoods of Boston).
If you want a less labor-intensive tour experience, you might try out one of the many tour bus companies that have stops throughout the city. A personal recommendation is the Boston Duck Tours, a land and water tour that is both entertaining and informative.
2. It's probably a good idea to bring your appetite, and a few comfortable pairs of pants
Boston is home to some of the best cuisine you can imagine. Not surprisingly, leading that list is food from the ocean, so if you're a lover of good seafood, you're at home.
Legal Sea Foods is the iconic brand that is local to the Boston area, although there are plenty of other restaurants in the area that get local seafood in daily. Atlantic Fish Company in Boston's Back Bay leads my personal list with a large menu that changes every day based on their catch. It also boasts an impressive wine list.
There are plenty of the national brand restaurants as well for those craving a great steakhouse or five-star dining experience.
Two other areas of the city also feature a host of great dining options. Boston's North End, a short walk from the TD Garden, has nearly 100 of the city's best Italian restaurants, so if you want a perfect, authentic Italian dining experience or want some post-dinner cannoli or cappuccino, make sure to head to the North End.
On the opposite side of the city, you will find some of Boston's newest top-tier restaurants in Boston's South End. Expect more eclectic cuisine in this part of the city and make sure you have reservations as many of the top restaurants there are small and pack quickly.
3. Boston isn't called the City of Champions for nothing
When the national champion is crowned on Saturday night at TD Garden, the winning team's fans can celebrate with a city that knows how to win. Since 2001, Boston has won nine championships in the four major sports.
The New England Patriots, after winning the Super Bowl in February, lead the way with four (2001, 2003, 2004 and 2015); the Boston Red Sox won three (2004, 2007, 2013) and the Celtics (2008) and Bruins (2011) each won once.
Add in Boston College's four NCAA hockey titles (2001, 2008, 2010 and 2012) and Boston University's one (2009) and you will realize this city is quite used to championship parades.
There are also a number of sports landmarks to visit in the city. Attending the games, you will visit the home of the Bruins and Celtics, but Fenway Park, the home of the Red Sox, is just on the other side of downtown (unfortunately, unless you extend your stay past the Frozen Four, you won't be able to catch a Sox game as the home opener this year is Monday, April 13).
You should also make sure to see Boston's three iconic statues: of Bobby Orr (easy, outside the entrance of the TD Garden), Red Auerbach (Faneuil Hall) and Ted Williams (outside Fenway Park).
The Boston Marathon finish line, always a landmark in the city, is even more so since the terrorist attack in 2013 and includes a touching memorial to the victims.
Also, if you're lucky enough to have club seats or suite tickets for the Frozen Four, give yourself some time to walk around the fifth and sixth floors of the TD Garden, which house the New England Sports Museum, the most complete history of Boston sports you will find.
4. Being a tourist city, there are tons of tourist traps
Here is a quick list of places I recommend avoiding unless you want to overpay for the "tourist experience:"
• Top of the Hub (bar/restaurant at the top of the Prudential Center)
• Cheers (either the original bar in Beacon Hill or the poor replica of the TV set in Faneuil Hall)
• Any store that sells Boston memorabilia and souvenirs in Faneuil Hall
• The Boston Tea Party Ship (it has nothing to do with the original Boston Tea Party)
• Shopping on Newbury Street (it gives regular stores the right to charge more money)
5. The bars of Boston are pretty darn good, but don't expect to enjoy Happy Hour or doubles
There is a bar at every corner and probably three or four in between. A lot of bars are enjoyable and fun, you can strike up good conversation and most every bartender is friendly.
What you will not find at Boston bars, however, are cheap drinks. Happy Hour was outlawed in Boston years ago and, by law, bars are not allowed to serve "doubles," or mixed drinks with double the alcohol (the exception, for some reason, are the bars at the airport). Expect to pay between $4 and $7 for a beer and $6-$9 for a mixed drink at bars around the downtown area.
There are a few bars that do serve cheap draft beers (Coogan's and The Point, both in Faneuil Hall, come to mind with $1-$3 drafts of the cheap light beers, but expect a very young, collegial crowd). So if you're heading for a night out, expect to have a decent tab if you consume drinks in quantity.
There is something to be said for finding some of Boston's Irish bars, and there are a number of them you will find in the downtown area. Right around the TD Garden, you will find The Harp, The Fours and The Grand Canal. Faneuil Hall is loaded with them. Places like Solas and M.J. O'Connors in the Back Bay imported the actual bars from Ireland (watch out for your knees if you sit at these bars as they tend to have beautiful craftwork perfectly placed to leave a major bruise).
It's not an Irish bar, but I'll also throw out a plug for The Greatest Bar, a block from the TD Garden, which will be USCHO's host bar for USCHO Live! at the Frozen Four throughout the week.
One thing to note: Bars close at 2 a.m. or earlier. (Except for J.J. Foley's in the South End, which I swear somehow stays open until 3 or 4 on most nights. Also, if you order "cold tea" in Chinatown after 2 a.m., they will bring you a large teapot of Bud Light).
Enjoy Boston, folks!