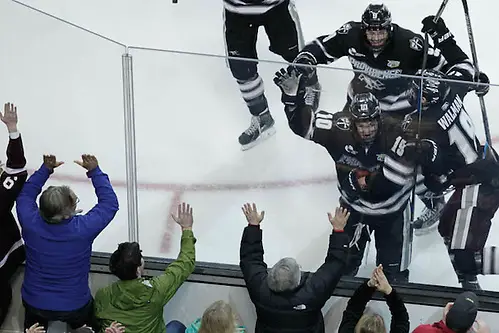 BOSTON — The Providence Friars led Omaha 2-0 after two periods in the opening national semifinal game of the 2015 Frozen Four at the TD Garden.
The teams played a scoreless first period in which Providence held a decided territorial advantage, outshooting Omaha 16-9.
The Friars extended that in the second, holding a lopsided 17-7 margin in shots. That wasn't enough to solve Omaha goaltender Ryan Massa until, uncharacteristically, the senior netminder made a mistake.
At 11:02, Noel Acciari poked home a loose puck from the crease after linemate Brian Pinho sent harmless looking shot on net from the right point on the rush. Massa didn't handle the shot cleanly and, after Nick Saracino swatted at the puck in the crease, Acciari was unmarked and poked home the game's first goal.
At 14:58, the Friars extended the lead. Jake Walman and Saracino worked at the blue line to steal the puck and keep it in the offensive zone and then fed Mark Jankowski, who was alone in front of the net and made a move around Massa for his seventh goal of the season.
The Friars held a 33-16 advantage in shots through 40 minutes.