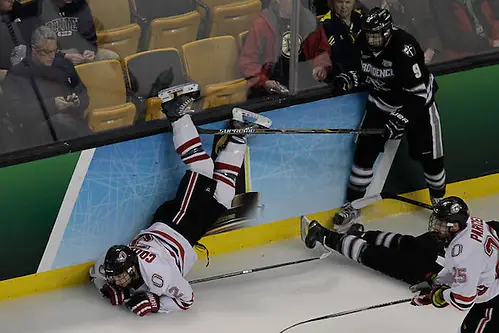 BOSTON — Omaha and Providence are scoreless through one period of the opening national semifinal game at the 2015 Frozen Four at the TD Garden.
Providence controlled the opening 20 minutes but couldn't solve Omaha goaltender Ryan Massa (16 saves). The best chances for the Friars came from the stick of left winger Trevor Mingoia.
He was left alone in the slot at 6:11 of the frame. Though trying to pick a spot, his shot resulted in what became an easy save. At 12:30, Mingoia found room on the left wing and skated in alone on Massa but couldn't find room over the goalie's right pad.
Brandon Tanev also hit the post for the Friars at 13:50, trying to poke home a rebound on a four-on-two rush.
Omaha had its best scoring opportunity at 18:48 when Justin Parizek broke in on the wing with a backhander and Tyler Vesel followed up with a rebound chance. Jon Gilles (nine saves) held his position on both shots.
Providence held a 16-9 lead in shots through one period.