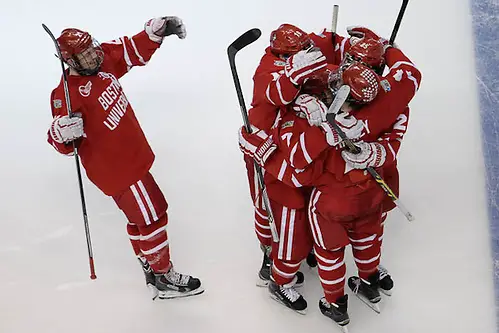 BOSTON — It will be an all-New England final in the Hub of Hockey, but it certainly wasn't easy getting there.
Boston University held a commanding 4-1 lead over North Dakota late in Thursday's second national semifinal and then hung on for dear life, eking out a 5-3 victory to advance to Saturday's national title game.
The Terriers will face Hockey East foe Providence, a 4-1 winner over Omaha, in Saturday's national championship game at the TD Garden.
Up three and on the power play, BU allowed a short-handed goal to Troy Stecher on a miscue by BU netminder Matt O'Connor with 7:50 left. Then, after a too many men on the ice call on the Terriers, North Dakota's Connor Gaarder struck on the power play with 3:43 left to pull within one.
It wasn't until rookie phenom Jack Eichel scored his second goal of the game with 18.5 seconds remaining, into an empty net, that the game was iced.
Boston University advanced to the national title game for the first time since 2009 when it beat Miami 4-3 in overtime for the school's fifth national title.