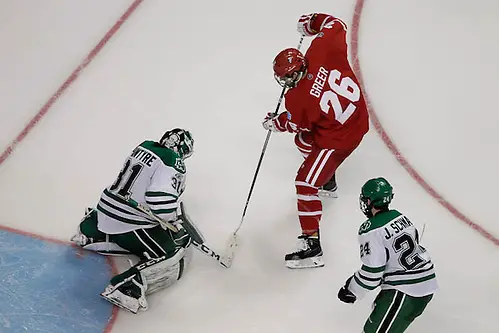 BOSTON — Heading into the playoffs, Boston University coach David Quinn elevated A.J. Greer to the second line.
To fans locked into statistics as their sole measure of a player, it looked like a curious move. The freshman had accumulated all of two goals and two assists, the last one coming back on Jan. 3.
2015 Frozen Four
Follow all of USCHO's coverage at Frozen Four Central.
Second line? Four points? Really?
What's more, this freshman was the youngest player on the youngest team in college hockey. Was this kid really ready for the prime time of the second line on a team with national championship aspirations?
"They needed a big boy who could win battles and stay in front of the net," Greer said after BU defeated North Dakota 5-3 in the Frozen Four semifinals on Thursday. "I provide grit and playmaking."
The big boy, 6-foot-3 and 205 pounds, has delivered, and his linemates, Cason Hohmann and Ahti Oksanen, have been the benefactors.
"He adds a physical presence," Hohmann said. "He's a really good guy in front of the net and in the corners. He's a hard-working kid."
Oksanen added: "He [creates] a lot more room for me and Hohmann. It's great to have him on our line, especially because Hohmann is the playmaker on our line. He creates much more room for Hohmann to make passes to both of us."
But in the biggest game so far of his career, Greer provided more than a physical presence. More than just grit.
He fired a cannon of a shot midway through the second period that beat Hobey Baker Award Hat Trick finalist Zane McIntyre, staking the Terriers to a 3-1 lead.
"When I scored that goal, I paused and thought, Is this really happening??" Greer said.
"Ten months ago, I was playing prep school hockey in front of 50 fans a game and now I'm playing against North Dakota at the Garden.
"It's crazy how much things have changed. I've gone from almost not playing — playing on the fourth line — to playing on the second line with great players like Cason Hohmann and Ahti Oksanen."
Ironically, the turning point for the freshman came on Oct. 31. He got scratched from the game.
"Watching the game from up top was a big eye-opener, seeing the pace of the game and how much time I had," Greer said. "It really helped me."
With the new perspective, Greer navigated the inevitable ups and downs of his freshman season and now is poised one game away from a national championship.
"I'm playing with a lot more confidence and trust in myself," he said.
Ironically, that title game comes against the team he sat out against: Providence.
"I still can't believe it," he said. "I couldn't ask for a better bunch of guys to go through this experience with."