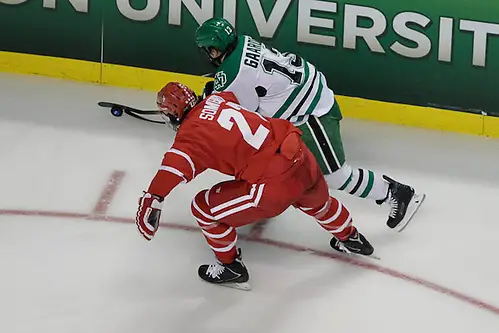 BOSTON — When Doyle Somerby scored at 13:10 in the second period in Boston University's 5-3 win over North Dakota on Thursday, the Terriers defenseman netted his first goal of the season and the second of his career.
As it turned out, he also scored the game winner, a "lucky" goal, the sophomore said.
"I wasn't expecting it," Somerby said. "I skated back to the bench to celebrate and the guys were all laughing. I woke up thinking I was going to play some defense and get the pucks out, but it's really nice to score."
The blueliner also has six assists this season, and Thursday's goal gave him three points in his last nine games, dating to Feb. 14. That Valentine's Day assist in the third period of a 4-3 loss to New Hampshire was the first point that Doyle had scored since BU's 3-1 win over Maine on Nov. 14, a span of 17 scoreless games.
An uncharacteristic third period
After outscoring opponents 68-25 overall in the third period this season, the Terriers were by far the best final-stanza team in the nation.
Not so much tonight.
"Your goalie lets in a goal that he hasn't let in all year, you get a too-many-men-on-the-ice penalty that we haven't gotten all year, and all of a sudden it's 4-3," said coach David Quinn, "and we're hanging on for dear life."
Not only was BU outscored 2-1 in the third, but the Terriers let in two late third-period goals less than five minutes apart, both involving special teams play.
"In the third period, we're up 4-1, we're playing a little bit different and we don't want to play conservative," said Quinn, "but we still wanted to be smart. I thought we did a pretty good job and then you get the power play and a fluky, fluky goal and then we get a little demoralized and then a penalty I still didn't get to look at.
"But we got it done. This time of the season, you've just have to find ways to win. There are all sorts of ways to win. We've been very fortunate this year. We've won games a lot of different ways. We won one tonight in a way that we haven't had to win one all year."
Short-handed but not unexpected
North Dakota led all teams in short-handed goals in 2014-15. Sophomore defenseman Troy Stecher's goal at 12:10 in the third — the goal that began UND's rally — was the 12th of the season.
"Down on the penalty kill, down 4-1, needed a goal, so I pressed up the ice," said Stecher. "Lucky bounce I got, and hopefully we try to build off that. Can't really put it into words. It was just a lucky bounce."
It was the third goal of the season for Stecher, but the first short-handed goal of his career. Junior forward Drake Caggiula led all UND players with three short-handed goals this season.