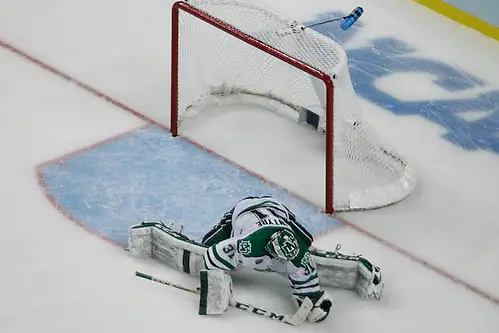 BOSTON — For much of the second period, North Dakota owned Boston University. UND scored early, opened up the pace of play, and took the game to the Terriers.
North Dakota had goalie Matt O'Connor off his mark, flopping, uncomfortable and, most importantly, vulnerable.
In need of a boost, BU got it from the man who gave it to the Terriers all year long: Jack Eichel.
With their early two-goal lead halved to 2-1, Eichel and A.J. Greer delivered the equalizer in the form on a beautiful decision, a crisp pass and a picture-perfect laser beam of a shot that goalie Zane McIntyre stood no shot of stopping.
As BU cleared the zone, coach David Quinn called for a line change to his top line. "It was a change — I think pretty late," said Eichel. "Coach started yelling 'Eichel! Eichel! The Eichel line!'"
It was something he'd done many times before. "I do that a lot," said Quinn. "I catch myself doing it in my sleep."
His top skater came off the bench at exactly the right time, and the Terriers found themselves with a bang-bang, three-on-two break over the blue line.
Eichel held the puck on the left wing as Greer spread out wide with Robbie Baillargeon trailing the play. Luke Johnson back checked to cover the puck handler, allowing the defense to work against the passing lanes.
Nick Mattson moved backwards in between the hash marks right in front of the goalie to protect against the drop pass for a straight-on shot. But he lost track of Greer, who teed it up. Eichel fed it straight across the open ice, and the freshman buried it.
"I thought it was going to be dumped in at first. Then Jack stepped on the ice, set up on the left side, and walked it in," said Greer on the goal. "I posted up at the top of the circles, he centered it [for me], and I just let it rip."
"I just jumped on the ice actually pretty late," said Eichel. "[Brien Diffley] makes a big play to beat the forechecker. He slides me the puck and got over the blue line, [and I] saw A.J. open up. I tried to put it in his wheelhouse where he could hammer one. He works on the shot a lot and I wasn't surprised at all."
The goal came at a critical juncture of the period. Until that point, UND brought heat onto the BU defense. More than once, long shifts led to the Terriers running around on the defensive side. Their line changes were disjointed and long. With roughly half of a period left, they needed a big play in a big moment.
What they got was exactly that.