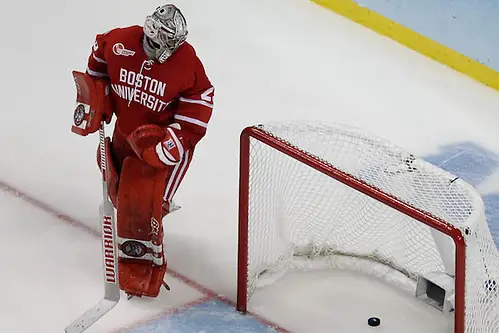 BOSTON — All season long, Boston University goaltender Matt O'Connor has been a model of consistency on a team loaded with freshmen, the youngest team in the country.
Unfortunately, in the last two games, at the most important time of the year, the junior has allowed arguably his two softest goals of the year.
With a 2-1 lead over Minnesota-Duluth in the Northeast Regional championship game, he gave up a mystifyingly bad goal on a shot that appeared to be an easy glove save. The goal left the game tied until the closing minutes when the Terriers scored on the power play.
O'Connor topped that one in all the wrong ways in the Frozen Four semifinals, mishandling the puck and unknowingly leaving it in the crease for an easy tap-in that breathed third-period life into North Dakota.
What does a coach say when his previously steady goaltender surrenders bad goals in back-to-back games?
"I find the less I talk to goalies, the better off they are," Quinn said to considerable media laughter. Quickly, he added, "I mean that sincerely. I'm not being funny.
"Every player is going to make a bad play. Obviously, a goalie's mistakes are a lot more magnified than anybody else's.
"But the key to any athlete's success is how does he respond to a bad play."
As it turned out, O'Connor's response to the gaffe preserved BU's advance to the national championship game. North Dakota followed with a power-play goal that was no fault at all of O'Connor's, and then kept up the pressure.
"After they make it 4-3, he makes a huge save to keep it at 4-3," Quinn said.
"To me, it's timely saves and how do you respond and what's your mental toughness. He's shown it all year.
"Every goalie is going to have a bad goal in their career. It's how you respond to it. [Matt's response] is one of the reasons we continue to play.
"It's why he's a great goalie. It's why he's going to have a chance to play at the next level. And I'm just proud of him the way he battled back from it."