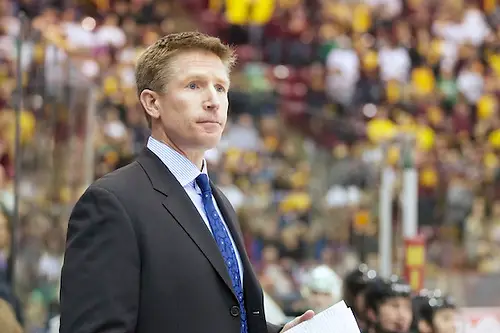 Over the last few years, College Hockey Inc. has advertised the rise in percentage of NHL players that made their way there through college hockey.
Quite justifiably so, given that the college representation grew from 20 percent in 2000 to 31 percent in the 2013-14 season before falling slightly to 30 percent this season.
The NHL also has its share of coaches with a college hockey background, but until Monday it had been quite a while since the pro level plucked a head coach directly from college.
So long, in fact, that it became a noteworthy part of the transition at North Dakota.
"Whenever you get a guy from college hockey that goes directly to be a head coach in the NHL, that's something to be said," new UND coach Brad Berry said in his introductory news conference Monday.
It was 28 years between Herb Brooks leaving St. Cloud State for the Minnesota North Stars and Monday's announcement that Dave Hakstol was leaving North Dakota for the Philadelphia Flyers.
You have to go back another five years, to Wisconsin's Bob Johnson departing for the Calgary Flames in 1982, to find an instance of someone getting his first NHL head coaching opportunity directly out of college; Brooks had earlier NHL experience before returning to college to help St. Cloud State's transition to Division I.
Brooks, Johnson and Cornell's Ned Harkness, who left for a brief stint leading the Detroit Red Wings after the Big Red's perfect 1969-70 season, were the only members of that college-to-NHL coaching group until Monday.
"It is surprising that it hasn't happened more often given the success that NCAA coaches are having in helping prepare so many players for careers in the NHL," College Hockey Inc. executive director Mike Snee said. "In Dave's 11 seasons at North Dakota, he has coached 20 NHL players, including some of the top players in the league today. Many other college coaches have had an impact very similar to Dave's so I don't think it will be another 28 years before it happens again."
It remains to be seen whether Hakstol's hiring will crack open the door for other college coaches, several of whom seem to have the kind of coaching style and personality that would fit in the top level.
Hakstol, it needs to be noted, had a connection with Flyers general manager Ron Hextall, whose son Brett played three seasons for Hakstol at North Dakota. So there are some different circumstances with this hire.
There are some like former Western Michigan coach Jeff Blashill who are taking what might be considered the more traditional route of leaving college hockey for a minor league position that, in Blashill's case at least, will undoubtedly lead to a shot in the NHL at some point.
In the meantime, maybe a few more NHL teams will take a look at some of the talent in the college coaching ranks. It's a marketable part of the college game, something that College Hockey Inc. has also highlighted in the past in its efforts to get top recruits to consider the college route.
Maybe more marketable today than it was before.