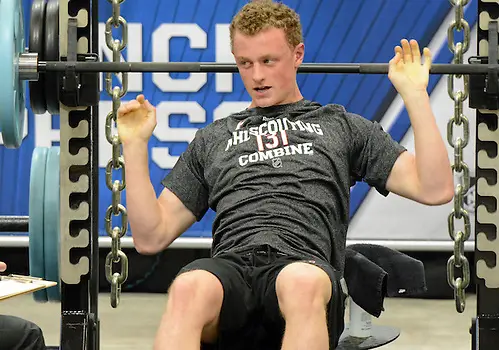 SUNRISE, Fla. — To call a future NHL player generational is monumental.
There is an automatic connotation that the player will be special from day one. He's more than a player who is the focal point on the ice. A generational player is usually a focal point for the league.
2015 NHL Entry Draft
June 26-27, Sunrise, Fla
Selections: College players and recruits picked
Gallery: College players at the draft
First round: Record three players picked in top eight
Second round: Four Terriers players picked in top 50
Notebook: 27 college teams represented over 56 picks
A.J. Greer: At NHL scouting combine, Boston University forward sells his value in playing roles
10 years ago: Unusual draft launched memorable pro careers for college players
Zach Werenski: Young Michigan defenseman has high draft hopes but isn't sure on future plans
Noah Hanifin: Boston College defenseman serious about hockey on and off the ice
Jack Eichel: Top prospect distances himself from 'generational' talk
The NHL seems poised to welcome two such players on Friday. Connor McDavid is already a household name in Canada, where it is expected he will play beginning in September for the Edmonton Oilers, the team that holds the first overall pick in the NHL Entry Draft.
For most in college hockey circles, the second player is equally as recognizable — Boston University center and reigning Hobey Baker Award winner Jack Eichel. It is anticipated that Buffalo, with the second overall pick, will tab Eichel to help rebuild its franchise.
For months now, many have thrown around the moniker "generational" when referring to the two players. The question now is, are they?
What defines a generational player? There are a few we can easily identify: Maurice Richard, Bobby Orr, Wayne Gretzky, Jean Beliveau, Mario Lemieux. But the word itself suggests that such a player needs to come along with the impact of an entire generation of hockey players.
Whether McDavid or Eichel will live up to expectations as "generational" is still too early to be seen. It's not really even clear if Eichel will move from BU to Buffalo this summer, with plenty of rumors — maybe some coming from inside –that Eichel may want another year with the Terriers.
But it also begs the question whether college hockey has ever seen the "generational" player in the past.
Sure, there have been successes. Tony Amonte comes to mind immediately, as does Paul Kariya. In more recent years, there was Jonathan Toews, who continues to prove just how much impact he will have (and three Stanley Cup rings doesn't hurt that argument).
But is Eichel the best player to ever move from college to the NHL?
That is yet to be determined. Just don't ask Eichel.
"I don't really even understand the term 'generational player,'" said Eichel. "There are so many great players that play in the NHL over the years. I really don't understand what it means, to be honest with you. It's a really great compliment but I really haven't accomplished anything yet. I still have a lot of work to do."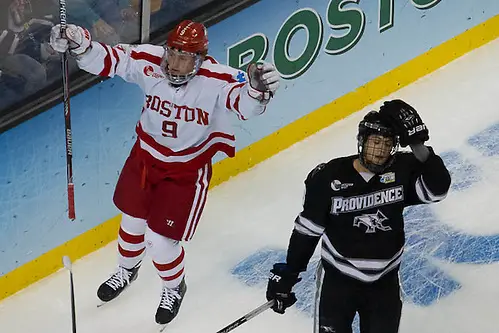 College hockey has produced some exceptional NHL players to compare to Eichel at this point in his career. Let's start with that aforementioned list of former players: Of Amonte, Kariya and Toews, only Kariya won the Hobey Baker Award, the only freshman besides Eichel to earn the honor.
You might want to add to that a comprehensive list of goaltenders including Hobey winner Ryan Miller, Chris Terreri, Ken Dryden, Ed Belfour and Tony Esposito. It may be the goaltenders, in fact, where you find college players who have sufficiently dominated the game to be considered "generational."
Possibly the best player to come from the college ranks is former Minnesota-Duluth star Brett Hull. Hull tallied 1,391 points and 741 goals in his 1,269-game career in the NHL. Arguably, Hull is college hockey's gold standard.
So where is Eichel in this mix? If you ask Eichel himself, he wants little to do with the question.
But once Eichel's name is called on Friday, the question will be where he'll be come September. BU has done a marvelous job of portraying Eichel as a college kid come next season. What that happen? That seems far-fetched.
And the ever-honest Eichel seems to be pointing that way, too.
"I haven't been drafted," Eichel quipped when asked about his future. "I'm kind of waiting to be locked in with a team. That's the next step. …
"I haven't finalized that decision because I haven't been drafted. That's the thing. We'll see what they want."