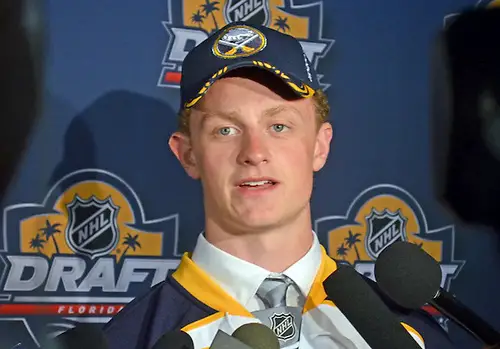 SUNRISE, Fla. — College hockey witnessed one of its most prolific days in NHL Entry Draft history Friday as three current players were selected among the first eight picks, highlighted by Boston University's Jack Eichel being selected second by Buffalo and Boston College's Noah Hanifin going fifth to Carolina.
Michigan's Zach Werenski capped off the college hockey hat trick, being selected eighth by Columbus. It marked the first time three current college players have been selected in the top 10 picks.
2015 NHL Entry Draft
June 26-27, Sunrise, Fla
Selections: College players and recruits picked
Gallery: College players at the draft
First round: Record three players picked in top eight
Second round: Four Terriers players picked in top 50
Notebook: 27 college teams represented over 56 picks
A.J. Greer: At NHL scouting combine, Boston University forward sells his value in playing roles
10 years ago: Unusual draft launched memorable pro careers for college players
Zach Werenski: Young Michigan defenseman has high draft hopes but isn't sure on future plans
Noah Hanifin: Boston College defenseman serious about hockey on and off the ice
Jack Eichel: Top prospect distances himself from 'generational' talk
In total, seven current and future college hockey players were tabbed in Friday's opening round.
There was little suspense in Eichel's selection by Buffalo. Since the Sabres lost the draft lottery to Edmonton in April, there has been little doubt that Eichel would be their selection, one pick after Connor McDavid. That didn't mean the moment wasn't incredibly special for Eichel.
"It's tough to put into words," said Eichel, who capped off a season the featured the Hockey East regular and postseason titles, a trip to the national title game and the Hobey Baker Award. "Looking back at the entire year, it's been the best year of my life. This really caps it off.
"You hear a lot about the draft and everything that goes on here, but until you hear your name and you go on stage and put a jersey on — there's nothing like it."
For BC's Hanifin, there might have been a few tense moments. Ranked third overall among North American skaters by NHL Central Scouting, he was destined for Arizona with the third pick in a number of mock drafts.
But the Coyotes are looking for talent at the forward position and selected McDavid's junior teammate Dylan Strome. When Toronto grabbed Mitchell Marner with the fourth pick, you'd think there was concern for the BC blueliner.
That was hardly the case.
"For me, coming into this draft, I had a mindset that anything could happen," Hanifin said. "I wasn't going to prepare for anything, and like I said, I just wanted to go to a team that wanted me.
"I got a really good vibe with the staff there and [GM] Ron Francis."
One player who didn't have to wait as long as expected was Michigan's Werenski. Ranked eighth among North American skaters by Central Scouting, that's exactly where the young Wolverines defenseman went, eighth to Columbus.
Many had Werenski dropping to as low as 20 in mock drafts heading into the weekend, so the ability to head to the stage during the first hour was a welcome relief for the blueliner.
"I wasn't really sure what was going to happen tonight," Werenski said. "It worked out well, going to Columbus. But going into the draft I had no idea what was going to happen."
The next major question for the trio will be whether they'll return to college next year. Not surprisingly, Eichel is believed to have the most potential to leave BU for the NHL. And after saying on Thursday he'd talk more about his options after he was drafted, he was tight lipped on Friday.
"I guess we'll see in a few days," said Eichel. "You can't let the cat out of the bag."
And while Eichel's destiny to go to the Sabres was pretty well known heading into Friday, hardly could anyone have guessed how big of a day it would be for Buffalo, which used some draft capital and trading power to strengthen its team in a number of areas.
The team acquired center Ryan O'Reilly, thought of as one of the top players available on the trade market, and left wing Jamie McGinn from Colorado, sending defenseman Nikita Zadorov, forward Mikhail Grigorenko and the rights to current Michigan center JT Compher. That followed a morning move in which Buffalo sent the 21st pick on Friday to Ottawa in exchange for goaltender Robin Lehner and forward David Legwand.
"Buffalo as a city and the Sabres as a team are heading in a great direction," said Eichel. "You look at some of the moves they've made, the guys they've acquired and the guys they have in the system, there's a lot of positives. I just want to become a piece of the puzzle."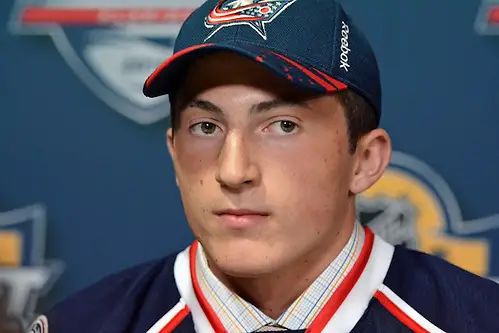 After the troika of current collegians in the top 10, there were four future college players selected to round out the opening day of the draft.
Incoming Michigan freshman Kyle Connor was selected 17th by Winnipeg and admitted he doesn't know much about his future NHL home.
"I know it's cold up there," said Connor. "They're a great team. They showed really well in the playoffs last year. I think they're on the rise."
Four picks later, Ottawa used the pick it acquired Friday morning in the trade with Buffalo to take future Boston College center Colin White. Brock Boeser, who will head to North Dakota in the fall, heard his name called 23rd by Vancouver.
Possibly the biggest surprise came when Winnipeg went for another collegian, Jack Roslovic, who will attend Miami in September. Roslovic was ranked 52nd in the midterm ranking and jumped up to 39th by season's end.
Being chosen 25th was certainly a major uptick for the 6-foot center from Columbus, Ohio.
"I met with the Jets three or four times throughout the year," said Roslovic. "I thought that was the range I might be picked in. So it wasn't [too much of a surprise]."
While Friday ended a lot of suspense for the seven college-connected players, a few may have a restless night, still waiting to hear their name called.
Leading that pack is future Minnesota center Thomas Novak. He was the top-ranked college player not selected on Friday and will have to wait until the draft resumes at 10 a.m. EDT Saturday.